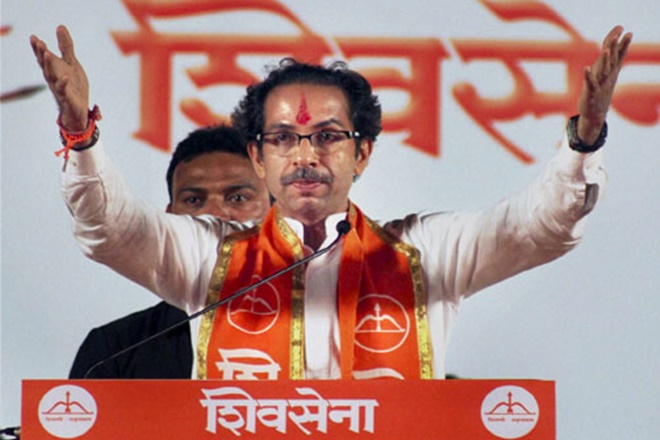 A day after Shiv Sena President Uddhav Thackeray indicated his plans to visit Uttar Pradesh soon, a senior party official on Thursday launched the "Chalo Ayodhya, Chalo Varanasi" drive.
Colourful hoardings and posters depicting the picture of a bow-and-arrow wielding Lord Ram and a scene from the River Ganga ghat were erected at prominent locations early on Thursday by Thackeray's close confidante, Milind Narvekar, grabbing eyeballs.
They also proclaimed that Thackeray's "Chalo Ayodhya, Chalo Varanasi" announcement was "a significant step in the country's politics".
Catch all the latest news about Lok Sabha elections 2019 HERE
On Wednesday, the Sena chief sprang a surprise by declaring that he would soon visit the temple town of Ayodhya and Varanasi - Prime Minister Narendra Modi's Lok Sabha constituency.
"I shall go to Varanasi, Kashi, take part in the Ganga aarti and inspect 'how clean' the River Ganga has now become... I shall go to Ayodhya for a darshan of 'Ram Lalla', and pray at the temple," Thackeray said during the course of his marathon 3-part interview in the party mouthpieces Saamana and Dopahar Ka Saamana.
Stating that the Ram Temple issue would be exploited in 2019 by its ally, Bharatiya Janata Party (BJP), he added: "Lord Ram's exile is not yet over. The BJP said that work on the Ram Temple will start soon, but nobody really knows when... This means the 'Ram Temple card' will be played again during elections."
Ahead of his 58th birthday on July 27, he even accused Modi of speaking about everything barring the Ram Temple issue despite the BJP coming to power with a strong majority in 2014.
However, Sena Rajya Sabha MP Sanjay Raut sought to downplay the poster binge by saying that Thackeray will go to Ayodhya, address a rally and then to Varanasi where he will attend a Ganga aarti and pray at the Kashi Vishwanath Temple.
The posters depict pictures of the late Shiv Sena founder Bal Thackeray, Uddhav Thackeray and his son Aditya Thackeray, besides Narvekar at the bottom.
It is pertinent to mention here that ever since BJP has come to power many of its leaders and allies have been questioning that when it plans to go ahead with Ram Temple issue. Some saints had also met Uttar Pradesh chief Minister Yogi Adityanath over the issue.
As the Lok Sabha elections 2019 is drawing near, Shive Sena apparently seems to be trying to put pressure on the BJP government over the Ayodhya issue.
Sometimes "ally" sometimes not, Shiv Sena's relation with the BJP has recently become even more fluctuating.    
It may be recalled that Shiv Sena, recently had said there was a "mistake" in issuing the whip to its MPs asking them to be present in the Lok Sabha during the no-confidence motion and vote for Modi government. 
"There was a mistake. No such whip could be issued by the chief whip when a decision (on no-trust motion) was not even taken then," a Sena source told PTI on Friday. 
(With inputs from agencies)