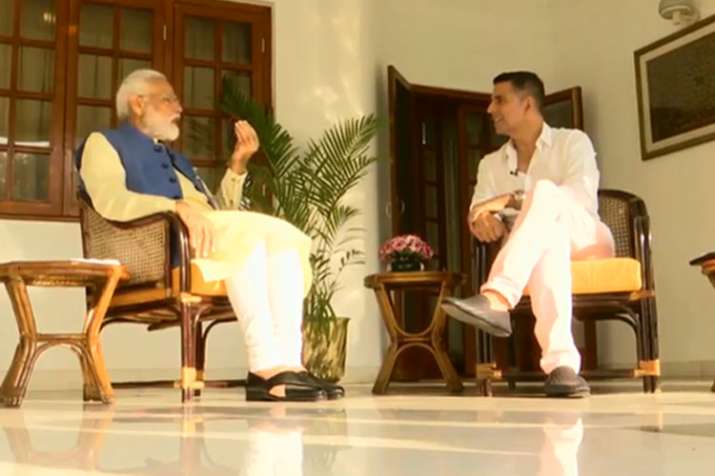 There's a reason a mango is called the king of fruits. Because, and we have video evidence to this now, even Prime Minister Narendra Modi is a fan of the juicy fruit.
PM Modi, in a 70-minute long 'chai par charchaa' with Bollywood superstar Akshay Kumar on Wednesday, said he has always loved mangoes, but has become a little cautious now -- and is keeping a tab on its intake.
"Yeh baat kaafi saare bachche aapse poochhna chahte hain. Kya humaare pradhaan mantri ji aam khaatey hain?" Akshay Kumar asked, at the beginning of the most non-political interaction of the prime minister.
"Bilkul. Mujhe aam bahot pasand hain. Bachpan se hi. Gujarat mein toh aam ras ki paramparaa bhi hai [I love mangoes. Gujarat has a tradition of Aamras as well]" PM Modi told Kumar.
Aam ras is a traditional Gujarati smoothie and consists of sugared mango pulp.
PM Modi also recalled his childhood days in Gujarat and said he did not have the luxury to buy mangoes given his family background. He, however, used to pluck mangoes from the field and eat them there and then.
"Abb uss samay humein hygiene ka itna khayaal toh thha nahin. Toh kabhi dhotey nahin thhay [We didn't have the sense of hygiene too at that time. So we never washed those mangoes]," PM Modi added.
PM Modi further said he has to now restrict himself on the number of mangoes he's consuming.
Apart from this, PM Modi spoke to Akshay Kumar about his humble beginnings as a tea-vendor, how 'chai' taught him Hindi, how he wanted to join the armed forces and how he does not want to make a wish to Alladin's chiraag.