Follow us on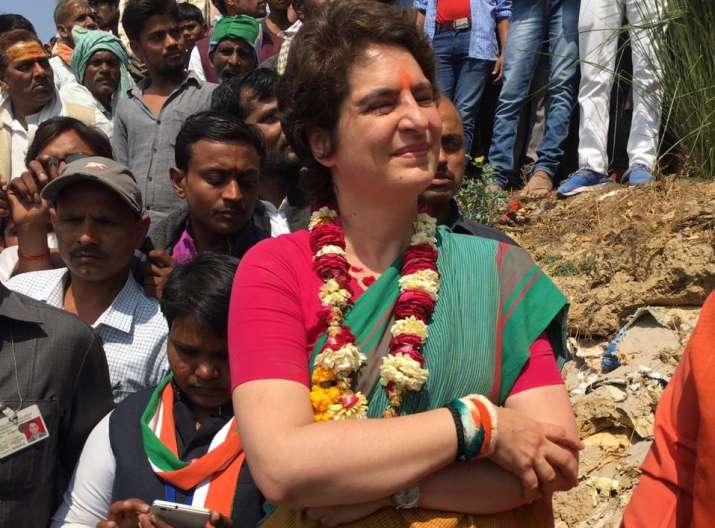 HIGHLIGHTS: 
09:45 pm: Delhi Chief Minister and Aam aadmi Party leader Arvind Kejriwal: Congress has officially conveyed to us that there will be no alliance. We are not in talks with Congress. Media reports stating that talks (between AAP & Congress) have been finalized, are planted by them.
09:16 pm: Chhattisgarh BJP in-charge & National General Secretary Anil Jain: BJP will change all 10 sitting MPs in this election, CEC has approved it.
09:05 pm: BJP President Amit Shah will not contest Lok Sabha Election 2019: Sources
08:20 pm: Congress General Secretary for Uttar Pradesh (East) Priyanka Gandhi Vadra holds a road show in Chunar, Mirzapur.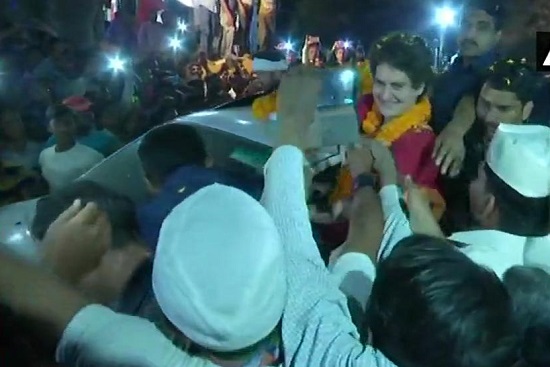 07:50 pm: Delhi: BJP Central Election Committee (CEC) meeting begins at the party headquarters. Discussions will be held on seats in 10 states including Uttar Pradesh, West Bengal, Karnataka, and Odisha.
07:45 pm: PM Modi, Union Ministers & BJP leaders Arun Jaitley, Nitin Gadkari and Rajnath Singh arrive for CEC meeting at BJP headquarters.
06:45 pm: Left parties announced candidates for 38 constituencies out of 42 in West Bengal.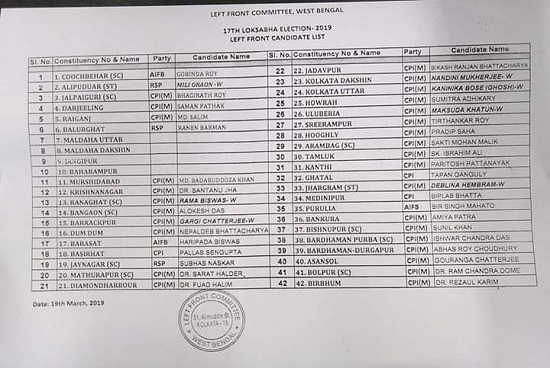 06:00 pm: Communist Party of India (CPI) announces list of 7 candidates for the upcoming Lok Sabha elections in Tamil Nadu, Assam and West Bengal.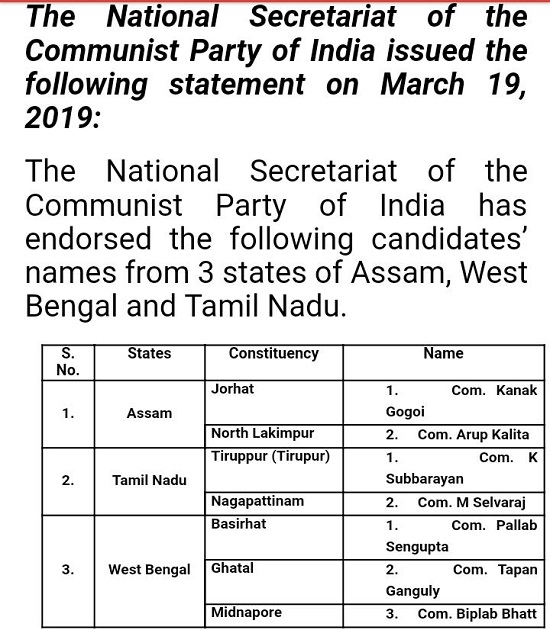 05:35 pm: Congress and RJD agree on sharing of seats in grand alliance, announcement likely to take place tomorrow in Patna. Press conference will take place in the presence of Bihar Congress leaders and Tejaswi Yadav.
04:50 pm: Goa Chief Minister Pramod Sawant: We have 21 MLAs, we will pass the floor test tomorrow. Our coalition partners are with us.
03:45 pm: Priyanka Gandhi offered prayers at Khwaja Ismail Chisti dargah too on the second day of the Ganga Yatra.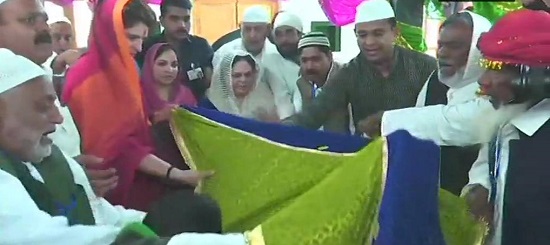 03:35 pm: Priyanka Gandhi Vadra offers prayers at Vindhyavasini Devi temple in Mirzapur.
02:40 pm: Congress-RJD figure out seat-sharing formula for Bihar: According to sources, RJD will contest on 20 seats, Congres on 9. RLSP and HAM are likely to get four and three seats respectively. The announcement is likely to be made in Patna tomorrow
02:15 pm: Rahul promises to restore special category status to Arunachal Pradesh: Addressing a rally in Itanagar, the Congress chief said that his party if it comes to power, will restore special category status to Arunachal Pradesh and other NE states. Congress will never attack language, culture, customs and tradition of Arunachal Pradesh and other NE states, he said, adding that the party will not allow the Citizenship Amendment Bill to be passed in the Rajya Sabha.
02:10 pm: Meanwhile, our Political Editor Jayanta Ghoshal shares some glimpses of BJP headquarters. 
01:54 pm: While Priyanka is campaigning across UP, Rahul Gandhi attacked Prime Minister Narendra Modi in his Itanagar rally. The Congress chief reiterated his allegation that PM Modi shot for his documentary at Jim Corbett National Park soon after Pulwama terror attack. "Pulwama mein attack hua, maine apne program cancel kiye, bomb phatne ke ekdum baad, Narendra Modi, Corbett Park mein, apni picture bana rahe the. Wahan Pulwama main log shaheed hue, aur PM, 3.5 ghante baad, make up laga ke, baal bana ke pose kar rahe the," he said.
1.40 PM: India TV correspondent, Meenakshi Joshi, who is following Day 2 of Priyanka Gandhi's Ganga Yatra in Uttar Pradesh, has sent us videos of how Congress star campaigner was being mobbed by crowds for a selfie. Priyanka is walking on foot despite thousands walking along with her. It is a massive response, Meenakshi has just informed us. The boat ride is currently turning into a roadshow. Stay with us for more:
Also read | No one is happy with Modi government: Priyanka Gandhi Vadra
11:35 am: Priyanka offers prayers at Sita Temple in Bhadohi: Starting day 2 of her Ganga Yatra, Priyanka today offered prayers at Bhadohi's Sita Temple. She is expected to visit the Dargah of Maulana Ismail Chisti after this. 
11:30 am: UP CM not aware of ground realities, says Priyanka Gandhi: Addressing media after a meeting with eastern UP party workers, Priyanka said that there is a major difference between BJP's claims and ground realities. What have you done in last five years, she asked BJP government at Centre and state. "What did they do in 70 years? argument also has an expiry date. Now they (BJP) should tell what they have done in their five years when they are in power," she said.
10:55 am: Priyanka Gandhi is holding a meeting of party workers in Bhadohi. The workers have come from Purvanchal region. 
10:30 am:  Akhilesh, Mayawati take jibe at PM Modi's chowkidar campaign: Samajwadi Party chief Akhilesh Yadav and Bahujan Samaj Party supremo Mayawati tok successive jibes at PM Modi's chowkidar campaign today. 
Mayawati tweeted: After BJP launch 'Mai Bhi Chowkidar' campaign, PM Modi & others added the prefix 'Chowkidar' to their Twitter handles. So now Narendra Modi is Chowkidar & no more a 'Chaiwala' which he was at the time of last LS election. What a change India is witnessing under BJP rule. Bravo!
"Development is asking if the careless chowkidar has been punished for theft of Rafale file from the ministry," said Akhilesh on Twitter. 
Also read | Choose govt for yourself, India is yours, says Priyanka Gandhi in Prayagraj
10:00 am: Congress gave UP an identity of BIMARU and Gundaraj, says Yogi Adityanath: Presenting the two year report card of his government, UP CM Yogi Adityanath today said that Congress ruled the state for the maximum time period after independence, and in return the party gave the state designation of a 'BIMARU' state.
8:10 am: Temples and dargahs: Priyanka Gandhi is three-day route is embedded with trips to temples and dargahs, more temples then dargahs, an indication that she is leaving no stone unturned to fix the party's image among the vote bank. Today's tour includes a trip to Dargah of Maulana Ismail Chisti in Bhadohi Chandrika Devi temple. She is also expected to start her day with prayers at Sita Temple in Bhadohi. 
08:00 am: Today's schedule: Priyanka Gandhi will commence her journey from Vindhyachal and visit the Dargah of Maulana Ismail Chisti in Bhadohi's Kantit area and interact with people there. The Congress leader will then again be back to steamer ride from Mirzapur. She will interact with advocates at Kachahri Ghat in the district and then visit Bhatauli village and meet people there. Thereafter, the newly-appointed General Secretary will reach Chandrika Devi temple and interact with people after offering her prayers there. After leaving Chandrika Devi temple, Priyanka will reach Devri in Mirzapur and interact with local villagers there before arriving at Chunar for the night halt.
07:30 am: Elections are 'picnic' for Gandhi family, says BJP: "For the Gandhi family, every election is a picnic. They come, they see and resort to rhetorical speeches. After the elections are over, they head towards Switzerland or Italy," senior BJP leader and UP Deputy Chief Minister Dinesh Sharma said on Monday. "As soon as a new election is announced, a new member of the family emerges and assumes magical leadership," he said, adding, "The respected leader (Priyanka) has campaigned for the Congress in earlier elections as well and despite campaigning, her party suffered defeats at the hustings." 
07:00 am: Lawyers object to 'Christian' Priyanka's entry into Kashi Vishwanath temple: A group of lawyers has handed a letter to the district magistrate, claiming that Congress general secretary Priyanka Gandhi Vadra should not be allowed to enter the Kashi Vishwanath temple as she is a Christian. The letter claimed that Priyanka was a Christian and she should be stopped from entering the temple, keeping in mind the ancient values of Sanatan Dharma. The letter, addressed to Chief Minister Yogi Adityanath, stated that her place of worship was a church.
06:30 am: What is at stake for Congress: The Congress is contesting the Lok Sabha polls alone in Uttar Pradesh which sends 80 MPs to the Lok Sabha. The Samajwadi Party, Bahujan Samaj Party and the Rashtriya Lok Dal are contesting in alliance. In 2014, the Bharatiya Janata Party (BJP) and its ally Apna Dal had won 73 seats while the Congress had managed to win only two. The Samajwadi Party had won five seats and the BSP had drawn a blank in the state. Congress hopes to cash Priyanka Gandhi's popularity to make its mark on the state know as gateway to Parliament. 
06:00 am: The Congress is yet to announce Priyanka's candidature. Her brother is contesting from Amethi, while her mother will contest from Rae Bareli seat.
Priyanka Gandhi's bid to start  "sacha samvad (genuine conversation)" with the people of Uttar Pradesh will today take her through Vindhyachal, Bhadohi, Mirzapur, finally ending the day at Chunar. Congress Party's star campaigner Priyanka embarked on a 100-km long Ganga Yatra from Allahabad to Varanasi on Monday. Here's our election live blog that will bring you all the latest updates from Priyanka's Ganga Yatra and much more.