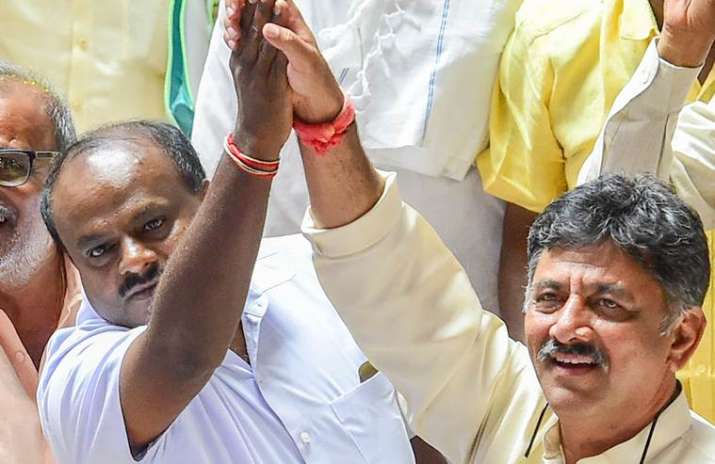 The Congress-JD(S) coalition government may have won the trust vote in the Karnataka Assembly with ease, but now the two parties are at disagreement over the portfolio allocation, with the finance ministry being the apple of discord, according to a Times of India report. 
The report cited Chief Minister HD Kumaraswamy, who was in New Delhi on Tuesday, saying that the issue will be resolved by Tuesday. 
Kumaraswamy met Congress leaders at Ghulam Nabi Azad's residence and told them that it has been the convention in coalition government in Karnataka to allow the junior partner to keep the finance portfolio, the Times of India report added. 
On the Congress leaders questioning JD(S)' right to claim the finance portfolio, the CM sought time, saying that he would consult party chief HD Deve Gowda. 
JD(S) also reportedly wants to keep some other key portfolios such as energy, water resources and PWD. While Kumaraswamy's brother HD Revanna is keen on PWD and energy, Congress leader DK Shivakumar is also said to be keen on the energy portfolio, which he had held in the previous Siddaramaiah government. 
"Congress wants all the key portfolios, leaving animal husbandry, labour, fisheries, youth services, women and child welfare to us. It is not fair," Times of India quoted JD(S) sources as saying. 
"A decision will be taken after Congress leaders consult Rahul Gandhi, who is abroad," the report quoted Kumaraswamy as saying after the meeting. 
Earlier, Kumaraswamy had said that he needed some time for waiving farm loans, as he was at the 'mercy' of Congress and not the 6.5 crore people of Karnataka as his government had not received the full mandate which his party had sought in the assembly elections.
He reminded people that JD(S) did not get an absolute majority, which meant he and his party were rejected by the electorate. 
"The people of the state rejected me and our party. I had sought an absolute majority. I have heard the statements of farm leaders too and how much they supported me," he said.
"Mine is not an independent government. I had requested the people to give me a mandate that prevents me from succumbing to any pressure other than you. But today I am at the mercy of the Congress. I am not under the pressure of the 6.5 crore people of the state," Kumaraswamy said.