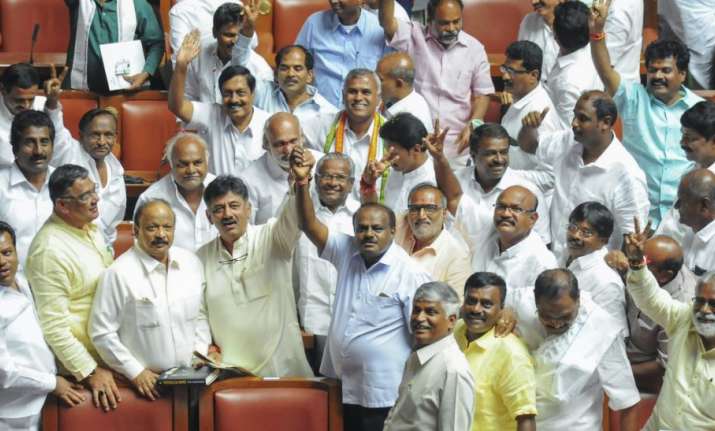 BJP leader BS Yeddyurappa's decision to resign as the chief minister of Karnataka Assembly before taking the floor test on Saturday has cleared the path for Congress-JD(S) alliance to take over the reigns of the government in the state. Alliance's CM face HD Kumaraswamy on Saturday met Governor to stake claim to power with a total strength of 117 MLAs, including two independents.
 
Although Governor Vajubhai Vala invited Kumaraswamy to take the oath of office at 12:30 pm on Monday, the JD(S) chief postponed the ceremony until Wednesday in view of Rajiv Gandhi's death anniversary. 
Meanwhile, the reports say that Kumaraswamy plans to visit Delhi on Monday to extend a personal invitation to Sonia Gandhi and Rahul Gandhi for his swearing-in ceremony. Apart from the Congress bigwigs, West Bengal CM Mamata Banerjee, Telanaga CM Chandrashekhar Rao and Andhra CM N Chandra Babu Naidu will also attend the event on Wednesday. 
Also read | Karnataka win sends cheers in Third Front; Pawar, Mamata, Tejashwi, Stalin celebrate Kumaraswamy's victory
Since Congress had to extend support to a minority JD(S) with only 38 seats to keep the BJP away from power, the outgoing party is not in condition to make any demands for now. During the post-poll alliance negotiations, the Congress was granted the post of deputy CM, for which KPCC chief G Parmeshwara has been selected. Rest of the cabinet is expected to look something like this: 
Prospective Portfolio released by Cong-JDS alliance forming the govt 
1. Chief Minister & Finance- Kumaraswamy (JDS)
2. Deputy CM & Home- Dr. G Parameshwar (Congress)
3. Irrigation - HK Patil (Congress)
4. PWD - HD Revanna(JDS)
5. Energy - DK Shivakumar(Congress)
6. Heavy Industries - AT Ramaswamy (JDS)
7. Transport - Ramalingareddy (Congress)
8. Minor Irrigation - KM Shivalingegowda (JDS)
9. Revenue - S Shivashankarappa (Congress)
10. Health - UT Khader (Congress)
11. Women welfare -  Lakshmi Hebbalkar (Congress)
12. Agriculture and Animal Husbandry - CS Puttaraju (JDS)
13. Education - H Vishwanath (Congress)
14. Rural Development - Satish Jarakiholi (Congress)
15. Urban Development - KJ George (Congress)
16. Sports and News - M Krishnappa (Congress)
17. Information - Krishna Byregowda (Congress)
18. Social Welfare - Chandrabhanu Jinde (JDS)
19. Cooperative - GT Devegowda (JDS)
20. Textiles & Muzrai - Bandeppa Kashampoora (JDS)
21. Labour - DC Thammanna (JDS)
22. Excise - Dinesh Gundu Rao (Congress)
23. Medical Education - Tanveer Sait (Congress)
24. Higher Education - Dr. K Sudhakar (JDS)
25. Forest - Roshan Baig (Congress)
26. Food & Civil Supplies - MB Patil  (Congress)
27. Law & Justice - RV Deshpande (Congress) 
28. Small Scale & Sugar - Dr Ajay Singh (Congress)
29. Science & Tech - Priyank Kharge (Congress)
Also read | Unholy alliance in Karnataka won't last long, says BJP chief Amit Shah