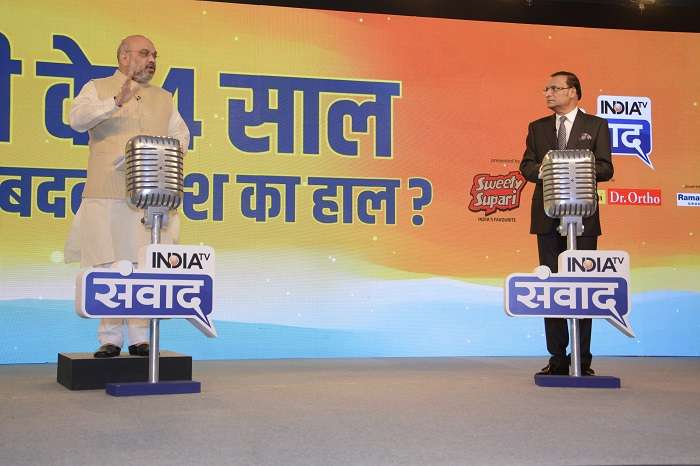 BJP president Amit Shah on Saturday, in his first reaction over the assembly floor test and subsequent invitation to Congress-JD(S) alliance to form government in Karnataka, said: "This unholy alliance will not last long". 
Replying to questions from Rajat Sharma at the day-long India TV Conclave here, Amit Shah said: "Our party had got mandate from the voters in the Karnataka polls. The Congress chief minister lost in one seat and won one, while 16 of his ministers lost the elections. The mandate of Karnataka voters was clearly against Congress rule. Our party won 104 seats, and was seven short of the magic mark."
On chief minister B.S.Yeddyurappa's resignation today, he remarked: "We had gone to the people with two main issues - Narendra Modi's four-year rule and Siddaramaiah's rule. The people of Karnataka made us the single largest party and we got the people's mandate, though we fell short of majority."
On charges of "horse-trading" levelled by Congress and JD(S), Amit Shah said: "Had we indulged in horse-trading, today's result would not have been so. They are levelling horse-trading charges against us, but in reality, they bought an entire stable". His pointer was towards Congress offering the chief ministerial post to H.D.Kumaraswamy.
When Rajat Sharma asked whether his party would try to topple the Congress-JD(S) government, Amit Shah replied: "Our party will not do such a thing. This is an unholy alliance and such governments do not last long."
Asked how his party could have arranged more seats as it fell short of majority, Shah replied: "Had we got the 15-day period to prove our majority, their party MLAs would have gone before their electors and they would have changed their mind within 15 days. Had they taken out victory processions in their constituencies, the MLAs would have easily sensed the mood of the people."
Shah said: "Their MLAs were not afraid because of us, their own party leadership had created a sense of fear among them. By forging an unholy alliance, they will not be able to face the pressure from their voters."
The BJP President claimed that his party would score a bigger victory in next year's Lok Sabha elections compared to the 2014 LS results. 
Watch video: We'll not lose even one seat in Uttar Pradesh in 2019 elections, says Amit Shah