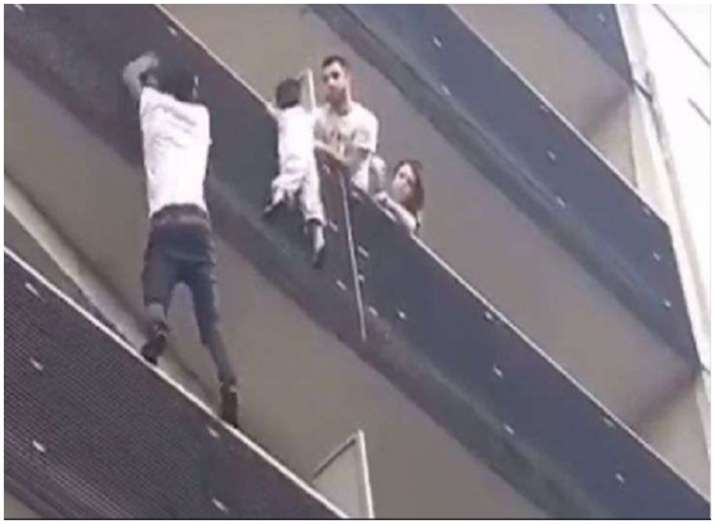 A Malian migrant Mamoudou Gassama who saved a four-year-old child hanging from a fourth-floor Paris balcony after scaling the building with his bare hands was honoured by French President Emmanuel Macron on Monday and offered citizenship.
Two days after his daring Spiderman-style rescue — viewed millions of times online — Mamoudou Gassama was received by Macron at the presidential palace.
"All the (Gassama's) documents will be put in order," Macron told the sporty 22-year-old who has become a national hero, referring to his immigration status.
In the meeting, live footage of which was carried on the president's Facebook page, Macron gave Gassama a medal for bravery and also proposed that Gassama join the French fire service.
"I was not thinking of anything. I went straight up", Gassama, who wore jeans and a short-sleeved patterned shirt, told Macron, recounting the episode.
"Bravo," Macron replied.
Un grand bravo à Mamoudou Gassama pour son acte de bravoure qui a permis de sauver hier soir la vie d'un enfant. J'ai eu plaisir à m'entretenir avec lui aujourd'hui par téléphone, afin de le remercier chaleureusement. https://t.co/DP5vQ1VZYh

— Anne Hidalgo (@Anne_Hidalgo) May 27, 2018
"I'm pleased because it's the first time I've received a trophy like that," Gassama, who arrived in France in September 2017, said after receiving his medal.
Gassama leaped into action Saturday evening on seeing a child dangling in mid-air from a balcony half-way up an apartment block in the multi-ethnic 18th district of the French capital.
The video shows him pulling himself up from balcony to balcony as a man on the fourth floor tries to hold on to the child by leaning across from a neighbouring balcony.
On reaching the fourth floor Gassama, who lives in a hostel for immigrants, throws one leg over the balcony before reaching out with his right arm and grabbing the child.Firefighters arrived at the scene to find the child had already been rescued, with a spokesman saying that "luckily, there was someone who was physically fit and who had the courage to go and get the child." 
Praising Gassama, government spokesman Benjamin Griveaux tweeted: "This incredibly brave act, which is true to the values of solidarity of our Republic, must open the doors of our national community to him."
His story instantly drew comparisons with that of another Malian migrant who was feted as a hero, and given citizenship, for helping save lives during a January 2015 terror attack.