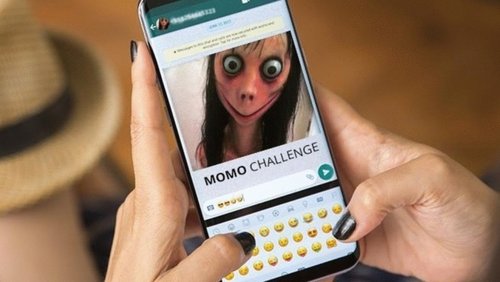 The infamous and creepy Momo Challenge girl character has been popping up in the middle of some popular kids' shows on Google-owned video sharing platform YouTube. This notorious game is known for hacking, putting minors at the risk of psychological and physical hazards, even suicide.
Videos of popular kid shows like Peppa Pig on YouTube have been showing the creepy Momo Challenge character, asking children to hurt others and themselves, Manchester Evening News reported late on Tuesday.
Much like the dangerous Blue Whale Challenge, Momo Challenge entices young adults to contact a user named "Momo" which makes them subject to receiving graphic threats and instructions to perform a series of dangerous tasks, committing suicide being the last one.
During the course of the game, the participants could be asked to watch horror and psychic movies, hurt their hands with blades and needles.
"Content like harmless cartoon shows that parents allow children to watch are now being targetted at, which is the reason why these kind of content is becoming a focus point for hackers as well. As the issue is again gaining visibiliy, YouTube will definitely take some action," Pavel Naiya, Senior Analyst at market research firm Counterpoint told IANS.
The report came just days after YouTube was accused of not being careful with exposing minors to objectionable content on its platform. The app faced backlash from users as well as advertisers leading to several major companies like Nestle pulling off their commercials from the video app.
"They have detailed monitoring policies and they can monitor each frame of a video and that is what could help them put an extra layer of safety, especially for the kid-content," Naiya added.
With a global user-base of over 1.3 billion people, every eight out of ten 18-49 year-olds watches YouTube. With the penetration of Internet and smartphones, users below 18 years of age today are also heavily exposed to the platform.
"Social networking giants like Facebook, Twitter and Google are continuously trying to add more and more security features. It's a system where new challenges will keep coming in terms of algorithms to know what is happening so that dangerous content could be monitored as well as taken care of up to some level," Naiya said.
The Momo Challenge noticeably started circulating around the web globally in 2018.
In India, several states like Odisha and West Bengal have issued advisory on "Momo Challenge", alerting parents and educational authorities. The Indian Certificate of Secondary Education (ICSE) board last year requested parents to a keep close eye on their children who were vulnarable of falling prey to the online suicidal game.  
(With IANS Inputs)