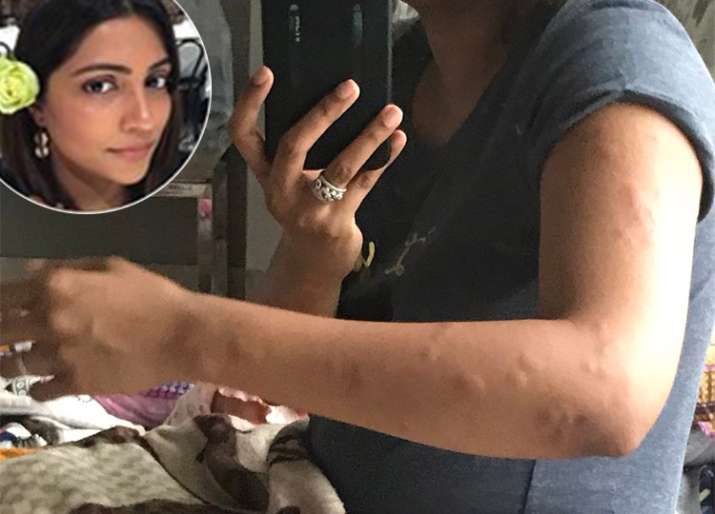 Saumya Shetty, a New York-based stylist while flying to Mumbai, wrote couple of critical tweets for Air India in which she was traveling. The passenger was flying with three children in business class for a comfortable experience but reality was different. Air India flight left the lady with bed bug bites and was not allowed a change of seat until "thirty minutes before landing" despite her number of complaints.
Ms. Shetty took to her Twitter account for posting a picture of reddened lumps on her hands which was a result of bed bug bites during her travel. Shetty, in one of her tweets, wrote that she was travelling with her three children from Newark, New Jersey to Mumbai on July 18 and was not allowed a change of seat until "thirty minutes before landing" the next day after complaining twice.
Following are her tweets on her recent travel plight.
Traveled business class thinking it would help with three kids. I'm covered with bed bugs bites and it's been a painful day so far. @airindiain Inspite on complaining I had to sleep in the same seat and only got moved the next day when we werelanding. @timesofindia @indianexpreas

— Saumya Shetty (@saumshetty) July 19, 2018
Covered in painful bedbug bites all over my body thanks to business class of #AirIndia is this what you charge for?i only got moved to another seat in the morning when we were landing, it was disgusting! Mind you I was traveling with 3 kids. @timesofindia @mid_day

— Saumya Shetty (@saumshetty) July 19, 2018
What an #airindia #businessclass would do to you? AI still has to get in touch with me inspite if my repeated attempts to get in touch with them. @airindiain @NewYorkTimes11 @cnni pic.twitter.com/tDHfmhX0Vx

— Saumya Shetty (@saumshetty) July 20, 2018
Finally an apologetic email from #AirIndia stating their efforts towards restoring the cleanliness of the aircraft.However, from my perspective I do not want to fly Air India anymore. Not one mention of a refund, forget getting a compensation for putting me in my hellish state.

— Saumya Shetty (@saumshetty) July 24, 2018
An actual comment by an @AirIndia employee when I physically went in to complain at their offices in Nariman Point,"What do these kids who work at call centres know." Apparently I have been emailing/complaining to the wrong people.Whose fault is that? @jayantsinha @sureshpprabhu

— Saumya Shetty (@saumshetty) July 24, 2018
The 36-year-old passenger told about the "callous, chalta hai-attitude" of the staff on a telephonic conversation with indianexpress.com. She further added, "I called their helpline yesterday and asked for a refund of my tickets. I was given an email ID to write a complaint, but the mail bounced."When Ms. Shetty went to a nearby office of the carrier to get the amount of her tickets refunded, this is what happened, "The lady executive (at Nariman Point.) told me I have been mailing on the wrong email IDs. I asked whose fault was it, in that case," she said. "The woman said I'd be given a waiver, that is, I'd not be charged the penalty fee for cancelling tickets. When I said I wanted a refund of the tickets, she countered me by saying that I still travelled on those tickets."
Ms. Shetty was sent an email by Air India on July 24 where there was no mention of compensation or refund whatsoever.
The displeased passenger also shared the Air India's email with Indian Express which says, "Whilst the source of bedbugs entering the aircraft is being thoroughly investigated, we would like to inform you that the upkeep of our aircraft is now being continuously monitored to ensure that such a situation never recurs." It further read, "In this connection, Please be assured Ms Shetty, that the aircraft has been fumigated and temporarily withdrawn from service for special fumigation required for treatment of bedbugs. The seat covers have been replaced and the seat crevices also have been inspected and found satisfactory."
In her response to the email, Ms. Shetty insisted on getting a full refund, taking into consideration the "emotional turmoil" she had to go through!