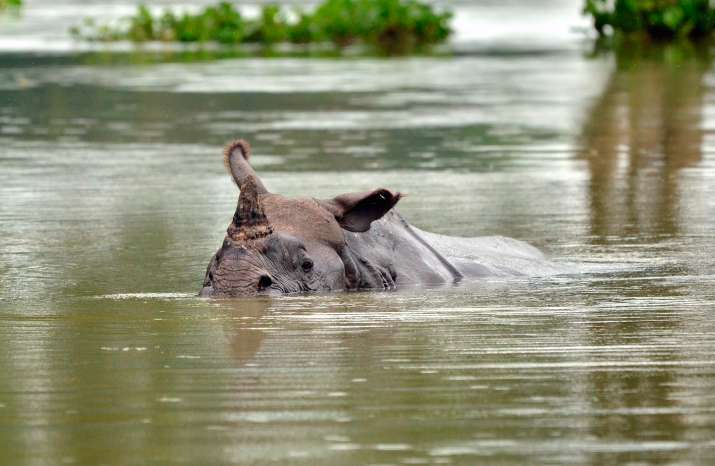 An endangered one horned rhino from Nepal's Chitwan National Park was swept away by flood to India. Covering 46 kilometres from the park, the rhino was found in Indian border village of Bagah. Nepal deployed a team of 40 officials to bring the rhino back to its habitat. The two-and-a-half-years old female rhino was found in a sugarcane farm who was then carried back to Nepal in a truck.
Flooding has caused massive destruction to the Chitwan National Park which is a home to more than 600 rhinos. Four rhinos are still to be rescued out of which two are said to be inside tiger conservation area in Valmikinagar in India while one was found dead. Nepalese officials are hoping to take back the two rhinos as soon as flood subsides. In Assam's Kaziranga National Park, six one horned rhinos are feared to have died due to flood.
Every year during monsoon season, flood wreaks havoc in parts of India, Nepal and Bangladesh causing loss of lives and properties. As death toll rises to 170 in flood-hit Bihar and Uttar Pradesh, in a recent statement, Red Cross said that floods in India, Nepal and Bangladesh affects 16 million people. People are left stranded without food, water, electricity and with high chances of water-borne diseases.
Adding to the tragedy, India's meteorological department has forecasted heavy showers in upcoming days. Government has deployed National Disaster Response Force, State Disaster Response Force and Army for the rescue and relief work. Food packets and other necessary items are being dropped intensively to provide as much relief as possible.