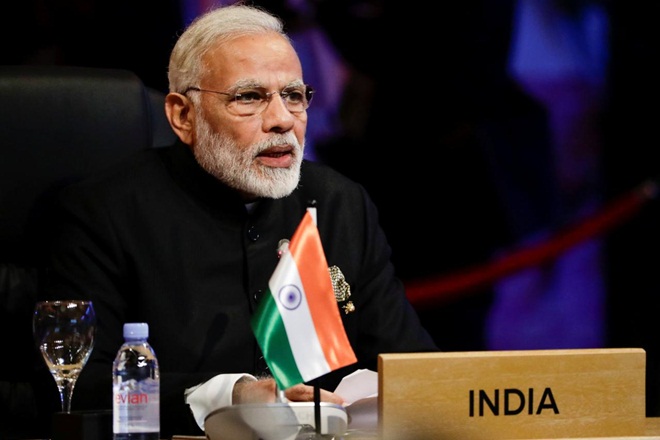 Prime Minister Narendra Modi on Monday left for Davos, Switzerland, to attend the 48th annual meeting of the World Economic Forum.
PM Modi is accompanied by six Union ministers -- Arun Jaitley, Suresh Prabhu, Piyush Goyal, Dharmendra Pradhan, M J Akbar and Jitendra Singh.
Ahead of his visit, PM Modi said on Sunday that he will share his vision for India's future engagements with the international community, as he sought "serious attention" of world leaders on existing and emerging challenges to the contemporary global systems. 
He said that India's engagement with the outside world in the recent years has become "truly and effectively multi-dimensional covering the political, economic, people to people, security and other spheres". 
In a series of tweets with 'IndiaMeansBusiness' hashtag, he said, "At Davos, I look forward to sharing my vision for India's future engagement with the international community."  
"I am confident that these bilateral meetings would be fruitful and give a boost to our relations with these countries and further strengthen economic engagement," he said. 
"The existing and emerging challenges to the contemporary international system and global governance architecture deserve serious attention of leaders, governments, policy makers, corporates and civil societies around the world," he tweeted. 
"I look forward to my first visit to the World Economic Forum at Davos, at the invitation of India's good friend and Founder of the WEF, Professor Klaus Schwab," he said, while describing the theme of the Forum, 'Creating a Shared Future in a Fractured World' as "both thoughtful and apt".
The official sessions will begin on Tuesday when the prime minister will deliver the 'opening plenary', during which he is expected to pitch India as an open economy that is ready for investments from across the world, and also a major engine to drive the global economic growth. 
The Prime Minister will also hold bilateral talks with the President of Swiss Confederation, Alain Berset, besides holding a series of meetings with business leaders and addressing the international business council.
Under the theme "Creating a shared future in a Fractured World", the meeting aims to set an agenda to address political, economic and Social challenges of recent times.
Modi is the first Indian Prime Minister to attend Davos meeting in about 20 years since H D Deve Gowda in 1997. 
During his 24-hour-visit, described by officials as "short but very focused", Modi will also host a dinner for CEOs from across the world -- 20 of Indian companies and 40 from elsewhere -- on Monday evening and will interact with a large gathering of 120 members of WEF's international business community on Tuesday. 
Among global leaders, US President Donald Trump will be there to deliver the closing address, but any meeting with Prime Minister Modi is unlikely as the two would not be in town on the same day. 
Pakistani Prime Minister Shahid Khaqan Abbasi will also be in Davos, but officials in India have said no meeting is planned between him and Modi.