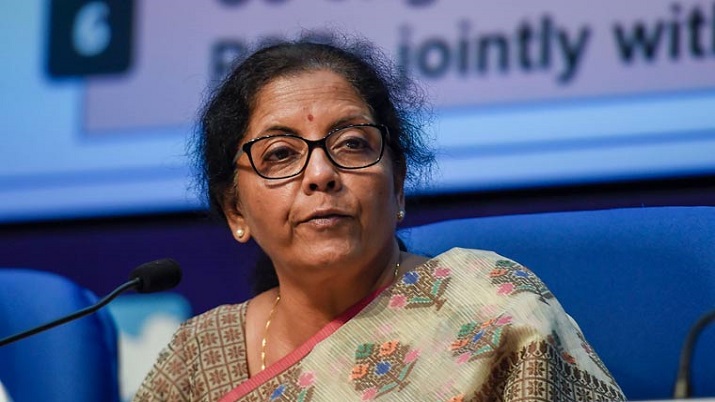 Finance Minister Nirmala Sitharaman on Tuesday held a press conference on statutory and regulatory compliance matters. She said that the central government is preparing an economic package to help the country tide over losses incurred owing to the COVID-19 outbreak. Addredding the media via video conference, Sitharaman extended the deadline for filing GST returns for March-May to June 30. On late filing of GST returns, no late fee, penalty or interest will be charged for companies with turnover of up to Rs 5 crore. For companies with more than Rs 5 crore turnover, no late fee and penalty will be charged on GST return filed by 15 days. A reduced interest rate of 9 per cent will be charged, she said.
The minister said 'Sab ka Vishwas' indirect tax dispute redressal scheme has also been extended to June 30 and no interest on payment made till June 30 will be charged. The deadline for linking Permanent Account Number card to Aadhaar was extended by the Income Tax department to March 31 earlier—the eighth time that an extension was made.
Additionally, the government relaxed company provisions including that of mandatory holding of board meeting and filing of return by newly incorporated companies.
Meanwhile, Prime Minister Narendra Modi will address the nation at 8 pm again today. The prime minister tweeted out saying that during his address this evening, he will talk on the "vital aspects relating to the menace of COVID-19".
Even as we are readying an economic package to help us through the Corona lockdown (on priority, to be announced soon) I will address the media at 2pm today, specifically on statutory and regulatory compliance matters. Via video conference. @FinMinIndia @PIB_India @ANI @PTI_News

— Nirmala Sitharaman (@nsitharaman) March 24, 2020
The Covid-19 death toll in India currently stands at 10 with nearly 500 confirmed cases of the infection. According to the data updated Tuesday morning, the total number of COVID-19 cases rose to 492, including 446 active cases. The figure includes 41 foreign nationals and the nine deaths reported so far.
ALSO READ | PM Modi to address nation at 8 PM today on 'vital aspects relating to COVID-19 menace