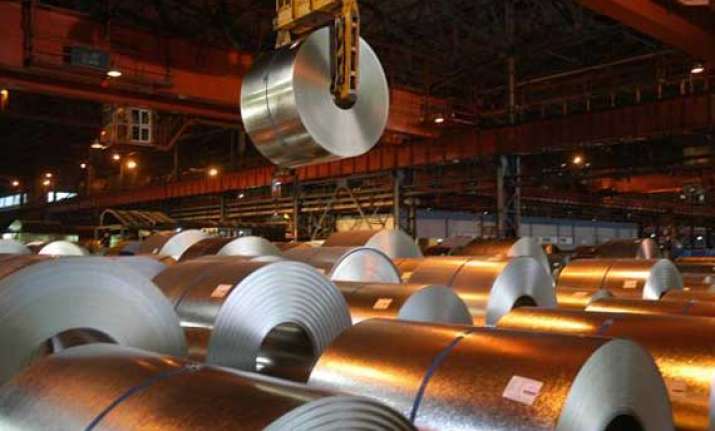 New Delhi: Tata Steel expects the metal's consumption in India to grow by about 5 per cent to 75 million tonne in 2014-15 on hopes that the economy will kick-start once the new government is in place after the general elections results are out next week.
"We expect the economy to kick-start post the new Government... Fundamentals of the economy remain strong and the need for infrastructure creation is stronger," Tata Steel VP, Marketing & Sales, Peeyush Gupta said.
"Consequently, we expect robust improvement in investment -led demand (both govt as well as private) in FY'15 and steel consumption should touch 75 MT, a growth of 4.5-5 per cent over FY'14," he added.
Gupta said in the company's newsletter posted on the website that projections for long-term growth continue to be bullish and the country will gear itself to touch 125 MT by 2020 and 175 MT by 2025.
He said the coming 10 years will be a "decade of steel".
He also projected rural consumption to grow as the economy improves. India's per capita steel consumption is 58 kg as against world average of 250 kg, while rural India consumes only 14 kg per capita.
Gupta further said: "As the economy matures, rate of urbanisation improves, and this gets reflected in increased steel usage in construction and in consumables. Therefore, steel demand will get a major boost from increased RCC housing type construction and conversion of thatched and sand tile roofs to various types of steel roofing."
The other significant action is from the government to drive inclusive growth, as enumerated in the 12th Five Year Plan (2012-17), with the launch of schemes like MGNREGA, Sarva Shiksha Abhiyan and Bharat Nirman, he added.
With the improvement in income levels and direct support to pukka housing, steel companies have a good prospect in rural India, Gupta said.
Over the last few years, the initiatives taken by Tata Steel to reach out to nearly every district in the country through its dedicated distribution network makes it favourably placed to address the rural demand growth.
In the recent past, Tata Steel has launched an innovative solution focusing on increased steel usage in a rural setting which is steel intensive, yet affordable - called "NEST-IN".
It has also ventured into pilot projects that promote use of steel in furniture and house doors.
Construction sector accounts for around 60 per cent of the country's total steel demand while the automobile industry consumes 15 per cent. Both the sectors have been hit by a slowdown in the economy which grew by 4.9 per cent in 2013-14, as against the growth rate of 4.5 per cent in 2012-13 – the decade low levels.