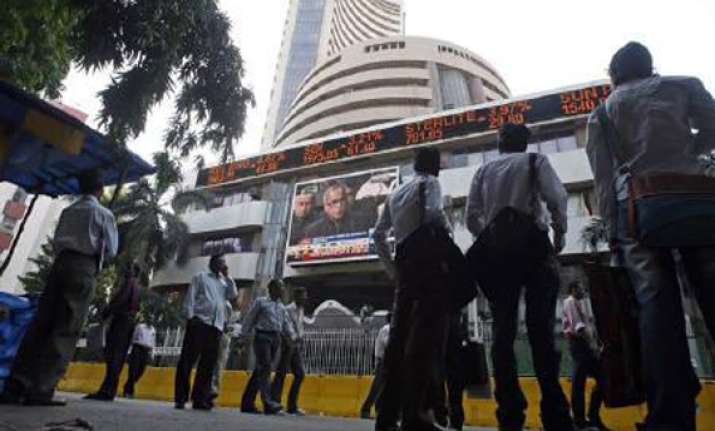 Mumbai, Jan 20: The BSE Sensex moved up by over 95 points to 16,739 as stocks gained for the second consecutive day amid sustained FII inflows, upbeat overseas markets and strong corporate earnings during the third quarter.

Investor confidence got a boost as major software services exporter Wipro reported 10.4 per cent rise in profits for the October-December quarter. Wipro rallied 2.38 per cent.

Bajaj Auto jumped 6.18 per cent following yesterday's posting of over 19 per cent gain in Q3 net profit.

Besides, Sensex's leading heavyweights RIL and ICICI also made strong gains. However, ITC slumped 3.59 per cent on profit-booking.

The BSE 30-scrip index opened with gains and moved between 16,788.48 and 16,611.71 before closing at 16,739.01 -- up 95.27 points or 0.57 per cent over yesterday when it had gained 192 points.

Similarly, the 50-issue NSE index Nifty rose 30.20 points, or 0.60 per cent to 5,048.60.

Stocks have been on the upswing also on account of heavy FII buying as falling inflation has raised investor hopes that RBI may start cutting lending rates, possibly from next week's monetary review meeting.

"December quarter results are driving stock specific movements. While Bajaj Auto moved up after strong numbers, ITC dropped on concerns about moderating growth. Banks held their fort ahead of the RBI policy meet. Expectation of monetary easing are surely building up in the stock prices," said Milan Bavishi Research Head Inventure Growth and Securities.

Analysts also said market sentiment was supported by gains in Asian stocks amid hopes that the euro-zone debt crisis may be moving towards a resolution, and strong earnings posted by US banks.

Key indices in Hong Kong, Singapore, China, South Korea and Japan gained up to 1.82 per cent.

However, markets in Europe were a little weak in the afternoon as indices in UK, Germany and France were down by up to 0.48 per cent.

Meanwhile, FIIs, the main market movers that have pumped in about USD 1 billion so far this year in Indian equities, bought shares worth Rs 626.14 crore yesterday, as per provisional data from the stock exchanges.

The leading Sensex gainers were: ICICI Bank (5.81 per cent), Jindal Steel (3.35 pc), BHEL (3.09 pc), Hero Motoco (2.63 pc), SBI (2.55 pc), Wipro (2.38 pc), NTPC (1.72 pc), DLF (1.66 pc), ONGC (1.21 pc), Tata Power (1.16 pc), Cipla (1.07 pc), Gail (1.07 pc) and RIL (1.04 pc).

However, M&M declined 2.67 pc, followed by Maruti Suzuki 2.62 pc, Hindalco - 1.98 pc, Coal India - 1.86 pc and Sterlite - 1.13 pc.

The total turnover at BSE rose to Rs 2,948.20 crore from yesterday's level of Rs 2,509.13 crore.