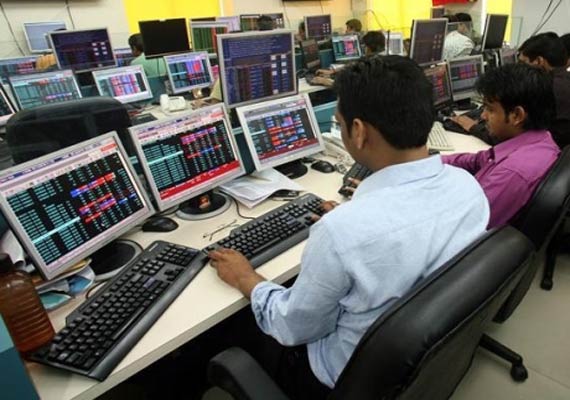 Mumbai, Mar 20: The BSE benchmark Sensex snapped 3-session losing streak today, gaining 43 points at 17,316.18 on buying at lower levels after recent declines.
Consumer durables, realty, FMCG and healthcare counters attracted strong buying.
Stocks markets, which had been on down-trend since last week after the RBI policy and the Union Budget 2012-13, recovered on value buying despite weak equities globally.
The BSE 30-scrip Sensex resumed higher at 17,308.89 and moved widely between 17,410.13 and 17,211.73. It settled at 17,316.18, up 42.81 points or 0.25 per cent.
Sensex had lost nearly 646 points or 3.60 per cent in the last three days.
The NSE 50-share Nifty gained 17.80 points or 0.34 per cent to 5,274.85.
FIIs, which have been buying Indian equities since the start of this year, picked up shares worth Rs 160.87 crore yesterday as per the provisional data from the stock exchanges.
Globally, Asian markets ended lower with key indices in China, Hong Kong, South Korea and Taiwan falling by up to 1.38 per cent.
European stock markets were trading lower in their early trade. Key benchmark indices in France (CAC), Germany (DAX) and UK (FTSE) fell by 1 per cent to 1.40 per cent.
Of the 30 Sensex scrips, 18 scrips finished with gains while others ended lower.
Sun Pharma rose 2.69 per cent, followed by HDFC Bank (2.08 pc), Jindal Steel (1.51 pc), DLF 1.37 (pc), Cipla (1.30 pc), ITC (1.29 pc), Tata Steel (1.29 pc), Tata Power (1.17pc), SBI (1.13 pc), TCS (1.12 pc), BHEL (0.77 pc) and RIL(0.73 pc).
However, Tata Motors fell by 4.21 pc, followed by Coal India (2.31 pc), Hindalco (1.74 pc), Bajaj Auto (1.24 pc) and Bharti Airtel (0.71 pc).
Among the sectoral indices the BSE-Consumer Durables rose 2.35 per cent, Realty - 1.44 pc, FMCG - 1.04 pc, Healthcare -1.01 pc and Bankex - 0.85 pc. BSE-Auto fell by 1.50 per cent.
However, the total market breadth showed that 1,542 stocks ended with losses, while 1,335 scrips closed with gains. The total turnover improved to Rs 2,626.84 crore, from Rs 2,401.46 crore yesterday.