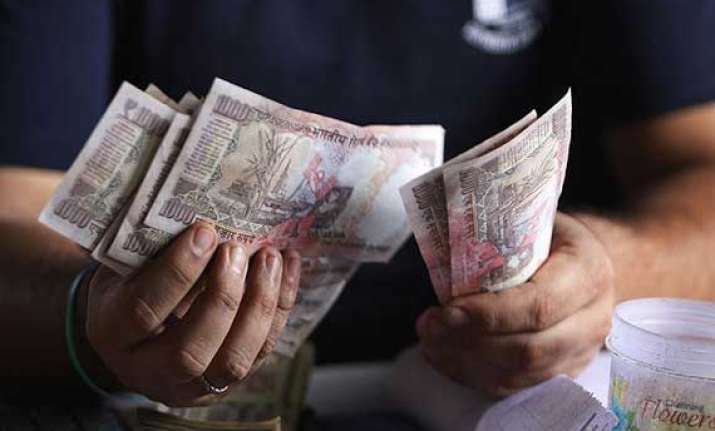 Mumbai: The rupee rose to above 60-level at 59.96 against the dollar but surrendered the gain to settle the day lower by a marginal two paise at 60.13 as a sudden demand for the US currency emerged at fag end of trade.
The rupee resumed higher at 60.02 as against the last closing level of 60.11 at the Interbank Foreign Exchange (Forex) Market and firmed up further to 59.96 on dollar selling by exporters and some banks.
However towards the close of trade, domestic currency came under pressure as demand for dollar emerged from banks and importers. It finally settled the day at 60.13, two paise lower than its previous close.
The dollar index was down by 0.02 per cent against a basket of six major global currencies.
Pramit Brahmbhatt, Veracity Group CEO, said: "Rupee continued to trade range bound .... Traders are being cautious ahead of the unsure Lok Sabha elections outcome. Towards the end, the rupee lost its way and eventually ended near yesterday close on dollar demand from oil firms."
Meanwhile, the benchmark BSE Sensex tumbled by 184.52 points or 0.82 per cent to 22,323.90.
"Investors will have a keen eye over Janet Yellen's (Fed Reserve chief) speech which is scheduled for today," said Abhishek Goenka, Founder and CEO, India Forex Advisors.
The benchmark six-month premium payable in October ended at 223.5-225.5 paise as against 222-224 paise previously.
Far forward contracts maturing in April, 2015 also ended higher at 450.5-452.5 paise from 449-451 paise previously.
The Reserve Bank of India fixed the reference rate for dollar at 60.03 and for the euro at 83.58.
The rupee moved down further against the pound to 102.05 from 102.00 previously while fell back against the Japanese yen to 59.14 per 100 yen from yesterday's close of 59.06.
However, it recovered slightly against the euro to 83.75 from last close of 83.77.