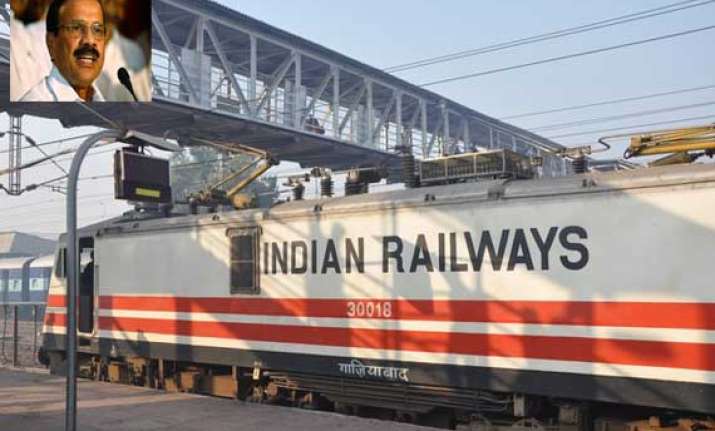 New Delhi: Having done a pre-Budget hike of 14.2 percent in passenger fares and raised freight rates, Railway Minister Sadananda Gowda's will present his maiden Rail Budget on Tuesday. High-speed trains, world-class stations and safe journeys are likely to be the government's top priorities.
There will be provision for a few new trains including premium and services connecting various pilgrim centers in the Rail Budget 2014-15.
The high-profile Golden Quadrilateral Rail Network-linking the four metro cities-might be important highlights of the budget. Running semi-high-speed trains on select routes might be an item of immediate implementation.
The Budget will also reflect the views of NDA government on Rail Tariff Authority and High Speed Rail Authority.
Railway minister Sadanand Gowda made waves even before he presented his maiden budget with a 14 per cent hike in passenger fares across the country. However, the government has put the blame on its predecessor UPA government for the rail price hike.
"The earlier government made this plan of tackling the losses but they did not implement it. This was even calculated in the earlier budget and consulted with the former PM . Just that they stayed the order. So, now how can they come out and say that this government is doing something wrong," Gowda questioned.
The government is also facing pressure from allies who are forcing a partial rollback but the freight fare hike of 6.5 per cent remains unchanged.
According to experts, the first big challenge for the railways is to ensure that a constant increase in freight fares does not take the loads off tracks. "Freights are becoming expensive. There has to be a balance between freight and passenger fares and get dedicated freight corridor in place soon," Former Chairman of Railway Board JP Batra said.
Experts also feel that there is a need to allocate budget for adequate asset renewal for safety needs
With two major accidents within a month of the new government taking over, safety continues to be a major grey area. Passenger safety is caught between clash of technology, clash of interests and political lethargy.
Systems like anti collision devices are also in a limbo. Railway has spent Rs 50 crores to develop anti-collision devices since 2006. In December 2013, the former railway ministry told Parliament that a new improved software version had been developed by Konkan Railway which was under evaluation.
Another stalled project is a new train signaling system TPWS. In December 2013 railway minister told Parliament that trials are in progress for TPWS. The trial for the train protection warning system was completed in 2009 after three years of tests.