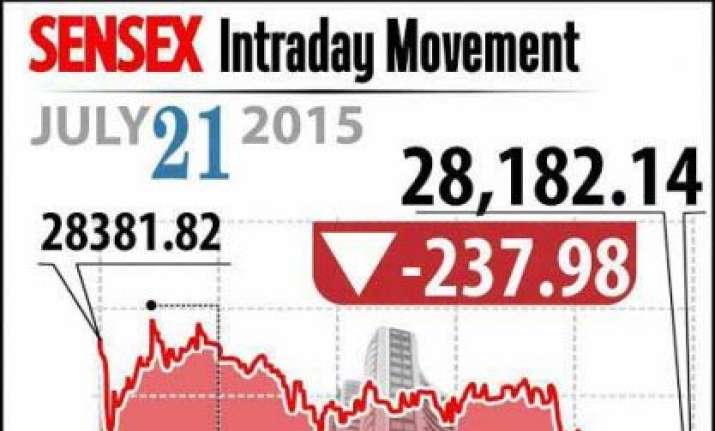 Mumbai: Lower-than-expected first-quarter results and the logjam on the first day of parliament's monsoon session subdued the Indian equity markets, with a barometer index closing 238 points down on Tuesday.
The benchmark index of the Indian equity markets, the 30-scrip sensitive index (Sensex) of the S&P Bombay Stock Exchange (BSE), closed deep in the red. It was down 237.98 points or 0.84 percent during the day's trade.
The wider 50-scrip Nifty of the National Stock Exchange (NSE) also closed in the negative zone. It closed lower by 74 points or 0.86 percent at 8,529.45 points.
The Sensex of the S&P Bombay Stock Exchange (BSE), which opened at 28,381.82 points, closed at 28,182.14 points, down 237.98 points or 0.84 percent from the previous day's close at 28,420.12 points.
The Sensex touched a high of 28,518.06 points and a low of 28,138.30 points during the intra-day trade.
"The lacklustre performance during the day's trade was due to the stock-specific action on account of the first quarter results. Other triggers for the subdued movements were the worries surrounding the monsoon progress and the logjam in the parliament," Anand James, co-head, technical research, Geojit BNP Paribas, told IANS.
Major results like Infosys, HDFC Bank, Sun Pharma and Hindustan Unilever released on TUesday had the biggest impact on stock- or sector-specific indices.
Investors were also anxious about the ability of the government to pass key bills like Goods and Services Tax (GST) and land bill during the monsoon session. According to James, markets were also nervous about the upcoming futures and options (F&O) expiry on July 30 and the Reserve Bank of India's monetary policy review, which will be conducted on August 4.
"The upcoming monetary policy review is making the markets nervous. This might be the last chance for the Reserve Bank of India to cut lending rates before inflation spirals up again and the US Fed decides on its own rates in September," James added.
Gaurav Jain, director with Hem Securities, elaborated that earnings downgrade by the pharma major Sun pharmaceuticals, weak guidance by Hindustan Unilever and high provisioning made by HDFC Bank caused concerns.
"The wash-out of the very first day of the monsoon session of parliament also spoiled sentiments," Jain added. Sector-wise, healthcare, banks, capital goods, oil and gas, and fast moving consumer goods (FMCG) stocks came under intense selling pressure.
The S&P BSE healthcare index plunged by 1,061.48 points, bank index lost by 361.90 points, capital goods index receded by 224.85 points, oil and gas index was lower by 176.25 points and the FMCG index fell by 133.04 points.
Bucking the trend, however, were the information technology (IT) and technology, entertainment and media (TECK) sectors, which made healthy gains. The S&P BSE IT index rocketed up by 489.20 points and TECK index soared by 232.72 points.
Major Sensex gainers during Tuesday's trade were: Infosys, up 11.05 percent at Rs.1,112.65; Bharti Airtel, up 3.68 percent at Rs.445.25; Wipro, up 1.69 percent at Rs.577; Hero MotoCorp, up 1.10 percent at Rs.2,690; and Bajaj Auto, up 0.99 percent at Rs.2,544.60.
The major Sensex losers were: Sun Pharma, down 14.95 percent at Rs.805.30; Vedanta, down 4.74 percent at Rs.136.60, Lupin, down 4.68 percent at Rs.1,886.05, ONGC, down 3.56 percent at Rs.281.35; and Tata Steel, down 3.29 percent at Rs.274.65.
Among the Asian markets, Japan's Nikkei was up by 0.93 percent, China's Shanghai Composite Index rose by 0.66 percent, and Hong Kong's Hang Seng gained by 0.52 percent.
In Europe, the London FTSE 100 index inched up by 0.01 percent, while the French CAC 40 was marginally higher by 0.08 percent. Germany's DAX Index rose only 0.01 percent at the closing bell.