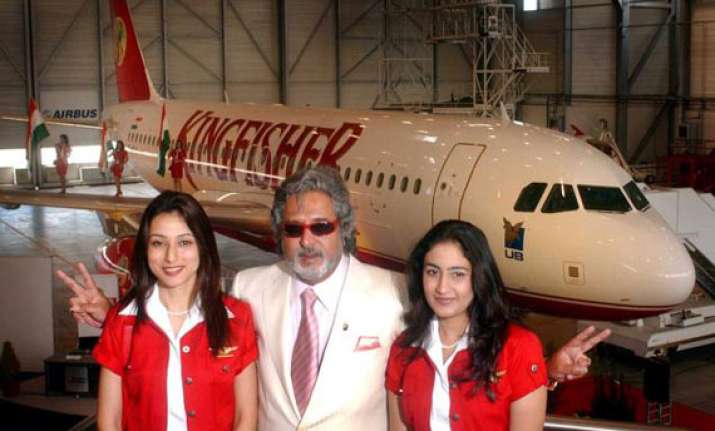 Mumbai: Public sector lender IDBI Bank is hopeful of recovering up to 80 per cent of its Rs 800 crore exposure to Kingfisher, even as the revival of the grounded airline remains uncertain.
"We are quite hopeful of recovering our dues from Kingfisher Airlines. In all, we expect to recover 70-80 per cent of our total loans to the airline," a senior IDBI Bank official told PTI here.
The official said the bank's total exposure stands at around Rs 800 crore. "We have already recovered Rs 70-80 crore by way of selling pledged shares," the official added.
IDBI Bank is one of the five lenders in the SBI-led core group, which was set up early this year to recover over Rs 7,500 crore in principal alone from the Vijay Mallya-promoted airline.
The company has not been servicing these loans since January 2012.The airline took loans from as many as 17 banks.
While SBI has the maximum exposure with Rs 1,800 crore, the other major lenders to the grounded airline include PNB (Rs 800 crore), BoI (Rs 650 crore), Bank of Baroda (Rs 550 crore), United Bank of India (Rs 430 crore), Central Bank of India (Rs 410 crore).
UCO Bank has an exposure of Rs 320 crore), Corporation Bank (Rs 310 crore), State Bank of Mysore (Rs 150 crore), Indian Overseas Bank (Rs 140 crore), Federal Bank (Rs 90 crore), Punjab & Sind Bank (Rs 60 crore) and Axis Bank (Rs 50 crore).
"There is enough collateral to cover the dues of all the lenders," the official said, adding, "also, the Kingfisher
brand still has a lot of value."
The declared collaterals include the Kingfisher House in Mumbai worth about Rs 150 crore, the Kingfisher Villa in Goa worth around Rs 90 crore and the brand Kingfisher which had a notional value of over Rs 4,000 crore when pledged.
In May, the consortium leader SBI had said the lenders had recovered Rs 1,000 crore and was making all efforts to recover the remaining dues from beleaguered airlines.
"KFA recoveries are going on. We have substantial amount of recoveries. Total recoveries of more than Rs 800-1000 crore is already done," past SBI chairman Pratip Chaudhuri had said.
The airline has been grounded since last October and its flying licence got expired in December, though it has a two years window to restart the carrier on the same permit.