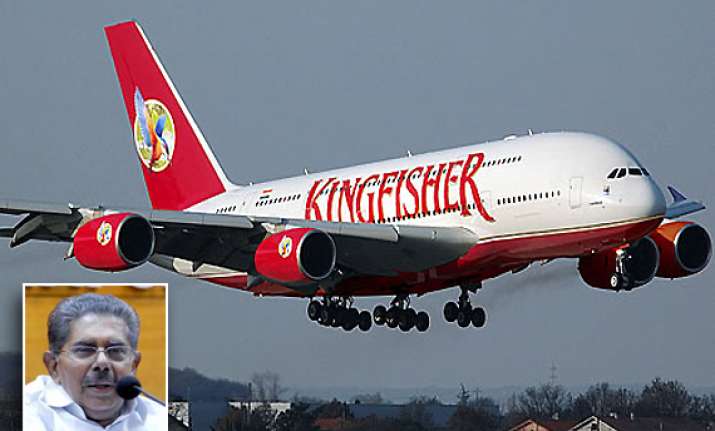 New Delhi, Nov 12: Crisis-hit Kingfisher airlines today questioned whether it was the private carrier's duty to fly on loss-making routes, even as Government said there is no move to bail out the airline which has cancelled 210 flights in six days.

Kingfisher owner Vijay Mallya while blaming the system of airlines in the country being overtaxed and overcharged also said governments abroad have "gone out of the way" to support air carriers and connectivity.

With 50 more flights being cancelled, the beleaguered airline has cancelled 210 flights since Monday putting hundreds of passengers to inconvenience.

"This is to clarify that no such bailout package is pending before the Government nor has been proposed by Ministry of Civil Aviation for the Kingfisher Airlines," Civil Aviation Minister Vayalar Ravi said in a statement. Ravi's clarification came against the backdrop of Opposition flak over his statement that he would talk to the Finance Ministry to see whether banks and oil firms could provide some relief to the cash-strapped airline.

On the other hand, Mallya, who had earlier this week sought government help, tweeted: "Every government has gone out of the way to support airlines and connectivity. In India airlines are overtaxed and overcharged. Wonder why?" In another tweet, he posed: "Is it Kingfisher's duty 2 fly on loss making routes when state governments tax heavily? Or should v be financially prudent n fly profitably".

Official sources said while no bailout was being given by the government to Kingfisher, it was free to approach the concerned ministries on issues concerning soft loans and for restoration of the credit line from oil PSUs for the uplift of jet fuel.

Kingfisher CEO Sanjay Aggarwal said the airline has not made any bailout request to the government but admitted "we have only asked our banks for an increase in limits due to significant increase in operating costs caused by increase in fuel prices and rupee devaluation."

Meanwhile, BJP today came out strongly against any government attempt to bail out debt-ridden Kingfisher Airlines, saying it is not the private sector which needs to be rescued but the common man who is facing the brunt of price rise and corruption.

"The problem with Kingfisher airline is due to its own mismanagement. There are some airlines which are making profits while some are running losses. But government is not required to bail out the loss making units," BJP spokesperson and former aviation minister Shahnawaz Hussain told PTI. He also insisted that Kingfisher Airlines does not need a bailout from the government.

"A bailout is needed for the aam admi (common man) who is bearing the brunt of huge corruption and price rise under the UPA government. But it appears the government is more keen on bailing out an airline and not the common man," Hussain said.

Aviation Minister Vyalar Ravi had indicated that the government may explore ways to help Kingfisher Airlines. Yesterday, BJP leader Yashwant Sinha had also said there was no ground for the government to help the ailing airline. "There is no case for a government bailout. Kingfisher Airlines can merge with another airline, or sell-off or whatever...," Sinha had said.

He insisted that the pre-liberalisation practice of the government taking over a sick private sector unit and running it at a huge loss to the exchequer has been given up.