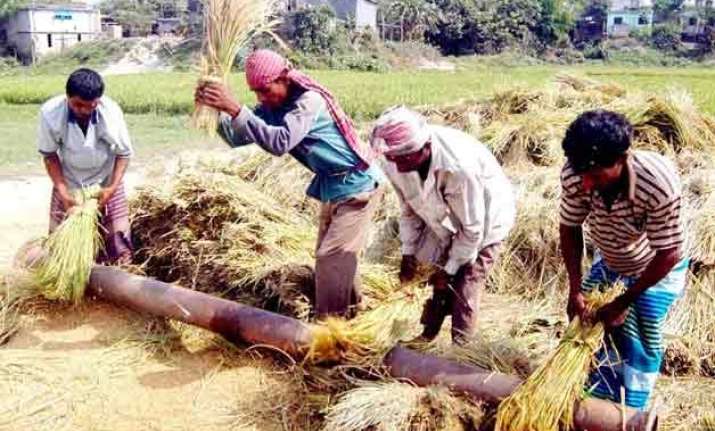 New Delhi: India's foodgrains production is estimated to have declined by 5.25 per cent to 251.12 million tonnes in 2014-15 crop year due to poor monsoon and unseasonal rain in past two months.
The country had registered a record foodgrain production of 265.04 million tonnes in 2013-14 crop year (July-June). Wheat, rice, coarse cereals and pulses are part of foodgrain basket.
While releasing the third advance estimates for 2014-15, the Agriculture Ministry today said the production of most of the crops fell because of bad monsoon in 2014 and unseasonal rains/hailstorms during March-April 2015 that affected kharif (summer-sown) and rabi (winter-sown) crops.
Rice production is estimated to have fallen to 102.54 million tonnes in 2014-15 against the record output of 106.65 million tonnes in the previous year.
Wheat output is estimated to have declined to 90.78 million tonnes in 2014-15 as against a record 95.85 million tonnes achieved in the previous year.
It may, however, be noted that wheat and rice stocks with government are 51.17 million tonnes as of May this year, as against buffer norm of 21 million tonnes as of April 2015.
The ministry has revised downwards the production of foodgrains as well as that of rice and wheat from its earlier estimates released on February 18 this year. Foodgrains output was then pegged at 257.07 million tonnes; rice at 103.04 million tonnes and wheat at 95.76 million tonnes.
"It may be noted that production of kharif crops during 2014-15 suffered due to bad monsoon. Unseasonal rains/ hailstorm during Feb-March 2015 had significant impact on production of rabi crops.
"As a result of setback in kharif as well as rabi seasons, the production of most of the crops has declined during 2014-15," the ministry said in a statement.
India had received 12 per cent deficient rains in south west monsoon in 2014.
"Total foodgrains production in the country is estimated at 251.12 million tonnes (MT) which is lower by 13.92 MT than the last year's record foodgrains production of 265.04 MT."
Coarse cereals output is estimated at 40.42 MT, down by 2.87 MT in the previous year, while pulses production is likely to have dipped by 1.87 MT to 17.38 MT.