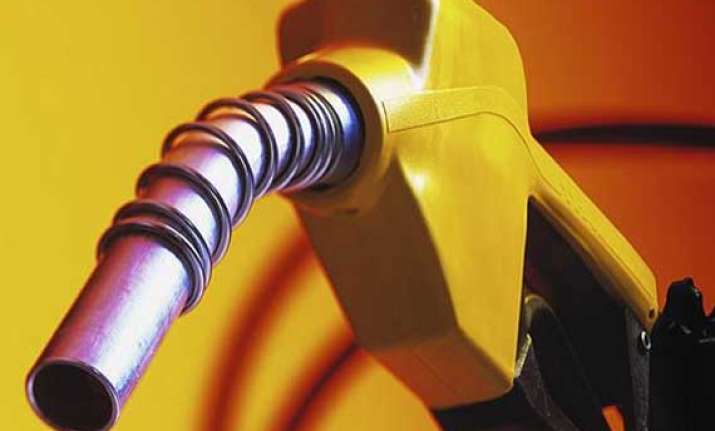 New Delhi, May 22: Finance Ministry today agreed to dole out a record Rs 100,000 crore towards diesel and cooking fuel subsidy in 2012—13 but wants pricing formula to be changed from current year to cut down the outgo.
Finance Ministry, which had previously given out cash subsidy of Rs 55,000 crore, agreed to give Rs 40,000—45,000 crore more to cover for unmet revenue losses on fuel sale in the fiscal year ending March 31, 2013.
The agreement was reached during a meeting Prime Minister Manmohan Singh had with Finance Minister P Chidambaram and Oil Minister M Veerappa Moily here today.
Oil Ministry had been pressing for early release of the remaining subsidy of 2012—13 fiscal as retailers Indian Oil (IOC), Hindustan Petroleum (HPCL) and Bharat Petroleum (BPCL) have to close accounts by month end.
"We have to get unmet under—recoveries and that's why we met," he said on the meeting.
The three retailers in 2012—13 lost Rs 161,029 crore on selling diesel, domestic LPG and kerosene at government controlled rates which are way below market price.
Of this, the government has provided Rs 55,000 crore by way of cash subsidy and about Rs 45,000 crore was made good by upstream firms like ONGC.
There remained an unmet under—recovery or revenue loss of about Rs 60,000 crore. Upstream firms are expected to chip in another Rs 15,000 crore and the rest had to come from Finance Ministry.
"The Finance Ministry has agreed to meet the under— recoveries. The issue has been sorted out," Moily said.
In 2011—12, when oil firms lost Rs 138,541 crore in revenue on fuel sales, the government gave out Rs 83,500 crore by way of cash subsidy. This was more than Rs 41,000 crore in doled out in 2010—11 and Rs 26,000 crore in 2009—10.
Upstream firms had provided for about 40 per cent or Rs 55,000 crore of the under—recovery in 2011—12, up from Rs 30,297 crore in 2010—11 and Rs 14,430 crore in 2009—10.
Moily said issue of changing fuel pricing norm to export parity has been referred to an expert panel led by Kirit Parekh.
The Finance Ministry wants petrol and diesel to be priced at a rate they can get in export market, rather than current practice of pricing the fuels after adding transportation and customs duty to the international price.
The difference between the Export Parity Price (EPP) being propagated by the finance ministry and the currently in vogue Trade Parity Price is about $3—4 per barrels.