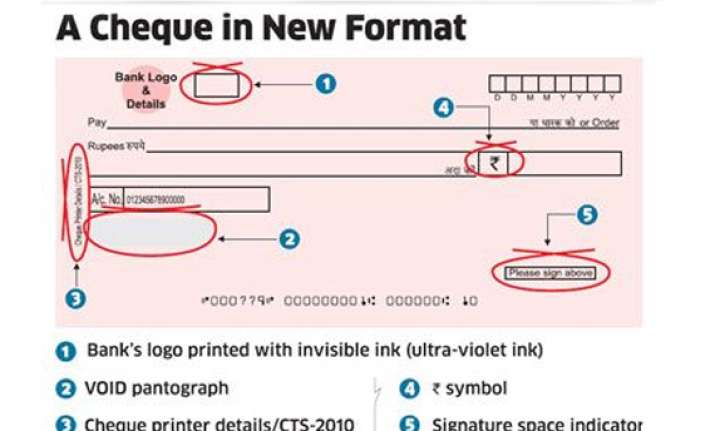 New Delhi, Dec 3: In the recent period you must have received text messages and emails to change your old cheque book. If you are wondering why, then here's the answer: From January 1, the country will shift to a faster, more efficient and secure payment settlement.
From January 1, 2013 onwards you may not be able to use you old cheques given that the banking system will implement the new Cheque Truncation System (CTS-2010), which will eliminate physical movement of cheques for clearing. Under this new regime, only their electronic images, along with key information, will be captured and transmitted. The whole process is designed to make the process more efficient and secure.
"Customers need not worry about the impending CTS implementation. I am sure they will not be inconvenienced due to the migration process. Some transitory period, from January 1 to March 31, could be given during which both types of cheques will be accepted. Banks are sending messages to customers now so that they comprehend the urgency and act upon it," said AC Mahajan, chairman, Banking Codes and Standards Board of India (BCSBI).
As per the guidelines, banks have been asked to recall and replace such cheques and cheque-books before the deadline–a task that is carried out on highest priority.
It is the State owned Banks who are lagging behind and hence, rushing to meet the deadlines, while the most new generation private sector banks have already complied with these norms.
Already, the banks have started informing people by pasting notices on Branches and ATM kiosks. Some banks are also providing the new cheque-books at the doorsteps of the consumers.
The new stysem will not only cut down the time, it will also reduce the clearing-related funds and help slash banks' manpower and administrative costs.
If you are one of those who have issued post-dated cheques to pay EMIs for existing house, auto and other loans, then you have to issue fresh cheques. Although not all banks will return your older cheques, one should take care to get them compliant with CTS standards and hence make them valid.
To avoid these hassles, switch to the ECS mode, where the EMI amount is debited from your account every month. It will also save you the trouble of altering the amount on PDCs in case of any change in EMIs.