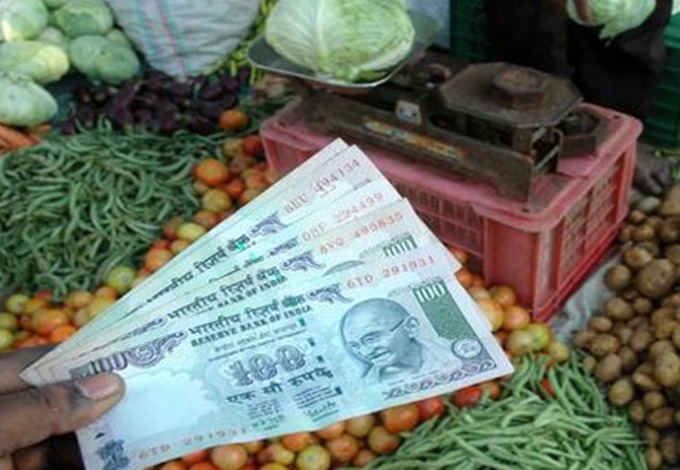 India's annual rate of inflation based on wholesale prices fell marginally to 3.39 per cent for October from 3.57 per cent for the month before, even as prices of pulses and potatoes ruled high, official data showed on Tuesday.
As per data on the wholesale price index released by the Commerce and Industry Ministry, the annual inflation rate has climbed to the current level from a decline of (-)3.70 percent in October last year.
Further, the annual inflation rate for potatoes (October on October) stood at a whopping 60.58 percent, while that for pulses stood at 21.8 per cent. 
Onion prices, though, were down (-)65.97 per cent. Overall, vegetable prices came down by (-)9.97 per cent.
Protein-based food items such as eggs, meat and fish became dearer by 6.20 per cent. Besides, wheat became more expensive by 6.30 per cent.
"The build-up inflation rate in the financial year so far (that is, from April to October) was 4.34 per cent, compared to a build-up rate of 0.45 per cent in the corresponding period of the previous year," an official statement said.
The expenses on primary articles, which constitute 20.12 per cent of the WPI's total weight, rose by 3.31 per cent. 
Prices of manufactured products, which comprise nearly 65 per cent of the index, continued to rise for the seventh straight month, rising by 2.67 per cent last month. The prices in the category had risen by 2.48 per cent in September.
The sub-category of manufactured food products, which includes sugar and edible oils, registered a rise of 10.48 per cent.
This was mainly caused by a spurt in sugar prices, which rose by 29.63 per cent, as a result of production shortages. The cost of edible oils rose by 4.59 per cent.
Similarly, fuel and power price inflation accelerated in October. It edged up by 6.18 per cent as compared to a 5.58 per cent rise in September and 1.62 per cent in August.
Diesel price continued to rise after seeing an uptrend which started in June after many successive months of fall. Price of high-speed diesel rose by 19.32 per cent last month.
Gasoline or petrol price climbed by 3.57 per cent, while LPG cost inched up by 0.06 per cent.
(With IANS inputs)