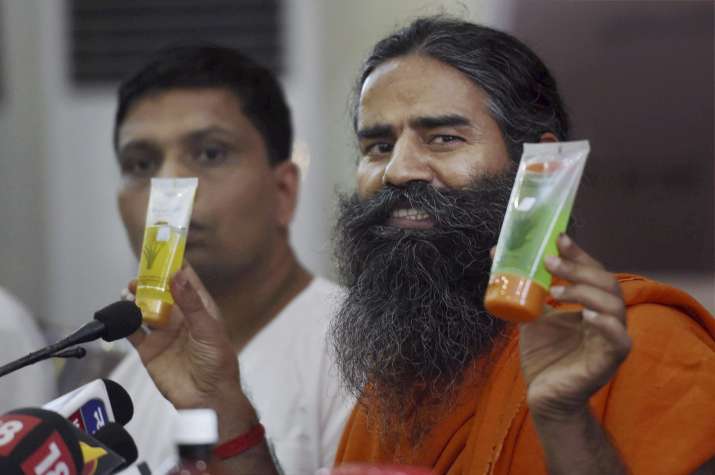 The rapid rise of yoga guru Baba Ramdev's Patanjali Ayurved to a mammoth Rs 10,000 crore company within a span of a decade has clearly come as a big jolt to multi-nationals whose products had dominated the Indian market for years together.
The promise of quality coupled with the allure of low pricing and initial word of mouth publicity has consolidated Patanjali's presence in most Indian households.
Today, Patanjali's rise has not only rattled multi-nationals, it has carved a fresh market for Ayurvedic products in the country. Patanjali has so far maintained that it is happy to co-exist with homegrown companies.
Its major plank of 'Swadeshi' has yielded rich dividends, and the company's take on multi-nationals is no surprise. "Humara ek simple funda hai: MNCs ko replace karna (We have a simple principle: we want to replace MNCs)," Baba Ramdev said in an interview.
"We don't want to put anyone down, but we would like to instill swadeshi pride so that Indian money does not go out of the country."
Baba Ramdev knows fully well that top MNCs are gunning for him.
Hindustan Unilever, for instance, has elaborate plans to deal with rivals like Patanjali in a fast-evolving consumer environment. Economic Times reports that Hindustan Unilever has carved out 15 teams within the organisation for each category with separate targets in sales and innovations.
Each team called Country Category Business Teams or CCBTs have representatives from all functions including R&D, sales and marketing, supply chain and finance and run as independent groups with an entrepreneurial mindset.
The new structure is in sharp contrast with the company's earlier model of having central marketing, brand and sales function team across categories.
HUL posted an 8 per cent rise in net sales with 4 per cent volume growth, ahead of peers, including Colgate, Dabur and Marico. Dividing the country into 15 clusters two years ago also went well the company. Countering regional competition helped improve market share for about 90 per cent of its products, the company said.
Hindustan Unilever now hopes to counter Patanjali just like it did by taking on regional competition earlier. HUL, that launched Lever Ayush last year, is also bringing a new brand Citra, an organic skin care brand from Indonesia and has also rolled out naturals variants under brands like Tresemme and Fair & Lovely.
The biggest focus will perhaps be on the rural markets that have witnessed twice the growth as compared to the urban markets. This is one area where HUL has lagged behind – perhaps with the advent of Patanjali.