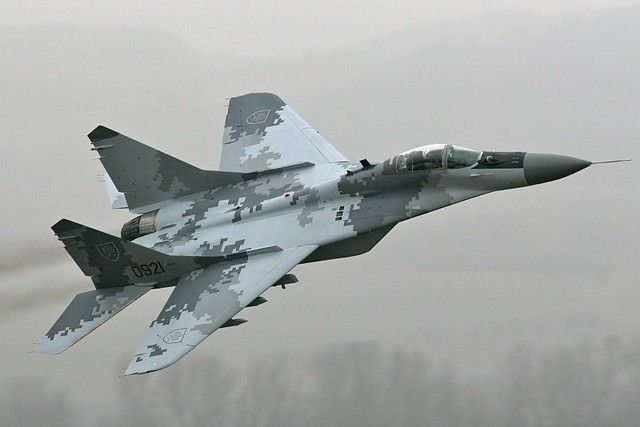 The Comptroller and Auditor General (CAG) has slammed the central government for incurring an "avoidable expenditure" of Rs 9.97 crore in the purchase of  MiG-29 aircraft for the Navy adding that the it went ahead with the deal despite the  technical discrepancies in the fighter plane.
The Defence Ministry concluded a contract on March 8, 2010 and the CAG report tabled in parliament on Tuesday said the contract was finalised by "providing price escalation to the firm although an option clause was valid till 27 March 2010 under an earlier contract".
This, the report said, resulted in an avoidable expenditure of Rs 9.97 crore.
The report called the aircraft as being "riddled with problems" and it was accepted despite having technical discrepancies.
"The MiG-29K/KUB which is a carrier borne multi role aircraft and the mainstay of integral fleet air defence, is riddled with problems relating to airframe, RD MK-33 engine and fly-by-wire 4 system.
Aircraft were being technically accepted despite having discrepancies/anomalies," the report said.
It also said that the serviceability of MiG-29K was low, ranging from 15.93 per cent to 37.63 per cent and that of MiG-29KUB ranging from 21.30 per cent to 47.14 per cent.
"The augmentation of infrastructure at Visakhapatnam is still at the Detailed Project Report stage even six years after approval (December 2009). The Full Mission Simulator was assessed to be unsuitable for Carrier Qualification (CQ) simulator training for pilots, as the visuals did not support the profile. The service life of the aircraft is 6,000 hours or 25 years (whichever is earlier) and with issues facing the MiG-29K/KUB, the operational life of the aircraft already delivered would be reduced," it said.
Further, the deliveries of the aircraft, which will be placed on a aircraft carrier, scheduled between 2012 and 2016 are much ahead of the delivery schedule of the Indigenous Aircraft Carrier in 2023, as projected by Cochin Shipyard Limited, the CAG pointed.
"The Ministry failed to negotiate/quantify sub-contracting work and its cost with reference to the Phase-I contract thereby leading to undue advantage to the shipyard. There was incorrect estimation of man-hour per ton to be utilised for fabrication and outfitting in the Phase-I contract which led to undue benefit to the shipyard to the tune of Rs 476.15 crore. Large unspent balances in the project account and unilateral withdrawal of funds by the shipyard were indicators of weak financial management," the report added.
(With inputs from IANS)