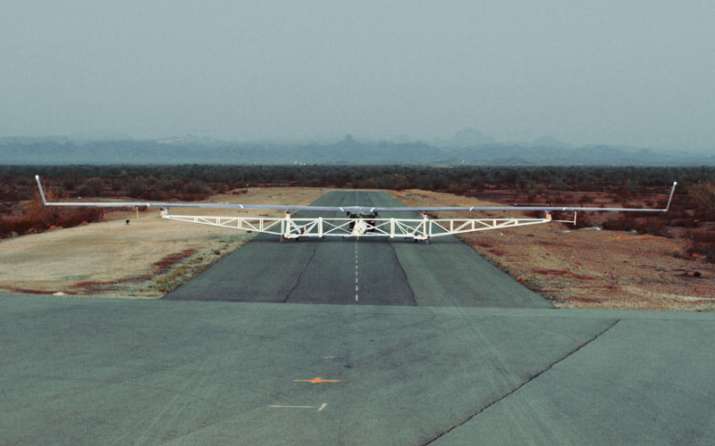 Facebook CEO Mark Zuckerber has claimed that his company has successfully completed a test flight of its  solar-powered drone named 'Aquila' designed to extend internet connectivity to every part of the world.
"After two years of engineering, I'm proud to announce the successful first flight of Aquila -- the solar-powered plane we designed to beam internet to remote parts of the world. Here's the video from our first flight," Zuckerberg said in his Facebook post.
Facebook intends to put in place a fleet of 'Aquila' drones that can fly for at least three months at a time at a height of 60,000 feet and communicate with each other to deliver internet connectivity.
"The flight took place before dawn in Yuma, Arizona. Our original mission was to fly Aquila for 30 minutes, but things went so well that we decided to keep the plane up for 96 minutes. We gathered lots of data about our models and the aircraft structure -- and after two years of development, it was emotional to see Aquila actually get off the ground," Zuckerberg added in his FB post.
"We're thrilled about what happened with our first flight. There are still a lot of technical challenges that need to be addressed for us to achieve the whole mission," said Yael Maguire, Facebook's engineering director and head of its Connectivity Lab.
Maguire further said that Aquila will go through several more test flights. He expressed the hope that  it will soon break the world record for the longest solar-powered unmanned aircraft flight, which currently stands at two weeks.