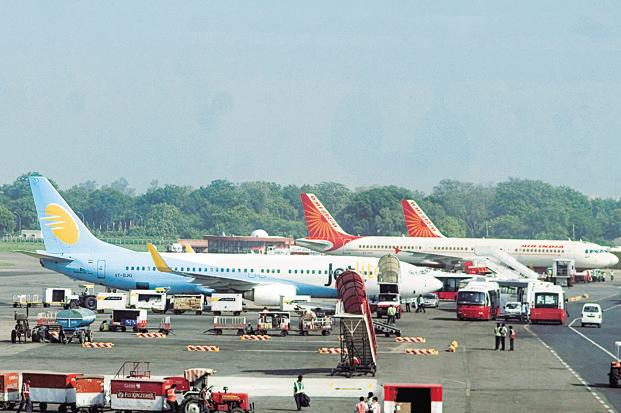 The Indian Air Force has agreed to allow the use of its Hindon airbase for civilian flights under the government's regional connectivity scheme (RCS), civil aviation secretary R N Choubey said today. The move will help to take the load off Delhi's Indira Gandhi International (IGI) airport which is facing slot constraints with Hindon serving as the "second" airport in the national capital region for flights operating under the scheme. 
"In the second round of bidding for RCS, we expect a significant demand for slots for Delhi airport. We recognise that it will be difficult for DIAL to provide all the slots and we have pre-emptively taken up the matter with the IAF, which has gone out of the way to co-operate with us and make their airbase available to us," Choubey told reporters at an ASSOCHAM event today. 
The operation of civil aircraft from the Ghaziabad-based airbase, on the outskirts of Delhi, are likely to start during the winter schedule which comes into effect from the last Sunday of October. 
The government, however, needs to bring on board the IGI airport operator, the Delhi International Airport Limited (DIAL), in order to seek relaxation of the rule which disallows commercial operations of flights from a second airport within 150 kms of an existing one. 
"We are reasonably confident that we will be able to resolve contract related issued with DIAL," Choubey added. 
The official also said that the Chhatrapati Shivaji International airport in Mumbai will not be available for the second round of bidding for the RCS due to lack of availability of slots. The RCS, also known as UDAN (Ude Desh Ka Aam Nagrik), aims at making flying affordable for the masses by capping airfares on selected short routes -- such as from Delhi to Shimla -- at Rs 2,500 per hour of flight. 
Airlines that are awarded routes under the scheme are offered government subsidy and in return need to set aside 50 per cent of the seating capacity for discounted fares. There are 23 defence airports across the country which are also used as civil enclaves for the purpose of operating commercial flights.