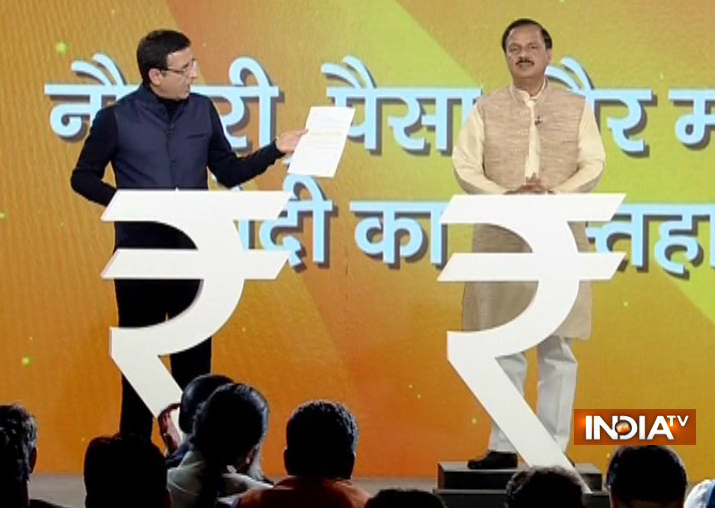 India TV, country's leading Hindi news channel, today hosted "Budget Conclave 2018"— a day-long event where leaders of the ruling BJP government and the Opposition brainstormed over the Union Budget 2018-19, which was unveiled by Finance Minister Arun Jaitley on Thursday.
The top-line political leaders who attended the India TV's "Budget Conclave 2018" included Finance Minister Arun Jaitley, Railway Minister Piyush Goyal, Transport Minister Nitin Gadkari, HRD minister Prakash Javadekar, BJP chief spokesperson Sambit Patra and yoga guru Baba Ramdev.
As it happened: 
Session 11: Randeep Surjewala and Mahesh Sharma
10:19 pm: All schemes launched by government have been successfully implemented and I am sure that the new healthcare scheme will also be rolled out effectively. This scheme will help the poor and make them economically viable: Mahesh Sharma
# Randeep Surjewala questions Mahesh Sharma over funding of new healthcare scheme that aims to cover 10 crore familes. 
10:12 pm: Neem-coating of urea was started during UPA's regime in 2009: Randeep Surjewala 
10:10 pm: The government has taken measures to strengthen farmers': Sharma 
# The government has already announced the MSP of crops for this year. Please don't make Swaminathan as 'Modinathan', says Surjewala 
10:07 pm: Surjewala slams govt over MSP, says farmers' income will be doubled in 2052 according to today's policies. 
10 am: Mahesh Sharma says PM Modi has fulfilled all promises. The government has abolished many old laws. 28 crore bank accounts have been opened. 
Session 10: Finance Minister Arun Jaitley
9:07 pm: The full list of socio-eco survey of available. And it is not difficult to identify families that should be brought under the ambit of the healthcare scheme. By using Aadhaar technology, of which data is available, we can do this: Jaitley on mechanism to including 10 crore families under the new healthcare 
# There are many villages even today that are not electrified. We are targeting to electrify these villages: FM 
9 pm: During the Congress regime, maximum allotment to MNREGA was Rs 40,000 cr and Rs 28,000cr were spent. I have this year again given Rs 55,000 crore for MNREGA. 
8:56 pm: Breaking 20-yr-old tradition, I have increased the custom. When Modi government has assumed the charge there was only 1 mobile manufacturing company, but now the scenarios has changes. My prime focus in to give a push to Make in India initiative that will ultimately generate jobs. We want to strengthen our domestic manufacturing: Arun Jaitley 
8:53 pm: Except tax, there is no other means available with government to amass fund. Because of the tax that is collected from people who can pay tax, help us work for poor: Arun Jaitley 
# There were malpractices in medical billing top claim return. Therefore, I decided to reintroduce the standard deduction of Rs 40,000: Arun Jaitley 
8:50 pm: In every budget I had announced some relief to all. In first budget, I had increased the tax limit by Rs 50,000. We also increased the limit of 80C by Rs 50,000. In last budget I slashed the tax percentage by half. India is the only country in the world where there is a 5 per cent tax bracket: Jaitley 
8:43pm: Jaitley speaks on pollution in Delhi-NCR: The problem is directly related with Delhi, Punjab, Haryana. Crop burning is a major issues. This has contributed to pollution and the SC is already hearing the matter. The need of the hour is to create machines, to do away with crop burning.
8:39 pm: Challenge arises when the price falls below the MSP. The NITI Aayog in consultation with states will decide on this. The MSP will be announced before this season: Jaitley on MSP
8:38 pm: Each sector is reviving and number accordingly jobs are also generating. 
# Jaitley chides Rahul Gandhi for questioning government over job creation. "The term policy paralysis was linked to his government." 
# We have not announced 70 lakh jobs, we had just quoted that government is working on measures for more job opportunities. Enough scope of job creation with the kind of schemes launched by the Prime Minister: Jaitley 
8:33 pm: Job creation is related to things anywhere in the world – economic growth and efforts in schemes to generate employment. Many schemes like Mudra scheme, there is a lot of scope of generating jobs in the informal sector. 
# Arun Jaitley expresses hope that market will regain soon. 
# Those who are criticising were afraid of taking decisions, says Arun Jaitley 
8:28 pm: PM Modi enjoys taking tough decisions. Demonetisation was not an easy decision. The market is above 36,000-mark, if you don't announce at this juncture, then when? Arun Jaitley on LTCG tax
8:25 pm: Not important to comment on a failed representative of a failed government: Arun Jaitley hits back at P Chidambaram for terming healthcare scheme a 'jhoomla'
# We aim to become the fastest growing economy in the world, which is why we have started thinking about building the best healthcare institutes, says FM
8:22 pm: The motto behind the healthcare scheme is, not every one of a family is admitted to hospitals every year, to help cut their expense. We can't extend this to all.. so we decided to start this on an experimental basis. We have included 40 crore people.. many Dalits, tribals, poor people will be brought under the scheme: Jaitley 
8:17 pm: GST is levied on products that are sold. Langar is not sold, therefore there is no GST: Jaitley
# We cannot do away with GST on sanitary napkins before understanding the technicalities behind the same. If Chinese companies begin providing us sanitary napkins, there would be no self-help groups in villages.
8:13 pm: Before GST was rolled out, all items were taxed. Before GST, sanitary napkins were taxed 13%. But GST Council reduced it 12%. Also this includes input tax. Village self help groups do not come under the GST slab, the net taxation on big companies is almost negligible: Jaitley 
# Today the world is talking about India's economy that we are fastest growing. By end of this year, Indian can become the fifth largest economy: FM
8:12 pm: Jaitley speaks on Clean India. What couldn't be done in last 70 years, we have done in 3 years. We have constructed toilets in villages which has benefited the women.
8:10 pm: Arun Jaitley says EPF contribution by women employees reduced by 4% to help generate jobs
8:09 pm: Waving off loans one year… next year, farmers' will again have to borrow cash. Better we should help increase their income: Jaitley 
# "There are vegetables that are most important for the farmers. If there is a surplus, the farmers throw it. Otherwise there is scarcity. Rahul Gandhi did not make any arrangements for this"
8:08 pm: Arun Jaitley slams Rahul Gandhi for targeting govt over MSP. His government in last 60 years could not do this. 
8:06 pm: No democracy can function with mistrust. The government is accountable… it has to answer in the parliament.: Jaitley 
8:05 pm: Increasing farmers' income will help bridge the inequality, says FM Jaitley 
8:04 am: Jaitley on MSP: There is a proper mechanism in the government, that works very professionally, in deciding the MSP. Very experienced economists are part of the panel. 
8:01 am: Finance Minister Arun Jaitley says good economy can be also be good politics 
Session 9: Finance and Revenue Secretary Hasmukh Adhia
6:53 pm: It is wrong if you say that the women will be benefited only if they are exempted from the tax slab: Hasmukh Adhia 
6:50 pm: Post demonetisation, Government collected extra Rs 90,000 crore income tax in last two years. It is a big success: Adhia
Necessity is the mother of invention, so the manufacturers are adjusting themselves as per their needs: @adhia03 at India TV Samvaad #BudgetWithIndiaTV

— India TV (@indiatvnews) February 2, 2018
# Capital market is growing at more than 15% rate: Hasmukh Adhia
6:45 pm: No gain, no loss: Hasmukh Adhia on excise cut on fuel prices. "Government serious on checking fuel prices." 
6:44 pm: Increasing tax limits will expunge taxpayers from tax bracket. There is a big loss in this: Adhia 
# There was no Rs 1 lakh healthcare scheme announced last year. The ambit of Modicare is very large, says Finance Secretary 
# We are working on schemes under which the poor will not need to pay anything if they are admitted to hospitals. They will have to just show Aadhaar card. We cannot talk about Modicare in medicinal terms, looking at a lot of parameters is essential. 
6:39 pm: Adhia on healthcare scheme: It will at least take six months time to implement it. There will be 60:40 provision. Rs 2,000 cr is a token amount. Govt committed to fulfil its commitment irrespective whatever expenses it has to bear 
6:36 pm: Middle class will be benefited most from Rs 40,000 standard deduction: Hasmukh Adhia. "It will significantly benefit the pensioners and many others."
India TV Samvaad on #Budget2018 LIVE: Middle class to be benefited most from Rs 40,000 standard deduction, says @adhia03 #BudgetWithIndiaTV https://t.co/xxW5MwsUo6 via @IndiaTVNews

— India TV (@indiatvnews) February 2, 2018
# Tax reduction expectations in every budget not possible. In past budgets, several relaxations were announced. In last budget, the tax rate was slashed to half: Adaia 
6:32 pm: The reaction from share market was expected. Because of this fear, this decision was not taken in past. We were expecting reactions like this: Adaia on LTCG tax   
The reaction from share market was expected after budget. Because of this fear, decision was not taken, says @adhia03 on #LTCG tax at India TV Samvaad #BudgetWithIndiaTV pic.twitter.com/P6p2S4pJlJ

— India TV (@indiatvnews) February 2, 2018
Session 8: Railway Minister and Coal Piyush Goyal
06:22 pm: I asked the concerned authorities to look at the issue and the situation has improved: Piyush Goyal
06:21 pm: I have traveled on Mumbai trains and have noticed that there used to be a lot of garbage: Piyush Goyal
06:17 pm: By the end of the year, each railway station will have a clean toilet, we will most likely rope in private companies through CSR for maintenance; Piyush Goyal
06:17 pm: 1st April 2018- 31st March 2019 will be a focus year to lay emphasis on the security of women and human trafficking, Railways will contribute in this: 
06:14 pm: Discussions are underway to create a net of CCTV camera on each passenger train and railway station: Piyush Goyal
06:13 pm: The people of the country will rather welcome the decision if I come up with a superfast train between two states: Piyush Goyal
06:13 pm: It is good that we are thinking of the next level travelling experience and for cutting down the time gap between states and cities: Piyush Goyal
06:11 pm: Modernisation of railways will increase speed and ease of travel giving people new jobs: Piyush Goyal
06:10 pm: Is modernisation of railways is a good thing or bad? Piyush Goyal on Rahul Gandhi's rejection of Bullet Train
06:09 pm: We take every opponent and every election very seriously: Piyush Goyal
06:07 pm: Is Rahul Gandhi worried he will be ousted from Congress chief post after one year: Piyush Goyal on Rahul Gandhi's 'ek saal aur' jibe
06:03 pm: I would want to know about the stations on which food grains are being wasted, so that we can take appropriate steps to improve the situation: Piyush Goyal
06:02 pm: Working to digitise all payments in railways, including equipping all ticket checkers with PoS machines: Piyush Goyal
06:01 pm: We are not short of money and so we are using it for the development of various sectors of the society: Rail Min
06:01 pm: Other countries in the world today want to invest in India, this shows the economic graph of the country: Piyush Goyal
06:00 pm: Train collisions have to be avoided and a system has to be developed wherein the train drivers can talk to each other on their track details: Rail Min
05:59 pm: Jump in economic growth creates new jobs: Piyush Goyal 
05:59 pm: New renovations in railways will generate employment: Goyal
05:58 pm: Apart from this, we are also discussing the other problems being faced like unmanned crossings, replacement of railway tracks and so on: Goyal
05:58 pm: Another major improvement being brought by our govt is signalling system: Piyush Goyal
05:57 pm: We are looking at improving the tracks so that we can eliminate the train accidents: Goyal
05:57 pm: Whatever facilities we have in the name of Railways will be used for the safety of the passengers, is what we have decided: Piyush Goyal 
05:56 pm: In my first meeting after resuming office, we discussed the safety of passengers, which has never been an agenda before: Piyush Goyal 
05:55 pm: Modi govt is paying attention towards the safety of passengers and also reducing the time gap between the cities: Piyush Goyal 
05:54 pm: Today, the Centre is making all efforts to improve the quality of travelling by bringing in major reforms in Railways: Piyush Goyal 
05:53 pm: There would not have been development in the Railways had the govt sidelined it: Piyush Goyal
05:53 pm: The lesser we come in the public glare, the better it is: Piyush Goyal 
05:52 pm: If the importance of the budget was lost Railway had been lost on the Modi Govt, the capital expenditure would not have been tripled: Piyush Goyal
05:50 pm: Railway budget was a burden on the exchequer as every year there was pressure to launch new schemes, trains: Piyush Goyal
05:48 pm: Rail budget may have been important when it was started decades ago, but today it had only become a political statement, Piyush Goyal on missing giving budget speech in Parliament
Session 7: Panel round with Srikant Sharma and Gaurav Gogoi
05:38 pm: We have provided jobs to more than youths that we had promised for. Also we are working on providing more job opportunities to the ones that have been left: Srikant
05:36 pm: It is unfortunate that the BJP is not talking on facts. I would request them to not misguide the youth of the country: Gogoi
05:34 pm: We have given electricity in villages, because of which their lives have become easier: Srikant
05:30 pm: All parties need to come in support of PM Modi, so that we may move ahead with our mission on development: Srikant
05:21 pm: We received the country in a bad shape and we are continuing to work for the development ever since: Srikant
05:20 pm: We are setting aims for the years to come, even if the tenure of BJP is till 2019: Srikant
05:19 pm: We are only making those promises that are possible: Srikant Sharma
05:18 pm: We are trying to help the youth of the country on ground level: Srikant Sharma 
05:18 pm: BJP should start laying its focus on the industries as well, not just big but the small ones also: Gogoi
05:17 pm: The Congress should be awarded for presenting fake facts before the people: Srikant
05:15 pm: The condition of hospitals is not in a good shape today, we have been improving those ever since we have come to power: Srikant Sharma
05:14 pm: Gogoi's claim of a medical hospital in every district is a complete lie: Srikant
05:14 pm: Budget is not a magic stick, it has no implications on politics (votes): Srikant
05:12 pm: The BJP is taking away the money that the youth is putting into mutual funds: Gogoi
05:10 pm: The govt has considered everyone in the initiatives he has taken and not just a specific sector: Srikant
05:09 pm: People living in the rural areas are also employed and are doing small works for their living: Srikant
05:09 pm: The only solution to unemployment is providing jobs, we have provided more jobs as compared to the BJP: Gogoi
05:08 pm: If the BJP is still not realising that they need to work on this, it is shameful: Gogoi
05:07 pm: Even after training, only 1 per cent of them get jobs: Gogoi
05:06 pm: Only 18 lakh people getting training under Skill India. PM Modi had promised 40 crore jobs: Gogoi
05:06 pm: Shrikant Sharma ji did not talk of the unemployed because he knows that nothing has been done for them: Gogoi
05:05 pm: I understand the problems being faced by the people residing in villages because I come from a village
05:04 pm: Modi govt has always worked for the development of country as a whole and steps are being taken to provide jobs to all
05:01 pm: I do not believe that injustice has been done with those who have not got jobs: Srikant
Session 6: Panel round with Manish Tewari (Congress) and Sambit Patra (BJP)
4:54 pm: The MSP increased by mere Rs 4 in last 4 years: Manish Tewari. The Congress leader also accuses the BJP government of working for industrialists. 
4:51 pm: Patra speaks on MSP calculation. In last 70 years, the government failed to formulate a formula to calculate the MSP. This we are doing to strengthen the farmers' condition. Farmers' are the backbone of our country and of this backbone is collapses, nothing will be left: Sambit Patra 
4:46 pm: At the GST Council meet they (Congress) participate actively. All decisions by GST Council were taken by the mutual agreement. Never has the opportunity of a vote arisen: Sambit Patra 
4:44 pm: Demonetisation and GST badly hit the economy: Manish Tewari
# You had made mockery of the Prime Minister's post. Congress should talk on the scams of their own party, rather than making the Prime Minister culprit: Sambit Patra 
4:39 pm: Patra says that FDI is at an all-time high in the country. Manish ji is writing facts on his own. GDP is at 7% and not at 3% as said by him. World Bank agrees that India is an investment hub and the whole world stands by the same fact. People of country have time and again attested the demonetisation decision. Gujarat verdict shows "Vikaspurush has killed the Gabbar Singh". The country can't be changed in just one day. You talk about corruption, read the court's observation, it says who had kept Manmohan Singh away from the files? 
4:33 pm: Tewari claims that economy was in a good condition during UPA's tenure. Post 1991, last fiscal year was the worst financial year. 
# Manish ji should not speak on corruption today as Sonia ji and Rahul ji are out on bail, says Sambit Patra 
4:29 pm: Sambit Patra slams Manish Tewari over corruption. "Your PM is not taking even 25 paise in his pocket, he is converting this 25 paise into 50 paise and investing in the country. They (Congress) have no right to speak on corruption."
4:26 pm: They (Congress) are hurt because the healthcare scheme is not named in Rajiv's name. It is Modicare.Our government has increased the investment in infra projects. 
4:25 pm: Sambit Patra hits back at Tewari, suggests him to asks Sonia Gandhi where is Rs 15 lakh. "No one can answer this question better than Sonia Gandhi". "You should be ashamed as you have looted the country for years. Today you are asking about Rs 15 lakhs that the govt had spoken of providing"
# Tewari reminds Patra of Modi's 2014 electoral speech in which he had promised to deposit Rs 15 lakh in accounts of poor.
4:23 pm: Manish Tewari slams government over skyrocketing fuel prices. He even compares the rates of petrol, diesel and cooking gas with UPA's 10-yr rule and 43 months of Modi government.
4:21 pm: Sambit Patra speaks about PMUY. "More than 5 crore LPG connections have been distributed"
4:18 pm: It is not necessary that India will perform the way other countries are performing. Politics of NO will not prevail in the country. It is time to say yes, yes yes.. it (healthcare scheme) will become a reality: Sambit Patra
4:16 pm: There was no mention of the healthcare scheme in the Budget document. It will take at least 6 months time to implement it. I would like to ask them about the money that they will require to fulfill the promise of covering 10 crore families under this budget, says Manish Tewari
4:13 pm: Patra exudes confidence that the healthcare scheme will become a reality. "People were saying demonetization was not possible, but it was implemented; GST will not be rolled out but the government made it possible. This is the government of Modiji. This government makes the impossible possible. 
# This is for the first time, people are discussing about health when it comes to debating budget. Earlier, discussions were restricted to income tax etc etc.: Patra 
4:10 pm: Budget not aimed at garnering votes, it is a budget of vision. It is a sign of positive politics: Patra 
4:08 pm: Budget is not a magic stick, it has no implications on politics (votes): Manish Tewari 
Session 6: Panel round with Sudhanshu Trivedi (BJP) and Asaduddin Owaisi (AIMIM)
04:04 pm: This will also open the doors for better medical facilities and system in the country: Trivedi
04:03 pm: We have promised to open new medical institutes in the country and this will open new opportunities for the middle class families:
04:02 pm: We have made sure that there is law and order in the country and will continue to take active steps. Everyone is benefiting from such steps including the middle class: Trivedi
04:00 pm: PM talked of 'jan dhan yojana' during his speech in 2014 and he came up with initiatives: Trivedi
03:59 pm: Middle class wants focus on health, education, transparency, law and order and the budget has taken care of these issues: Trivedi
03:58 pm: It is true that 'langar' is made available in temples and gurudwaras, but I assure you that we will take in good suggestions for the benefit of all: Trivedi
03:57 pm: Audiences raise requests to end GST on charity and death related issues. Trivedi takes note and promises to notify GST Council
03:53 pm: It is not that only the people of your party are working for the development of Muslims: Trivedi
03:52 pm: Is secularism putting Muslims first or giving everyone an equal opportunity? asks Trivedi
03:52 pm: Why would I scare the Muslims of India? I am talking for equality and justice within the country: Owaisi 
03:52 pm: Experts have said that population in India would be stabilised by 2040 and Muslims will never be more than Hindus in number: Owaisi 
03:50 pm: It is important to end hatred for Muslim minorities which has been in place since the past 3 years: Owaisi
03:48 pm: People who have ruled for over 70 years only wanted that the poor should remain in bad conditions, their party should rule: Trivedi
03:47 pm: I want to let you know that Jains are financially sound in the country and they are minorities: Trivedi
03:44 pm: I did not give any statement regarding budget after it was presented: Owaisi
03:44 pm: What the centre is doing will not benefit the poor, also it will not bring their party any significant profits: Owaisi
03:43 pm: Developmental scheme does not discriminate on the religion of benefactors: Trivedi
03:42 pm: Minority schemes like scholarships should be demand driven: Owaisi
03:40 pm: People are always raising questions about the work done by the Centre. First, they question why is something not being done, when we do it they ask how have you done it? Trivedi
03:40 pm: They should make it clear that the recommendations of the Swaminathan Commission would be implemented: Owaisi
03:39 pm: I assure that you will be able to watch the progress as per the budget, in the time to come: Trivedi
03:38 pm: Ayushman scheme, termed as Modi care, is biggest ever health care scheme in the world:Trivedi
03:37 pm: We want to develop as a nation but most of the population of the country is living under bad conditions. This is what the budget has come up with: Sudhanshu Trivedi
03:36 pm: There has been no benefit to the poor with the policies adopted by the central govt in the past: BJP Sudhanshu Trivedi
03:35 pm: We do not do anything with the fear of losing elections, so I would request not to compare our plans with elections: BJP Sudhanshu Trivedi
03:34 pm: BJP is not afraid of vote bank as proven by demonetisation decision just before UP elections: Sudhanshu Trivedi
03:33 pm: Whatever the budget talked of will take years to get implemented: Owaisi
03:33 pm: They talk of helping 10 crore families, but will the budget allow them to do so? Owaisi
03:33 pm: They talked of constructing toilets and homes, how can this be achieved when the budget has not been increased?  Owaisi
03:32 pm: Govt has not been able to come forward as per the expectations, in terms of budget: Owaisi
03:30 pm: The govt has failed on all account in budget: Asaduddin Owaisi
Session 5: Panel round with Narendra Tomar and Deepender Hooda
02:21 pm: I accept that farmers revolted for not getting enough MSP for their produce: Tomar 
02:19 pm: When time will come, prices for farm produce will be increased, government's strategies should not be questioned: Tomar
02:17 pm: Rural wages in last four years has gone up only by 1%, while rich grew their wealth by up to 75% after note ban: Hooda
02:16 pm: I would want to remind them that the govt makes alternative plans if the farmers do not benefit with the existing plans: Tomar
02:16 pm: After the results in Rajasthan, people want to listen to what the Opposition has to say: Tomar
02:14 pm: They said that the excise duty on petrol and diesel has been cut, but they did not talk of increasing the road tax: Hooda
02:11 pm: The budget this year only 'talks' about the problems: Hooda
02:11 pm: Agricultural growth rate has always been 2-3% but this is the first time it has gone below 2%: Hooda
02:10 pm: Government didn't give farmers MSP as per Swaminathan's recommendations: Hooda
02:09 pm: The roadmap that had been prepared by the govt has unfortunately not been able to fulfill, but the initiatives brought by the Modi govt proves that the work is in progress: Tomar
02:07 pm: Budget shows government's style of working, "Hathin ke daat khane ke aur, dikhane ke aur": Congress' Deepender Hooda
02:06 pm: The work done by the govt has led to more profit to the farmers and it will take more steps in this direction in the years to come: Tomar
02:05 pm: Announcement of third phase of PM Gramin Sadak Yojana, whose 18 per cent work is left, shows government's dedication towards upliftment of rural areas: Narendra Tomar
02:01 pm: The Budget is for the welfare for the agriculture sector. The 14.5 lakh crore alllocated will be used in the development of farmers and agriculture: Narendra Tomar
Session 4: Panel round with Meenakshi Lekhi and Sushmita Dev
01:51 pm: Agricultural department is one department that the Centre deals with and it is taking all possible steps for it: Meenakshi Lekhi
01:50 pm: Agricultural development is at the lowest, at 1.9%: Sushmita Dev
01:46 pm: The job of a parliamentarian is not permanent, they can be removed after 5 years: Sushmita Dev
01:45 pm: The parliamentarians comprise of the middle class as well as the lower middle class. People presume that all MPs are rich: Meenakshi Lekhi
01:45 pm: The country is developing but there are some sectors that still needed attention. Such sectors have been covered by the govt in this budget: Meenakshi Lekhi
01:44 pm: In this budget, the govt has come up with more benefit plans for the poor and for the farmers: Meenakshi Lekhi
01:43 pm: Before this, the budget aimed at distributing segments among the different sections of the society: Meenakshi Lekhi
01:43 pm: My question remains the same, why cannot the government put sanitary napkins out of the GST slab? Sushmita Dev
01:42 pm: I would consider Meenakshi Lekhi's answer as 'Mann Ki Baat' wherein you speak a lot but understand less: Sushmita Dev
01:41 pm: Did not sign on petition to GST on sanitary napkins as women who can afford them are helping build a safer version for poorer women: Meenakshi Lekhi
01:40 pm: Sanitary napkins currently in the market are environmental hazards, thus govt is working on the organic napkins. The issue is also connected with issue of importing plastic polymers from China: Lekhi
01:39 pm: India's 80 per cent women are not able to afford sanitary napikin, something that government has to start working on: Meenakshi Lekhi
01:38 pm: As an example, I would like to say that toilets have been constructed in rural areas which has helped the women: Meenakshi Lekhi
01:37 pm: Modi ji does not only talks, but he has fulfilled the promises and commitments that he had made: Meenakshi Lekhi 
01:37 pm: I agree with the questions put up Sushmita ji and I would request her to bring up more such questions so that they can be addressed: Meenakshi Lekhi 
01:36 pm: I am clear that the govt does not has a plan, they should bring it forward if they do: Sushmita Dev
01:36 pm: Covering 10 crore families on medical grounds will take up 60% of the budget. If Jaitley ji can bring a resolution to this, it is welcomed: Sushmita Dev
01:34 pm: I again say that we are not against the budget, but we ask how are you going to fulfil these promises? asks Sushmita Dev
01:33 pm: Modi ji brought those plans into actions, which is why people respect him as the Prime Minister of the country: Meenakshi Lekhi
01:33 pm: Steps taken by the govt to improve that situation has to be commended: Meenakshi Lekhi
01:33 pm: We have seen the people struggling for kerosene and gas during Congress rule: Meenakshi Lekhi
01:32 pm: Privatisation of public health will not bring much benefits to the poor: Sushmita Dev
01:31 pm: If you think that providing gas cylinders will do away with all the problems being faced by the women, you are wrong: Sushmita Dev
01:30 pm: Budget is the biggest bridge between the people of a country and the government: BJP's Meenakshi Lekhi
01: 26 pm: BJP does Beti Bachao, Beti Padhao, now we demand also bring Beti ko Sadan Mein Lao: Sushmita Deo raises Women Reservation Bill
01:25 pm:These schemes move focus from ease of doing business to ease of life: Meenakshi Lekhi
01:25 pm: Ujjawala scheme and gas cylinders not only help in cutting climate change but also make the life of household women easier: Meenakshi Lekhi
01:23 pm: Do not connect a gas cylinder with the dignity of the women. In any case, Ujjawala scheme does not give cylinders free, no one talks about payments: Sushmita Deo, Congress
01:20 pm: I am glad that the Budget 2018 has brought light in poor women's kitchen with Ujjawala scheme: Meenakshi Lekhi
Session 3: Panel round with Prakash Javdekar, Pramod Tiwari and Jay Panda
01:06 pm: The approach that the govt has adopted for the country is correct, but there are many more steps that could have been taken: Jay Panda
01:05 pm: Now that international crude oil prices have gone up, we have reduced excise duty: Javadekar
01:04 pm: You are providing cylinders and are increasing the rate of the same which is leaving no other option with the people: Pramod Tiwari
01:04 pm: I am reading incidences on a daily basis, wherein people are being turned away for the basic rights because of Aadhaar: Pramod Tiwari
01:03 pm: BJP thinks that the corruption in society has ended but that is not the truth: Pramod Tiwari
12:59 pm: Aadhaar is identification, don't force it on people: Pramod Tiwari
12:59 pm: Agri sector is not happy with the budget: Pramod Tiwari
12:57 pm: This is a govt which listens to the people and works according to them: Javadekar
12:56 pm: Eliminating the black money and corruption was the biggest challenge and the govt has taken concrete steps for the same: Javadekar
12:54 pm: The Centre has already worked for the country and the economic reforms are a proof to that: Prakash Javadekar
12:53 pm: BJP had said that they will work for the benefits of the middle class, such promises have not been fulfilled: Jay Panda
12:52 pm: We stood in long lines outside the ATMs, job opportunities have reduced, there are many other problems as well that need attention: Pramod Tiwari
12:49 pm: We recall the long speeches given by the BJP during 2014 and we still await the fulfillment of those promises: Pramod Tiwari
12:47 pm: Govt backtracked on GST as they brought 5 amedments in last six months after its rollout: Pramod Tiwari
12:47 pm: Announcements made by the Modi govt are targeted towards the weaker sections and this was important: Javadekar
12:44 pm: Rajiv Gandhi said poor gets Rs 15 from the Rs 100 that I send. Now poor gets full Rs 100 that Modi ji sends: Prakash Javadekar
12:43 pm: According to me, the health scheme that has been announced by the govt will work: Jay Panda
12:42 pm: LPG to 5 crore people has led to savings of Rs 9 million: Jay Panda
12:41 pm: BJP had said in February 2015 that they will not implement Swaminathan Commission, but now they are in favour of that: Pramod Tiwari
12:39 pm: At one point of time I felt that Jaitley ji read the manifesto instead of the budget yesterday: Pramod Tiwari
12:38 pm: Prakash Javadekar ji would have totally gone against the budget if he was in the Budget: Pramod Tiwari
12:37 pm: This is surely Modi government's last budget, says Pramod Tiwari
​12:36 pm: Education sector is developing under the Modi govt today and the students of our country will benefit from this: Javadekar
12:36 pm: Benefits announced by Jaitley ji for health and medical sector is going to change the face of India: Javadekar
12:34 pm: People were troubled because of the huge medical bills and this will be sorted out now: Javadekar
12:30 pm: UPA government didn't do justice to farmers, which BJP did in the Budget yesterday: Prakash Javdekar
Session 2: Nitin Gadkari on India TV Budget Conclave
12:20 pm: Mumbai is going to witness Metro for the first time. I am sure that Mumbai will change under Railway Minister Piyush Goyal: Gadkari
12:18 pm: Conversion of waste into wealth has given us good results in the past and this should also be carried forward in future: Gadkari
12:17 pm: We need to move with the technology, so that we can bring the best to India: Gadkari
12:15 pm: People will not have to pay for petrol if cars and motorbikes run on solar energy and electricity, but this is a long way dream for now: Gadkari
12:19 pm: Prices of crude cannot be controlled by the govt of India. Inflation will be there with the rise in crude price: Gadkari
12:13 pm: Apart from this, we are also coming up with cruises from Mumbai to Andaman and Nicobar Islands: Gadkari
12:12 pm: People like politicians who give them dreams, but they love those who fulfil those dreams: Gadkari
12:12 pm: Soon the dream of landing on water will become a reality. Common people will be soon able to land on seas and rivers and cut travel time: Gadkari
12:11 pm: Public-private investment is contributing towards fulfilling a lot of work in the country, no matter what the Budget be: Gadkari
12:10 pm: Innovation, technology, entrepreneurship are the future of the country and we should make more efforts to improve these areas: Gadkari
12:07 pm: I assure that we will make 80% of the River Ganga pollution free by 2019, we are working on the same: Gadkari
12:06 pm: Ganga is being populated because a number of cities and holds 70% population: Gadkari
12:05 pm: There were 189 projects on River Ganga and we have completed 47 projects as of now: Gadkari
12:03 pm: Unemployment is increasing with the growing population in the country, we hope we will be able to take more fruitful steps in this direction, in the years to come: Gadkari
12:01 pm: We are focusing on irrigation, we have opened private sector avenues in defence, in infrastructure I have finished work worth Rs 8 lakh crore and have a target have of Rs 25 lakh crore, which will give direct or indirect jobs to 1 lakh people: Gadkari on job creation
11:58 am: There are always some actions and reactions against the Central govt of a country, but the govt will continue to work for areas that need to be addressed: Gadkari
11:57 am: People who react on Budget are obviously related to political parties, so it is natural to have their own perspective: Gadkari
11:56 am: People will happily work under Ramdev looking at his huge turnover, jokes Gadkari over no benefits to the medical class
11:55 am: Middle class is also getting the same benefits on purchasing homes, as the other sections:Gadkari
11:55 am: People can lie on everything but on their money. Everyone knows about their profits and losses:: Gadkari
11:54 am: In a welfare state, rich have to give away funds to help the poor: Gadkari
11:52 am: I have not come from Pakistan, I may have friends from the other party. We all work for the country so parties are not enemies: Gadkari
11:52 am: Human relationship is the biggest strength of politics: Gadkari
11:51 am: We are working on more public transports and strive to let everyone travel in AC buses: Gadkari
11:50 am: We are constructing 14-lane roads and a number of connecting highways: Gadkari
11:48 am: Within 2 months, 50% of air pollution in Delhi will be curbed: Gadkari
11:46 am: I and Yogi Ramdev are not businessmen, we are only working on many social causes: Gadkari
11:45 am: Whoever sits in the Opposition will always speak against the Budget, but I believe that such discussions should not be given time in media: Gadkari
11:43 am: For the first time in history, the Finance Minister has kept aside Rs 500 crore for potatoes and onions: Gadkari
11:42 am: Finance Minister is considering about almost all problems being faced by the country and yesterday's Budget presentation is a proof of this: Gadkari
11:41 am: Conversion of knowledge to wealth is way forward for the country: Gadkari
11:40 am: Our country will develop if such measures are adopted: Gadkari
11:39 am: Finance Minister had laid stress on the rising pollution in Delhi-NCR. I and Bihar CM Nitish Kumar had also discussed about it are considering vehicles that run on bio-ethanol: Gadkari
11:35 am: The focus on bamboo is crucial as it yields bio-ethanol: Gadkari
11:32 am: Giving away fixed price wages to the farmers in such a condition is not fruitful: Gadkari
11:31 am: The price of crops is not decided within the country: Gadkari
11:29 am: There are people who started talking about Budget even before its presentation, which is not right: Gadkari
11:29 am: There was injustice with a lot of sections of the society and I am happy that Jaitley ji and the Modi govt is doing everything possible for such people: Gadkari
11:29 am: I have been working for the development of the country for the past many years and I have always felt that the voice of the poor is not reaching the govt: Gadkari
11:29 am:  After Independence, Modi govt has given the first budget which can be christened 'Agriculture Budget': Transport Minister Nitin Gadkari
Session 1: Baba Ramdev on India TV Budget Conclave
11:24 am: Government should put in more efforts to bring black money stashed abroad: Baba Ramdev
11:23 am: The 2000 rs notes should also be banned according to me: Ramdev
11:22 am: Population control is very important at this point: Ramdev
11:21 am: There are a lot of lapses in health and education in our country: Ramdev
11:18 am: Not only govt schools, but the govt hospitals should also be looked upon. The number of doctors in the govt hospitals in not sufficient: Ramdev
11:17 am: Medical colleges ask for Rs 2 crore donation for admissions: Ramdev
11:14 am: People are not considering the govt schools good for their children. Govt should work towards the improvement of govt schools: Ramdev
11:12 am: These are some of the contributions that we are giving for the development of the country and there will be many more in the coming years
11:11 am: Patanjali Yogpeeth will build a university for 1 lakh students: Ramdev
11:10 am: Patanjali's 80 pc profit will be utilised on education sector: Ramdev
​11:09 am: But I appreciate the steps that the Modi govt has taken for the farmers and their development. We all are hopeful that the situation will improve in the years to come
11:09 am: I have myself done irrigation and it is true that the farmers of the country are not in a good state: Ramdev
11:07 am: 'Red Baba' is sitting here: Ramdev on PM Modi giving red carpet welcome to international companies from abroad
11:06 am: The multinational companies within the country have taken away approximately Rs 5 lakh crore, it is doing no benefit to anyone: Ramdev
11:06 am: I want to contribute towards 'nation building' and so everyone should think in the same way: Ramdev
11:05 am: We need to think of the broader sections of agriculture to bring more profits to the farmers
11:03 am: There is no profit in agriculture at this time. The farmers are only earning their daily wages
11:02 am: Govt must bring a long-term plan for the agriculture sector. UPA govt had no profitable, working food park: Ramdev 
10:59 am: People are troubled due to GST and that is a fact. People are still unaware of the technicalities related to GST, so I think the govt should take steps for awareness
10:57 am: Procedures for GST filing are very complicated, government needs to work on that area: Ramdev
10:56 am: Not happy with the work of Ayush ministry. There are soem people lobbying there: Ramdev
10:53 am: Government should bring down prices of gas, diesel and petrol: Ramdev
10:52 am: 2019 has Lok Sabha elections, I am sure the next budget will bring some good news for the middle class: Ramdev
10:49 am: There should be not tax on income up to Rs 5 lakh income: Baba Ramdev on issues faced by the middle class
10:47 am: Modi ji and Jaitley ji cannot do everything. People will have to come forward for the welfare of the society: Baba Ramdev
10:47 am: We can do a lot of work within a small budget if Modi govt gives a chance in Ayurveda: Ramdev 
10:46 am: No other leader is as good as Modi ji in terms of abiding by "Rashtra Dharm": Ramdev
10:44 am: The country was suffering from political crisis when Modi ji became the PM, but the whole country is thankful to our Prime Minister for whatever he has done for the country: Ramdev
10:43 am: Personally I have always backed Manmohan Singh and I praise his honesty till date: Ramdev
10:42 am: Modi ji or Jaitley ji did not help me set up Patanjali, I have done that by my own: Ramdev
10:42 am: Rural areas and the farmers are the ones that required immediate attention from the govt and Budget has brought benefits for them
10:41 am: There will be differences in the society as India is a big country; but people should look at the broader prospects
10:39 am: Middle class is not happy with the Budget and this is true: Ramdev
10:37 am: Ujjawala Yojana is aimed for the welfare of the women, which has already been initiated by the Modi govt: Ramdev on considering women in Budget
10:33 am: Modi ji has provided gas cylinders to at least 4 crore women under the Ujwala Yojana: Ramdev
10:32 am: Patanjali has not duped the country of anything. We have already said that ours is a non-profit company and everything goes for charity. We only aim to shut down the international companies
10:32 am: Medicines and literacy should be same for everyone regardless of the class, according to me. There should be uniformity
10:30 am: How Modi govt is working for the welfare of the farmers can be seen by everyone. We all are hopeful that his efforts in this direction will bring good results: Ramdev
10:30 am: Education and healthcare should be free of cost for the poor of the country: Ramdev
10:29 am: People who are aware and think for the progress of the country are the ones who believe in the development of rural areas and farmers: Baba Ramdev
10:29 am: Patanjali's 100% profit is for charity, it is a non-profit company: Baba Ramdev
10:28 am: This is the first time that the govt has given out a huge sum for the development of the poor and weaker sections of the society. This will definitely take us to progress
10:26 am: This budget does not talks of casteism, rather it throws light on the areas that need development in the country
10:24 am: The budget has been unbiased, in favour of the common man, especially the rural population: Baba Ramdev
09:55 am: The day-long conclave on Budget 2018-19 will begin shortly, which will be hosted by India TV editor-in-chief Rajat Sharma. 
Others likely to be present in the event include Congress leaders Ajay Makan and Pramod Tiwari, BJP MP and spokesperson Meenakshi Lekhi, Minister of State for Health and Family Welfare Anupriya Patel, JDU chief spokesperson KC Tyagi and many others. 
The government will elucidate on the benefits the Budget will extend to the common man and the nation's economy. Meanwhile, the Opposition will come up with its concerns on the budget and question the implication of the several announcements made by Jaitley in his budget speech.