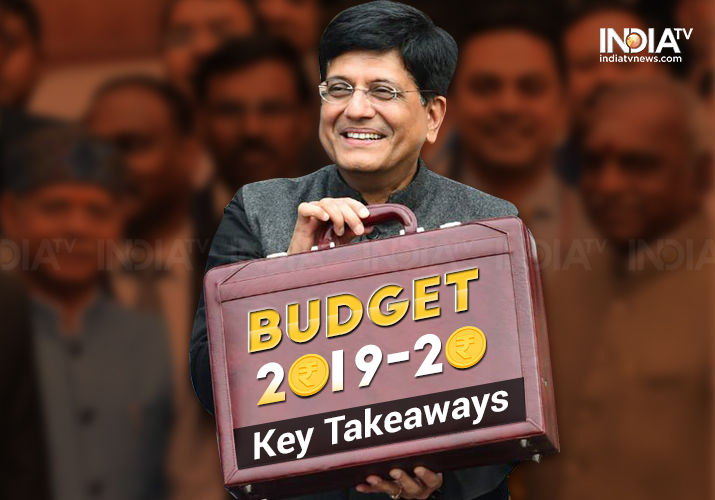 Prime Minister Narendra Modi-led NDA Government's last 'Interim Budget' has something for everyone. The Budge 2019, proposed today by acting Finance Minister Piyush Goyal In Lok Sabha, brought cheers to middle-class, farmers, labourers and senior citizens. 
The biggest Easter egg in Piyush Goyal's populist kitty was for individual tax payers. Revising the income slab to give relief to over 3 crore tax payers, the Modi government today proposed a full tax rebate on annual income upto Rs 5 lakhs. Furthermore, the government said that with the right investments, a tax payer can save on paying any taxes on income upto Rs 6.5 lakhs. 
The last budget before 2019 Lok Sabha polls also have provisions for the farmers. Remarking that government is committed to fulfill the promise of doubling the farmers' income by 2022, Piyush Goyal announced the Pradhan Mantri Samman Nidhi. Under the new scheme the Central government will gve Rs 6,000 to small and marginal farmers.
#BudgetWithIndiaTV | Here are major announcements of #Budget2019 you can't miss #BudgetSession2019 pic.twitter.com/NsZl0SZqht

— India TV (@indiatvnews) February 1, 2019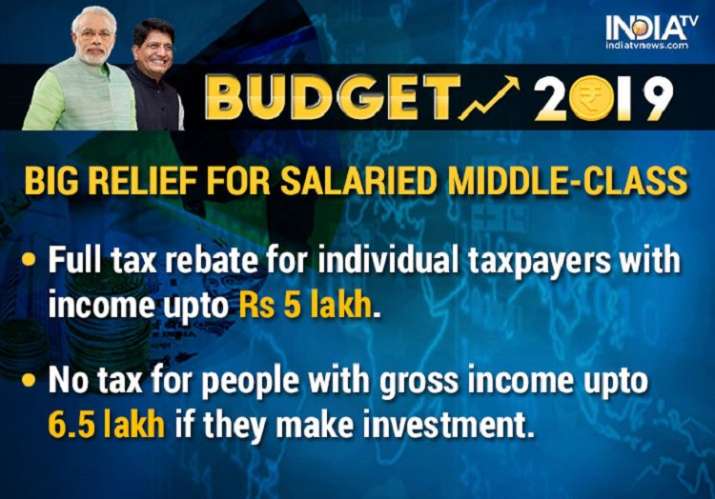 Farmers affected by severe natural calamity will get 2 per cent interest subvention on all rescheduled crop loans and additional 3 per cent on timely repayment. 
For animal husbandry and fisheries, the government has provided Rs 750 crore in the financial year, along with 2 per cent interest subvention to farmers involved in animal husbandry and fishery. 
For labourers, a pension scheme is being launched called Pradhan Mantri Shram Yogi Mandhan, to provide assured monthly pension of 3000 rupees per month, with the contribution of 100 rupees per month. The scheme will benefit the workers in unorganised sector after 60 years of age. Pension scheme for unorganised sector workers to be implemented from this fiscal and will help42 crore people, the minister said in his Budget speech. 
The government has also hiked MNREGA allocation to Rs 60,000 crore for 2019-20. 
For the welfare of SC/ST classes, the government has proposed to increase the allocation of funds to Rs 76,800 crore for 2019-20, up from Rs 62,474 crore in 2018-19. 
For the middle class, the finance minister said that a group of minister Ministers is examining how prospective house buyers can benefit under Goods & Services Tax (GST) to further reduce the tax burden.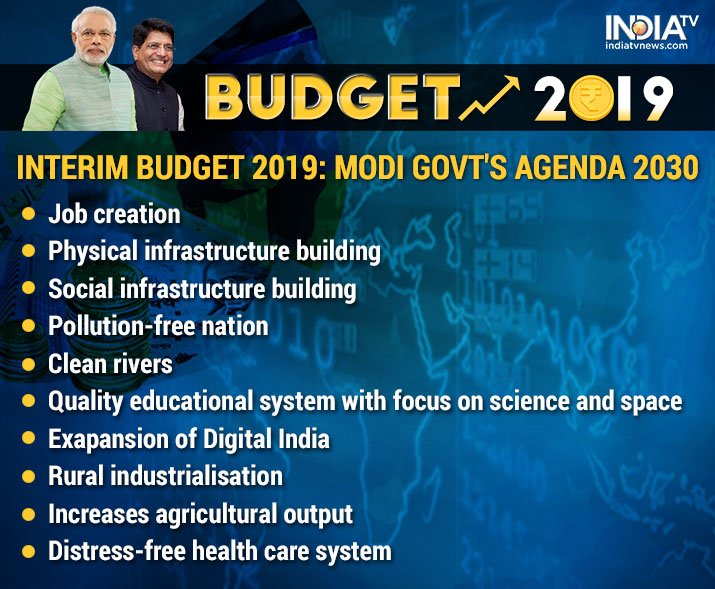 The budget allocation to North East region increased by 21 per cent to Rs 58,166 crore for 2019-20. 
For the media industry, a single window clearance for film-making will be made available to Indian film-makers, anti-camcording provision to be introduced to Cinematography Act to combat privacy.
For the rural infrastructure development, the government has allocated Rs 19,000 crore in 2019-20 under Pradhan Mantri Gramin Sadak Yojna. The minister further said that in next five years, the government aims to create at least one lakh digital villages.
The government also announced the establishment of the Rashtriya Kamdhenu Aayog, a commission which will work to enhance the welfare and productivity of cows.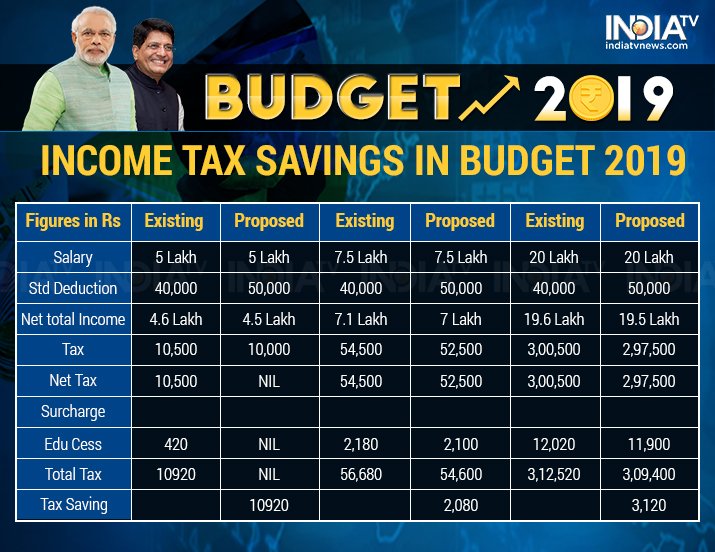 The finance minister also announced the establishment of an AIIIMS in Haryana under the Ayushman Bharat Yojna. The minister said that at least 10 lakh patients have been treated so far under the Modi government's universal health care scheme. 
Reposing his faith in India's rapid economic growth, the finance minister said that we are poised to become a USD 5 trillion economy in next five years and aspire to become USD10 trillion economy in next 8 years.
Watch full video of Finance Minister Piyush Goyal's Budget Speech: 
FULL VIDEO: