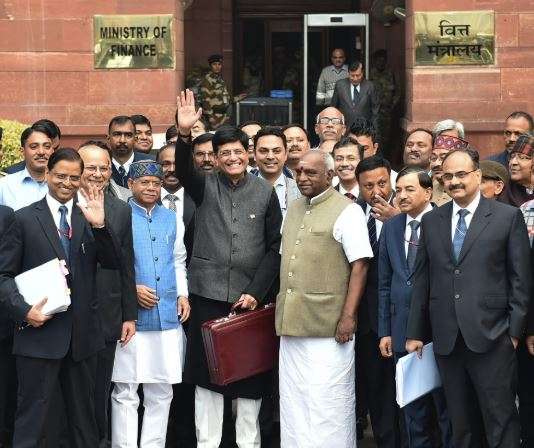 Finance Minister Piyush Goyal, on Friday, presented Narendra Modi-led NDA government's Interim Budget 2019 in Parliament amidst a lot of hopes and expectations from across the spectrum of society-right from the common people to industries.
With the Lok Sabha elections 2019 only a few months away, the Budget, the last financial exercise by PM Modi led Central government was, presented in the Lower House by Goyal. The govt announced major tax benefit for the middle class. It also provided further relief to the farmers. 
Finance Minister doled out tax sops to middle class including doubling of income tax exemption limit to Rs 5 lakh, raising standard deduction to Rs 50,000 and provided concessions on interest income from bank deposits and rent.
"Individuals with income up to Rs 5 lakh will not be required to pay any tax," Goyal said.
He said with this, individuals who are earning gross income of Rs 6.5 lakh per year and have made investments in savings instruments, will be exempt from paying income tax.
[ALSO READ] Interim Budget 2019-20 | No personal income tax on annual earnings upto Rs 5 lakh: Piyush Goyal
"This will provide benefit of Rs 18,500 to 3 crore middle class taxpayers self employed, senior citizens," he said, adding the number of beneficiaries will go up for those who have made investments in mediclaim and pension.
No tax will be deducted on interest earned on bank and post office deposits of up to Rs 40,000 annually, up from Rs 10,000 currently.
The Budget also proposed to exempt tax on notional rent for unsold housing units for two years.
Goyal also proposed that benefit of rollover of capital tax gains be increased from investment in one residential house to that in two residential houses, for a taxpayer having capital gains of up to Rs 2 crore.
However, it can be exercised once in a lifetime, he added.
The Income Tax department will move towards faceless assessment and verification of returns, Goyal said Friday.
Standard deduction has been raised from Rs 40,000 to Rs 50,000 which will benefit three crore salaried individuals.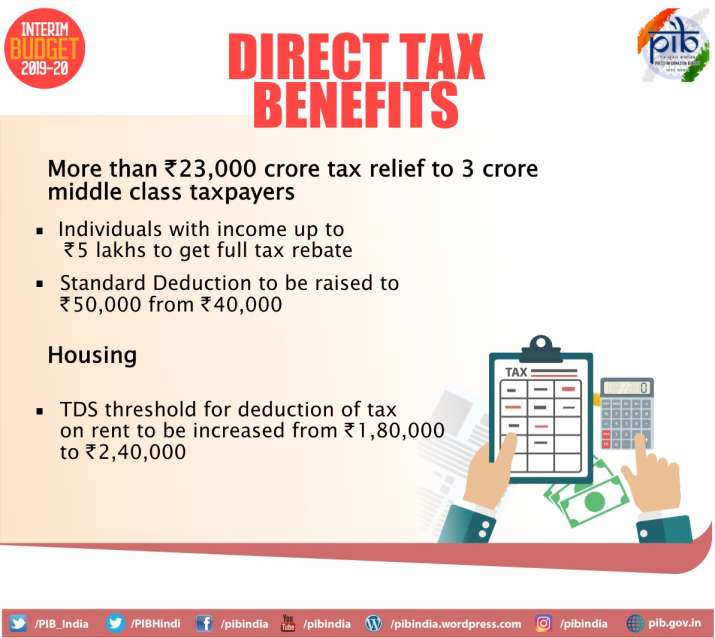 Finance Minister also announced an increase in defence budget to over Rs 3 lakh crore in 2019-20.
Presenting the Budget for 2019-20 in the Lok Sabha, Goyal also said Rs 35,000 crore has been given under OROP in the last three years.
Announcing substantial hike in military service pay, the finance minister said defence budget has been increased to over Rs 3 lakh crore in 2019-20.
He also said the government will launch a mega pension yojna for 42 crore unorganised sector workers and assured monthly pension of Rs 3,000 after reaching age of 60 years.
On railways, he said its capital expenditure programme will be at an all-time high of Rs 1.58 lakh crore in the next fiscal.
"We have eliminated all unmanned railway crossings in the country," he added
The finance minister also said the Vande Bharat Express will provide speed, service and safety to citizens and will give boost to Make In India.
Commenting on construction of rural roads, he said it has tripled road construction and out of total 17.84 lakh habitations, 15.8 lakh were connected with pucca roads under PMGSY. PMGSY allocation for 2019-20 is pegged at Rs 19,000 crore, he said.
Here are important excerpts from FM Piyush Goyal's Budget speech:
Individuals with gross income up to 6.5 lakh rupees will not need to pay any tax if they make investments in provident funds and prescribed equities: FM
The move will benefit 3 crore people: FM 
Individual taxpayers having annual income upto 5 lakhs will get full tax rebate: FM
Building physical and social infrastructure for USD10 trillion economy, says FM outlining 10 yr vision in the Interim Budget speech
India leading world in mobile data consumption; mobile consumption data has risen by 50 times: FM
The fiscal deficit as a proportion of GDP- 3.4% for the coming year, as there is a need to provide for income support for farmers: FM
We are poised to become a 5 trillion dollar economy in the next 5 years and we aspire to become a 10 trillion dollar economy in the next 8 years: FM 
18% increase in direct tax collections in 2017-18, 1.06 crore people included in the tax base. Also, more than 1 crore people filed IT returns for the first time, after demonetization: FM
GST collections in January 2019 has crossed Rs 1 lakh crore: Piyush Goyal
The Group of Ministers is examining how prospective house buyers can benefit under Goods & Services Tax (GST): FM
GST has been continuously reduced resulting in relief of Rs 80,000 crore rupees to the consumers;  Most items of daily use are now in the 0%-5% tax bracket: FM
GST is probably the biggest taxation reform implemented since Independence; with tax consolidation, India became one common market; inter-state movements became faster through e-way bills, improving Ease of Doing Business: FM
Direct tax collections increased from Rs 6.38 lakh crore in 2013-14 to almost Rs 12 lakh crore; The tax base is up from Rs 3.79 crore to 6.85 crore: FM 
Within nearly two years, almost all assessment and verification of IT returns will be done electronically by an anonymized tax system without any intervention by officials: FM
A single window clearance for filmmaking to be made available to filmmakers, anti-camcording provision to also to be introduced to Cinematography Act to fight piracy: FM
Allocation for the north eastern region has been proposed to be increased to Rs 58,166 crore in this year, it will be a 21% rise over the previous year: FM
Today there is not a single unmanned railway crossing on the broad gauge in India: FM
The defence budget has enhanced beyond Rs 3 lakh crore: FM 
We have already disbursed Rs 35,000 crore for our soldiers under 'One Rank One Pension', substantial hike in military service pay has been announced: FM
Our soldiers are our pride and honour; 'One Rank One Pension', which was pending for the last 40 years, has been implemented by us: FM
To ensure cleaner fuel and health assurance, we embarked upon Pradhan Mantri Ujjwala Yojana, a programme to give 8 crore free LPG connections to rural households, 6 crore connections have been given already: FM
Govt spent Rs 1.7 lakh crore to supply food grains at cheaper price to poor in 2018-19 as against Rs 92,000 crore in 2013-14: FM
Allocation to MNREGA hiked to Rs 60,000 crore for 2019-20: FM
A pension scheme is being launched called Pradhan Mantri Shram Yogi Mandhan, to provide assured monthly pension of 3000 rupees per month, with the contribution of 100 rupees per month, for workers in unorganized sector after 60 years of age: FM 
Instead of rescheduling of crop loans, the farmers severely affected by natural calamities will get 2% interest subvention and additional 3% interest subvention upon timely repayment: FM
Govt has provided 10 per cent reservation for economically weaker section, job quota to provide 2 lakh seats in educational institutions: FM
About 5.4 lakh villages made open defecation-free: FM Piyush Goyal
This initiative will benefit 12 crore small and marginal farmers, at an estimated cost of Rs. 75,000 crore; FM
Under the Pradhan Mantri Kisan Samman Nidhi, 6000 rupees per year for each farmer,  in three instalments, to be transferred directly to farmers' bank accounts, for farmers with less than 2 hectares landholding: FM
To provide assured income support for small and marginal farmers, Pradhan Mantri Kisan Samman Nidhi scheme has been approved: FM
For the welfare of farmers and for doubling their income, historic decision was taken to increase MSP by 1.5 times the production cost for all 22 crops: Piyush Goyal
Ayushman Bharat the world's largest healthcare programme was launched to provide medical care to almost 50 crore people, resulting in 3,000 crore savings by poor families: Piyush Goyal
Efforts have been initiated to bring full representation for economically weak backward classes, by giving them reservation in jobs and education: Piyush Goyal
As a tribute to Mahatma Gandhi, world's largest behavioural change movement Swachh Bharat initiated; more than 98% rural sanitation coverage has been achieved; more than 5.45 lakh villages declared ODF: Piyush Goyal
Almost 3 lakh crore has already been recovered in favour of banks and creditors, big defaulters have also not been spared by our government: Piyush Goyal
Current account deficit is expected to be 2.5% this year: Piyush Goyal
Inflation in December 2018 was 2.1%. Fiscal deficit has been brought down to 3.4% in the revised estimate of 2018-19: Piyush Goyal
Inflation is a hidden and unfair tax; from 10.1% during 2009-14, we have broken the back of back-breaking inflation: Piyush Goyal
I can confidently say, India is solidly back on track and marching towards growth and prosperity: Piyush Goyal
Meanwhile, the Interim Budget's proposal to give full rebate to tax payers having annual income up to Rs 5 lakh and a farm package boosted the Indian equity market during the mid-afternoon trade session on Friday.
Observers took note of few key points in the Interim budget like sops to small farmers and announcement of a higher tax exemption limit as key factors which led to the market's rise.
According to HDFC Securities Deepak Jasani, the push to consumption by way of sops to farmers and middle class families resulted in buying in auto and FMCG stocks. 
Sensex and Nifty advanced as Finance Minister Piyush Goyal presented the Interim Budget for 2019-20 in the Lok Sabha on Friday. 
Sector-wise, healthy buying was witnessed in the auto, FMCG and capital goods stocks.
At around 1.30 p.m., the Sensex traded at 36,696.63 points, higher by 439.94 points or 1.21 per cent from the previous close of 36,256.69.
The Nifty50 on the National Stock Exchange traded at 10,944.10, higher by 113.15 points or 1.04 per cent.
"For the market it will provide a good signal in the short term since the Interim Budget will not trouble the economic accountancy and populist agenda," said Vinod Nair, Head of Research, Geojit Financial Services. 
Jasani added that the farm package had come in at a figure less than what most people "expected or feared" and the fact that the fiscal deficit for FY20 had been kept at 3.4 per cent "will create mixed feelings".
WATCH VIDEOS:
Piyush Goyal Presents Union Budget 2019 (Full Part 1)

Piyush Goyal Presents Union Budget 2019 (Full Part 2)

FULL VIDEO: