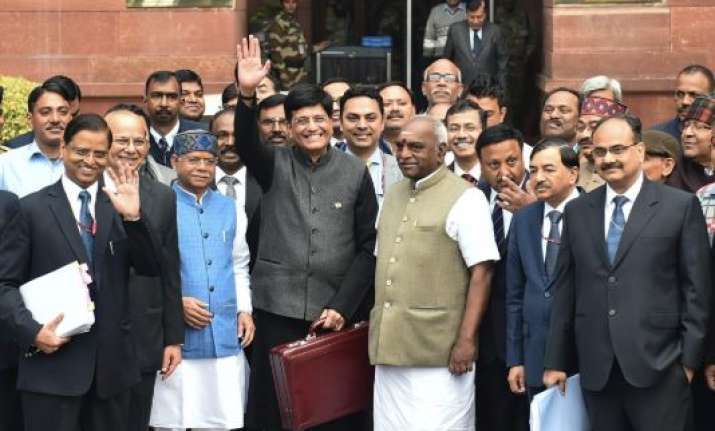 Highlights of Interim Budget 2019 present by Finance Minister Piyush Goyal today | Full text
More than 1.06 crore people filed I-T returns for first time in 2017-18, the year after demonetisation. 
GST has continuously reduced, relief of Rs 80,000 cr to consumers; most items of daily use for poor and middle class are now in 0-5% tax bracket: FM
Our govt wants GST burden on home buyers to reduce; Group of Ministers looking into the issue: FM
Rs 76,800 crore allocated for welfare of SCs/STs for 2019-20, up from Rs 62,474 crore in 2018-19: FM
Individuals with income up to Rs 5 lakh will not have to pay any income tax: FM
India is on the way of becoming global manufacturing hub including automobiles, electronics and defence: FM
India will be modern, technology driven, equitable and transparent society by 2030: FM
Building physical and social infrastructure for USD10 trillion economy, says FM outlining 10 yr vision in the Interim Budget speech.
We are poised to become a USD 5 trillion economy in next five year and aspire to become USD10 trillion economy in next 8 yrs: FM
NDA govt has laid foundation for India's growth and development for times to come: FM
As many as 34 cr Jan Dhan accounts opened in 5 years, Aadhaar ensured benefits reach poor, says FM
Impactful steps taken to reduce tax, bring benefits for middle class citizens: FM
Single window clearance for film-making to be made available to Indian film-makers, anti-camcording provision to be introduced to Cinematography Act to combat privacy: FM
Cost of data, voice calls in India is now possibly lowest in world; mobile and mobile part manufacturing companies have increased from 2 to 268: FM
Budget allocation to North East region increased by 21 per cent to Rs 58,166 crore for 2019-20: FM
1 lakh digital villages to be created in next five years: FM
In last 5 years under all categories of workers, minimum wages increased by 42 per cent which is the highest ever: FM
India leading world in mobile data consumption; mobile consumption data has risen by 50 times: FM
Average monthly GST tax collection Rs 97,100 cr as compared to Rs 89,700 cr last year: FM
Construction of rural roads tripled; 15.8 lakh out of total 17.84 lakh habitations connected with pucca roads under PMGSY. PMGSY allocated Rs 19,000 crore in 2019-20: FM. 
Govt to launch mega pension yojna for 42 cr unorganised sector workers; assured monthly pension of Rs 3,000 after reaching age of 60 years. 
Vande Bharat Express will provide speed, service and safety to citizens and will give boost to Make In India: FM.
Urgent steps needed to boost domestic oil and gas production to cut imports: FM
99.54 per cent of all returns were accepted without scrutiny, transforming I-T department, return to be processed in 24 hours, processed simultaneously: FM
In next two years even tax returns selected for scrutuny will be done without any personal interface, electronically, says FM.
Simplification of direct tax system to benefit taxpayers; direct tax reduced and tax interface made simpler and faceless to make life easier: FM
Substantial hike in military service pay has been announced: FM
Tax collection increased to Rs 12 lakh crore this year, returns filed to 6.85 crore: FM
Rs 35,000 cr given under OROP in last three years: FM
Defence budget increased to over Rs 3 lakh cr in 2019-20:FM
27 km of highways built each day, projects stuck for decades completed; SagarMala will help faster handling of import and export cars: FM
Nine priority areas identified; National Artificial Intelligence Portal to be developed soon: FM
Capital expenditure programme of Railways at all-time high of Rs 1.58 lakh cr in next FY: FM
Indian Railways has witnessed its safest yr in history; All unmanned crossings on broadguage network have been eliminated: FM
India is fastest highways developer in the world, says FM
Rs 1 crore loan can now be obtained under 59 minutes: FM
Country now has 100 operational airports; passenger traffic has doubled in last five years: FM
Over 1 crore youth trained under skill initiatives of government, says FM
India has become 2nd largest hub of startups: FM
Under the Mudra scheme, govt has sanctioned 15.56 lakh loans amounting Rs 7.23 lakh crore: FM.
75pc of woman beneficiaries under Mudra Yojana, 26 weeks maternity leave and Pradhan Mantri Matritva Yojana are all empowering women: FM
Out of 8 cr free LPG connections under Ujjwala, 6 cr connections to poor women have already been provided: FM.
Ujjwala Yojana providing free cooking gas connection is a remarkable success story: FM
More than 70 per cent of MUDRA yojna beneficiaries are women, says FM
Gratuity limit increased from Rs 10 lakh to Rs 30 lakh: FM
High growth,formalisation of economy has resulted in increased EPFO membership by 2 cr in last two years: FM
Farmers affected by severe natural calamity will get 2 pc interest subvention on all rescheduled crop loans and additional 3 per cent on timely repayment: FM
High growth and formalisation of economy has led to rise in EPFO membership by 2 cr in last two years: FM
Farmers hit by natural calamities to get 2 per cent interest subvention; 3 per cent more on timely repayment of loans: FM
Govt to provide Rs 750 crore in FY to support animal husbandry and fishing, says FM
2 pc interest subvention to farmers involved in animal husbandry and fishery, says FM
There is need for structured income support for poor, landless farmers to meet input cost: FM
There is need for structured income support for poor,landless farmers to meet input cost: FM
Govt to implement special strategy for uplift of nomadic tribes
Govt has fixed MSP for 22 notified crops at 50 per cent higher than cost of production: FM
Pension scheme for unorganised sector workers to be implemented from this fiscal.
Cheaper drugs being provided through Jan Aushadi stores: FM
21 AIIMs established or operating in country, of which 14 sanctioned since 2014. Another to be set up in Haryana: FM
10 lakh patients have been treated so far under Ayushman Bharat scheme, world's largest health care programme: FM
Use of LED bulbs saved power bill of about Rs 50,000 crore, says FM
As many as 1.53 crore houses constructed during 2014-18 under Pradhan Mantri Awaas Yojnja: FM
Govt announces setting up of Rashtriya Kamdhenu Aayog to enhance productivity of cows, says FM
143 crore LED bulbs were made available for lower and middle class families: FM
2.5 cr families were without electricity in 2014; we have provided power to almost all families: FM
Construction of rural roads tripled under Pradhan Mantri Gram Sadak Yojana: FM
We plan to provide urban facilities in rural areas while preserving 'soul of village', says FM
Farmers to be provided Rs 6,000 per year in three installments, to be fully funded by the central government: FM
Govt spent Rs 1.7 lakh crore to supply food grains at cheaper price to poor in 2018-19 as against Rs 92,000 crore in 2013-14: FM
Allocation to MNREGA hiked to Rs 60,000 crore for 2019-20: FM
Govt announces the Pradhan Mantri Samman Nidhi for small and marginal farmers; farmers to get Rs 6,000 per year: FM.
Govt has provided 10 per cent reservation for economically weaker section, job quota to provide 2 lakh seats in educational institutions: FM
We have worked to bridge the urban-rural divide: FM. 
About 5.4 lakh villages made open defecation-free: FM
Poor have the first right over nation's resources: FM.
2016 Realty Law RERA has helped in bringing transparency in real estate sector: FM
I hope other banks too would soon come out of PCA
framework: FM
India has achieved over 98 per cent rural sanitation coverage: FM
We have run a corruption-free government: FM.
Insolvency and Bankruptcy Code helping in recovery of non-performing loans. Even big businessmen are now worried about loans: FM
 
BoI, OBC and Bank of Maharashtra have been removed from the PCA framework of RBI: FM
Rs 3 lakh cr recovered from big corporate loan defaulters: FM.
Our govt had the guts to ask RBI to look at bad loans and present correct picture to nation: FM
We have stopped culture of phone banking, says FM referring to allegations of rampant loans over phone during UPA regime.
We have liberalised FDI allowing more investment through automatic route: 
We have undertaken path-breaking structural reforms by introducing GST and other reforms: FM
Fiscal deficit will be 3.4 per cent of GDP; Current Account Deficit to be 2.5 per cent of GDP.
Current Account Deficit likely to be 2.5 pc of GDP this year: FM
India attracted USD 239 bn in FDI in last five years: FM.
If we had not controlled inflation our families would have been spending 35-40 per cent more on daily use items: FM
NDA govt contained double digit inflation; Govt has broken the back of high inflation: FM
India has been recognised as brightest spot in the world in last 5 years: FM
India is fastest growing major economy in world; GDP growth in last 5 yrs higher than under any previous govt: FM.
We have got decisive mandate to continue structured reforms. We have reversed policy paralysis: FM
We are moving towards realising New India by 2022: FM
FM Piyush Goyal began interim budget speech at 11:10 am by wishing Union Minister Arun Jaitley speedy recovery and good health.
(With inputs from PTI)
Watch full video of Finance Minister PIyush Goyal's Budget Speech: