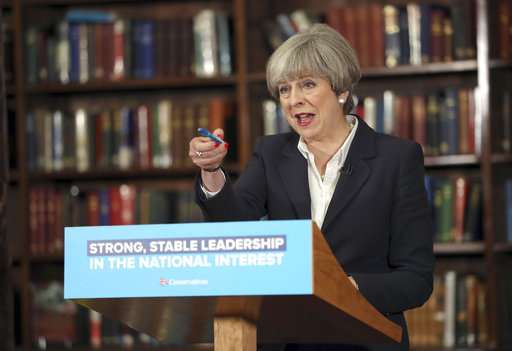 Displaying her absolute determination to gain control over the security agenda just 36 hours before UK goes to polls, Prime Minister Theresa May has made it clear that she is prepared to rip up human rights laws if they come in the way of imposing new restrictions on terror suspects. According to a report in The Guardian, the British PM said that she was mulling over ways to make it easier to deport foreign terror suspects and increase controls on extremists where it is thought they present a threat but there is not enough evidence to prosecute them.
Theresa May's statement came as her government faced severe criticism over the policing cuts and questions over intelligence failures after terror attacks on London Bridge, Manchester and Westminster. 
"But I can tell you a few of the things I mean by that: I mean longer prison sentences for people convicted of terrorist offences. I mean making it easier for the authorities to deport foreign terror suspects to their own countries," Theresa May was quoted as saying by The Guardian.
"And I mean doing more to restrict the freedom and the movements of terrorist suspects when we have enough evidence to know they present a threat, but not enough evidence to prosecute them in full in court," she added.
May also added that she won't mind changing human rights laws if they impede new terror legislation.
"And if human rights laws stop us from doing it, we will change those laws so we can do it," the British PM said. 
The Guardian report further said that the Theresa May government appears to be mulling over strengthening the Terrorism Prevention and Investigation Measures (TPIMs) instead of going back to Labour's control orders which were repeatedly struck down by the courts.
Theresa May had finally scrapped the control orders in 2010 when she was the home secretary.