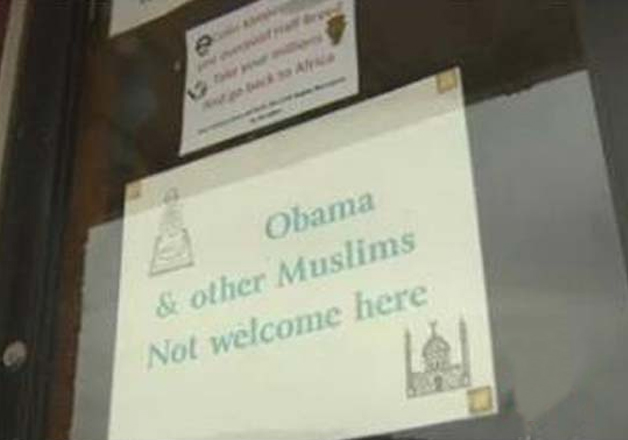 Almost a fortnight ahead of President-elect Donald Trump's inauguration, a grocery shop in New Mexico has come under fire for posting controversial signs on its storefront targeting outgoing President Barack Obama and Muslims.
"Obama & other Muslims not welcome here," the message reads.
According to media reports, the store, located in the tiny town of Mayhill, has been posting such signs for years but it was brought to notice only after a tourist spotted it.
The racist message has now sparked outrage among citizens in the vicinity.  
A former store employee, Marlon McWilliams, said that the store owner targeted President Obama and other public figures and sold the signs to customers.
He informed that the employer had also sold signs that targeted Hillary and Bill Clinton as well.
Marlon said that the owner of the store had even thrown out people who were offended by the signs.
"It's been here a long time. If you go in there and you offend him, you can't go in there no more. He turns lots of people away," Marlon said.
Last year, according to media reports, the store had displayed a sign reading 'Kill Obama' with the word 'Care' in small print below it.
The latest episode comes days before Trump's inauguration who had called for a ban on Muslims entering the US during his campaign and preparing a database to register Muslims to check terror incidents.