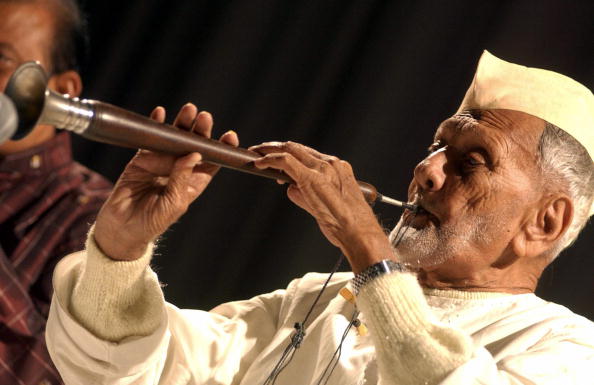 The stolen shehnais of late Ustad Bismillah Khan have been recovered even as his grandson and two other persons were arrested in connection with it, police said on Tuesday.
Uttar Pradesh Special Task Force arrested Nazare Hussain, local jeweller Shanker Seth and his son Sujit Seth.
Four silver shehnais and a wooden and silver one were stolen from Khan's son Kazim Hussain's home here on 4 December.
The shehnais were recovered in a melted condition from a local jewellery shop, police said.
Kazim's son Nazare got the four silver shehnais melted by jewellers Shanker and Sujit Seth in Chetganj area here, they said.
"Over one kg of melted silver along with one shehnai made of wood and silver have been recovered from the possession of the jewellers. The stolen shehnais were sold to the local jewellers for a meagre Rs 17,000 and melted," said STF SSP Amit Pathak.
An FIR was registered on 5 December at Chowk police station after the theft at Kazim's house in Dalmandi area.
According to the family, the shehnais were very special to the late musician and were gifted to him by former Prime Minister P V Narasimha Rao, Kapil Sibal and Lalu Prasad.
(With PTI inputs)