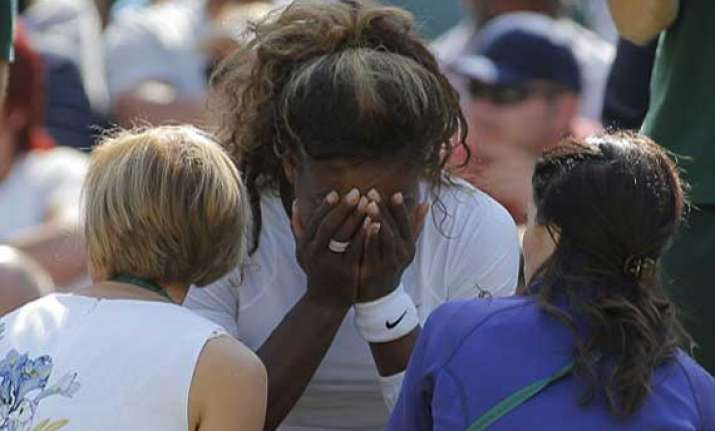 London: Wimbledon witnessed a dramatic scene Tuesday as Serena Williams broke down on court and was forced to quit her doubles match with sister Venus after she was hit by a virus.
The tearful 32-year-old held her head in her hands as she was examined by medical staff ahead of the match.
The second-round doubles match against Kristina Barrois and Stefanie Voegele was put off for over 10 minutes while she sat in her sideline chair and appeared to wipe her eyes as her blood pressure was checked.
When it came for Serena to serve she could hardly bounce the ball.  She then served four consecutive double faults as the sisters lost the third game of the match, prompting the end.
The 17-times Grand Slam champion looked dazed, and playing as if she had never before picked up a racket.
Her following serves were all double-faulted – variously sent into the net and long – and at 0-40 to opponents Kristina Barrois and Stefanie Voegele umpire Kader Nouni came down off his chair to check on the 32-year-old's fitness.
During the delay, one of the Williams' other sisters, along with Serena's agent and her hitting partner, left their seats in the stands.  
Serena and Venus walked to the sideline holding hands, and Nouni announced to the crowd at No. 1 Court:  'Ladies and gentlemen, unfortunately, Miss Williams has to retire.'
Serena wiped away tears as she walked toward the court's exit.
Pam Shriver, working in her capacity as an ESPN analyst, was on court and said it was one of the stranger episodes she had seen.
'You can have reasons not to feel right on the court but nothing that would make you not be able to hold the ball in your hand or catch the ball after a bounce or throw the ball up,' Shriver said. 'You might hit four double faults in a row but you'd make contact.'
Shriver questioned: 'Is this a drama? Is this an act? If you're not well, you need to get help.'
At 3-0 behind the Williams sisters, who have won the Wimbledon doubles title five times, decided against taking the match any further.
In an emailed statement, Serena said: 'I really wanted to compete, but this bug just got the best of me.'
Williams added that she looks forward 'to returning to Wimbledon next year.'
Venus added: 'Unfortunately, Serena has been feeling unwell for the past few days and she just couldn't play to her potential today.
'I'm really proud of her for trying, because we just love playing doubles together.'
In her service game, the star was struggling to bounce the ball and keep it under any semblance of control, and the first two double faults at the beginning of her first service game highlighted the difficulties she was experiencing.
She was unable to clear the net at that point.