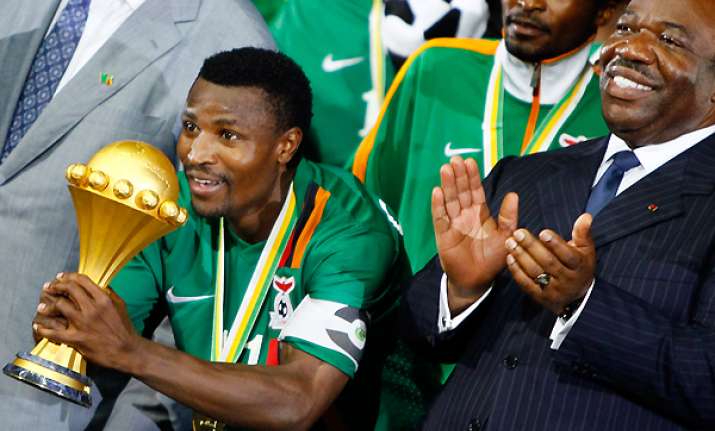 Libreville, Gabon, Feb 13: Zambia returned to the scene of its worst sporting tragedy to make it a place of unrestrained joy after winning a nerve-racking African Cup of Nations final Sunday on penalties over tournament favorite Ivory Coast.

Stophira Sunzu scored the deciding sudden-death spot-kick after Gervinho missed for the Ivorians, giving Zambia a 8-7 win on penalties after the teams were locked at 0-0 through 120 minutes.

Zambia's first African title came, poignantly, in Libreville and just a few kilometers from where almost the entire Zambian team was killed in a plane crash 19 years ago off the coast of the Gabon capital.

In a game of relentless drama and high emotion, the most significant moment was perhaps when Kalusha Bwalya, a member of the tragic team who was not on the ill-fated aircraft in 1993 and is now Zambia's football federation president, lifted the Cup of Nations trophy up in one hand on the pitch, almost defiantly.

It was Zambia's first game in Libreville since that the plane crash.

"There was a sign of destiny, a force within us. Maybe it was meant to be," Zambia coach Herve Renard said. "I can't explain it, honestly I can't explain it. Something was written in the stars. It was not me."

Ivory Coast captain Didier Drogba also missed a 70th-minute penalty to send the dramatic decider to extra time and then a shootout and boost Zambia's feeling that they were meant to win the African Cup here.

After both sides made their first seven penalties, Kolo Toure gave Zambia a chance at victory when his effort was saved by Kennedy Mweene. But Kalaba Rainford sent his effort high over the crossbar.

But Arsenal's Gervinho faltered as well and Sunzu made no mistake when it was his turn, drilling his penalty past Boubacar Barry for the title-clinching moment that capped a compelling, storybook ending.

"It was not the right time," Renard said of Rainford's miss, "but Sunzu was strong and he gave us the African Cup."

The Zambians, who had watched the final few penalties on their knees with arms linked, erupted in joy and chased after Sunzu.

"That's (the plane crash) the thing that's been driving us through the tournament," goalkeeper Mweene said. "We have been thinking about that since we went into camp.

"It's one of those games. We were playing against big names but ... we had to do it. The team spirit and the brotherhood in the team was the key for us."

Sunzu ran to the team's fans behind the goal to begin the celebrations. The current players had pledged to return to Libreville and win their first major trophy to honor the 25 Zambian players and officials who died in the crash.

The Gabonese fans at a packed Stade de l'Amitie were also won over and were chanting "Chipolopolo," the Zambian team's nickname, at the end. It was more than just a neutral crowd backing the underdog. The home fans seemed to be offering their support after the Zambians lost so many players just off their shores.

Drogba hit his regular-time penalty way over the crossbar after Gervinho was fouled, and then looked up at the sky in frustration. And even though the Chelsea striker scored in the shootout, Ivory Coast still failed to end a 20-year wait for a second African title despite being highly rated and everyone's pick to win.

It was the Ivorians first loss in six games at this tournament after it also went through qualifying with a perfect six wins from six.

"Zambia really believed in their victory," Ivory Coast coach Francois Zahoui said. "What else can I tell you? It's a very big disappointment. We didn't expect such a difficult game from the Zambians."

Zambia captain Christopher Katongo hit the post in the opening five minutes of extra time, but the underdogs were hanging on in the latter part of the match, as Max Gradel sent a shot agonizingly wide in the 88th for Ivory Coast and the powerful star-studded favorite surged forward in the final 15 minutes of extra time.

Zambia had already been hampered when Joseph Musonda was forced off with injury after just 10 minutes of what was meant to be a memorable 100th match for him. The veteran defender was in tears as he left the field and was consoled by team mates.

Gervinho won the penalty for Drogba when he was dragged down by midfielder Isaac Chansa just inside the area. But when Drogba missed and looked up helplessly at the sky, the Zambians saw it as a further sign that the win was destined to be theirs.

"We were not the favorites of the final, obviously," Chansa said, "but we believed in ourselves as players. It was written somewhere, you could see that from the miss of Drogba."

Lineups:

Ivory Coast: Boubacar Barry, Kolo Toure, Didier Zokora (Didier Ya Konan, 75), Jean-Jacques Gosso, Salomon Kalou (Max Gradel, 63), Cheick Tiote, Gervinho, Didier Drogba, Siaka Tiene, Yaya Toure (Wilfried Bony, 87), Souleymane Bamba.

Zambia: Kennedy Mweene, Chisamba Lungu, Joseph Musonda (Nyambe Mulenga, 11, Felix Katingo, 75), Hichani Himoonde, Davies Nkausu, Isaac Chansa, Christopher Katongo, Stophira Sunzu, Rainford Kalaba, Nathan Sinkala, Emmanuel Mayuka.