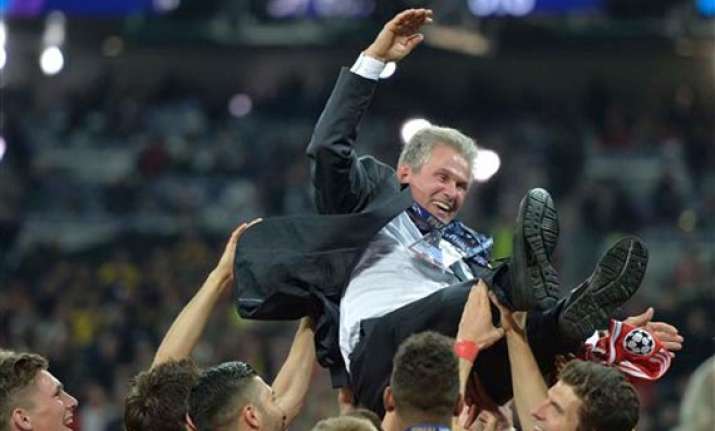 London, May 26: Jupp Heynckes is leaving Bayern Munich having set the bar for Pep Guardiola as high as the Wembley Stadium arch.
In England's national stadium Saturday, on the penultimate step of Heynckes' farewell tour, the coach delivered Bayern's fifth European Cup with a 2-1 victory over Borussia Dortmund.
That comes after the Bundesliga trophy was already collected in a record-breaking league season, and Heynckes can sign out next Saturday by completing the treble in the German Cup final before stepping down.
"FC Bayern will have to prove that they can continue to achieve these things but it is quite possible ... that a new era might have begun under the aegis of Bayern Munich," Heynckes said through a translator.
An era of dominance, perhaps, to match the Bayern team that won a hat trick of European Cups between 1974 and 1976.
Success in the first all-German Champions League final came a year after the tearful defeat on home soil to Chelsea.
On a night of redemption, Arjen Robben, who missed a penalty in extra time in last year's game, pounced with the winner in the 89th minute in London.
"You don't want the stamp of a loser," Robben said.
And it was Heynckes who picked up Bayern from its lowest ebb last May.
"We didn't resign ourselves to our fate," Heynckes said. "No, we upped the ante and tried even harder. You have seen the result."
Although Bayern's players were overwhelmed for much of the first half, they imposed their authority on their tiring rivals after the break.
After Ilkay Gundogan's penalty kick canceled out Mario Mandzukic's opener on the hour for Bayern, the energy in Heynckes' side proved decisive as Robben ensured the European Cup would be returning to Bavaria for the first time since 2001.
"We have been changing things, improving things, adapting things," Heynckes said. "We have team spirit, an ability to work together, which I have never experienced in the championship before, because we have 22, 23 top-class professionals ... all of whom played their weight.
"Not one of them fell by the wayside. When you have such high caliber players that's pretty incredible. That's the hallmark of our success: the ability to work together — the collective."
Heynckes won't be part of it for much longer. He leaves under blurred circumstances, having distanced himself from the club's claims that he planned to retire when Guardiola's services were secured in January for next season.
But on Saturday, Heynckes said he had no regrets about handing over the reins, insisting that he had planned to stay just one more season after the Chelsea setback last May.
Guardiola is ending a one-year sabbatical from football after turning Barcelona into the dominant team in Europe. Bayern shattered Barcelona's aura of invincibility, however, beating the Spanish team 7-0 on aggregate in the Champions League semifinals.
And Heynckes sent out the message to Guardiola that everything at the club is primed for further success.
"My successor will of course be able to take over a perfectly functioning team," Heynckes said. "We know Mario Goetze will be joining us and I don't think (striker Robert) Lewandowski will be hanging about too much either (at Dortmund)."
Heynckes pointed to how the investment before the season in several players — including defenders Dante and Javi Martinez, and striker Mario Mandzukic who all started tonight — had paid off.
"The players have been a bulls-eye success," Heynckes said.
The 68-year-old German never mentioned his Spanish successor by name despite repeated questions referring to him after the final.
But he was clear in outlining the challenge facing Guardiola at Bayern.
"You have to lead a team, a group, and you have to be very sensitive, very tactful with very high-caliber footballers," Heynckes said. "Today with the environment, the media, the expectations, it is incredibly difficult."
Saturday's win means Guardiola's first shot at a trophy with Bayern will be the UEFA SuperCup in August against Europa League winner Chelsea — and a likely chance to renew his rivalry with Jose Mourinho. The outgoing Real Madrid coach is expected to return to Chelsea next month.
But what's next for Heynckes?
Former Bayern midfielder Michael Ballack thinks Heynckes still has much to offer in football — and he will be in even greater demand after replicating his 1998 Champions League triumph with Real Madrid.
"The Bundesliga is an option or Real Madrid, but it must be a special club otherwise it makes no sense," Ballack said at Wembley.