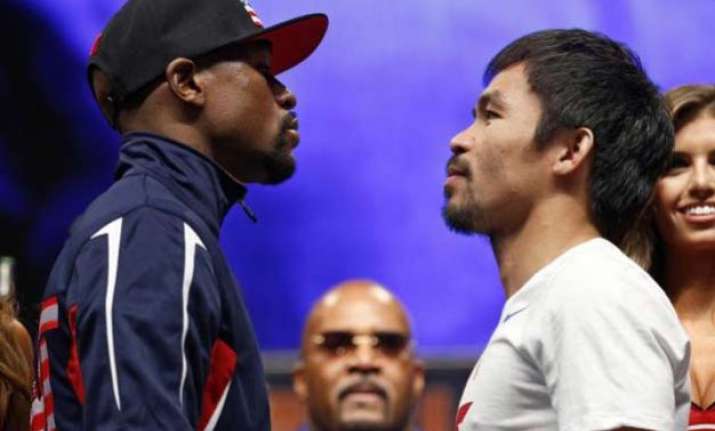 Las Vegas: Floyd Mayweather Jr. will step into a boxing ring in Las Vegas today to face the equally legendary Manny Pacquiao in what is being hailed as the "fight of the century," a night that marks an epic moment, not just for the careers of these two men, but allegedly for boxing as a sport.
The showdown between the two best boxers of their generation has been more than five years in the making and is expected to be the biggest-grossing prize fight of all time.
Also Read: Richest fight ever is also a gold mine for Las Vegas bookies
Experts estimate $250 million in pay-per-view revenue will be generated as millions around the world pony up around $100 to watch the highly-anticipated fight on Showtime. Whether he wins or loses, Mayweather will leave the MGM Grand at least $150 million richer, according to Forbes, and Pacquiao's take will be close to $100 million. They don't call Mayweather "Money" for nothing.
Floyd Mayweather Jr. and Manny Pacquiao weighed in below the welterweight limit on Friday before a packed arena of screaming, singing fans anticipating the landmark bout.
One day before Mayweather and Pacquiao finally meet in the richest event in boxing history, they took the stage in an MGM Grand arena filled with 11,500 fans enjoying the public's best chance to see the fighters in person.
A beaming Pacquiao (57-5-2, 38 KOs) stepped on the scales first and weighed in at 145 pounds — two below the welterweight limit.
Mayweather (47-0, 26 KOs) followed and weighed in at 146 pounds.
The fighters betrayed few emotions in their staredown, keeping with the impersonal nature of the promotion.
But Pacquiao also said, "Thank you" to Mayweather, who said he didn't hear it.
"(I was) thanking him for the fans that the fight will happen," Pacquiao said. "I think, I believe that the fight must happen because the fans deserve it."
Sections of the crowd roared and booed for both fighters, although the majority appeared to support Pacquiao, who raised both arms to the crowd with finger V's for victory. Mayweather was booed repeatedly when his image appeared on the arena scoreboards, but he also acknowledged his healthy cheering section with waves and a raised fist.
"I've dedicated myself to the sport of boxing for over 20 years, and I'm ready," Mayweather said.
"I always find a way to win" said Mayweather who remains unbeaten in his last 47 bouts.
Many Filipino fans dressed in bright colors and waved their nation's flag, including one with a superimposed "Manny for President!" slogan. The 36-year-old Pacquiao is a congressman, but has patiently pointed out that he couldn't be the Philippines' president until he turns 40.
Pacquiao, an eight-division champion,  hasn't taken the challenger's role in a fight promotion in ages, but he agreed to cede precedence to Mayweather to make the fight.