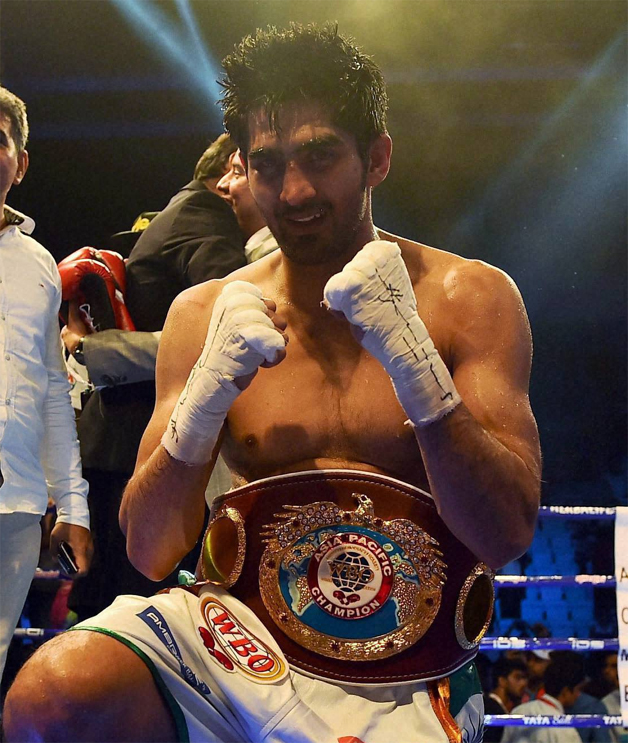 New Delhi: Marking a historic moment in Indian boxing, star boxer Vijender Singh today added yet another high in his ever-soaring professional career as he defeated former WBC European champion Kerry Hope in a hard-fought bout to win the WBO Asia/Pacific Middleweight title at the Thyagraj Stadium.
The 30-year-old Indian boxer took all 10 rounds to systematically dismantle the 34-year-old Welsh-born Australian and record his seventh straight win in the circuit, a year after turning professional.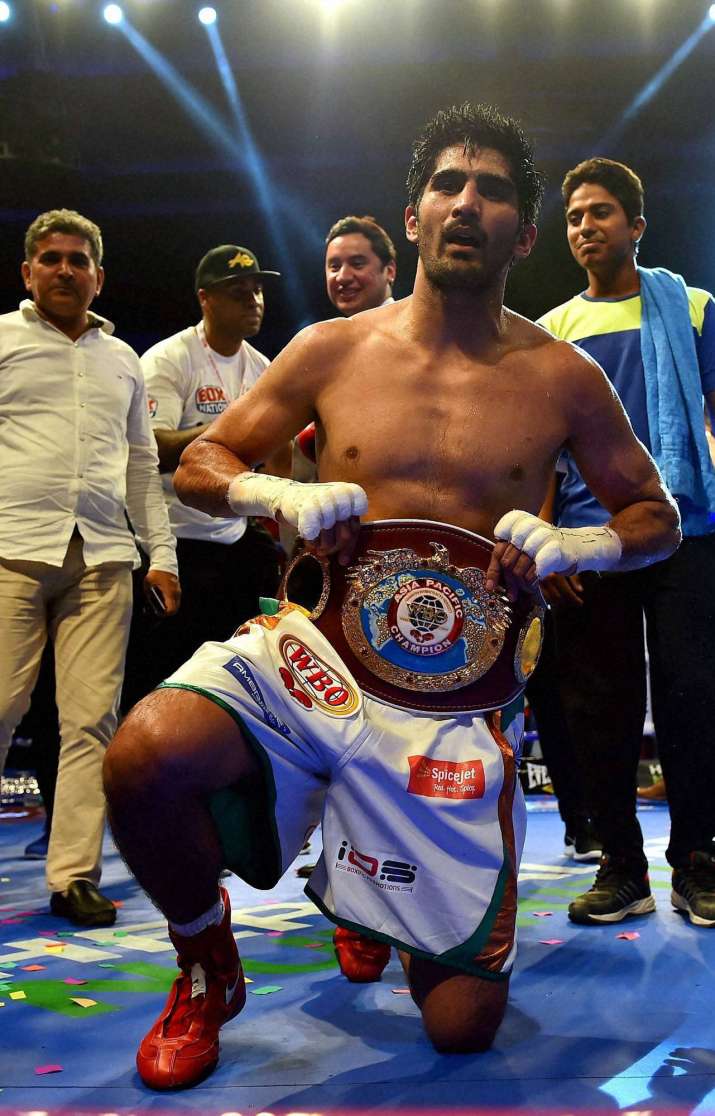 Tonight was also the longest that Vijender spent inside the ring to clinch a win since turning pro besides being his first points win after six knockouts. The six-footer from Haryana scored 98-92, 98-92, 100-90 to be the unanimous winner.
Vijender, who as an amateur held the distinction of being India's first Olympic and World Championships medallist, was hardly pushed despite playing all 10 rounds, and was cheered deliriously by a packed partisan crowd.
Prominent personalities gathered to cheer up Vijender
The Indian had the who's who of sports, politics and entertainment industry cheering him from the ringside and he put up a dominating performance to send the crowd into hysteria with his lethal right jabs and uppercuts.
"It's not about myself, it's about my nation, my country," Vijender said after being crowned winner.
From Congress leader Rahul Gandhi to celebrated woman boxer M C Mary Kom, who choked a bit while acknowledging a loud applause from the crowd, star wrestler Yogeshwar Dutt, cricketers Virender Sehwag, Yuvraj Singh and Suresh Raina to actor Randeep Hooda, celebrities adorned the front rows by the ringside and Vijender did not disappoint any of them with yet another clinical performance in what was to be a 10-round contest.
Final fight turned out to be worth the hype
Vijender seemed to be looking for a knockout blow from the very beginning even though Kerry was the more attacking of the two. But the Australian's inability to connect cleanly proved to be his undoing against a rival, who waited patiently to throw his accurate blows.
To his credit, Hope tried his best early on but just could not find a way to breach Vijender's defence, hampered to an extent by his shorter arms.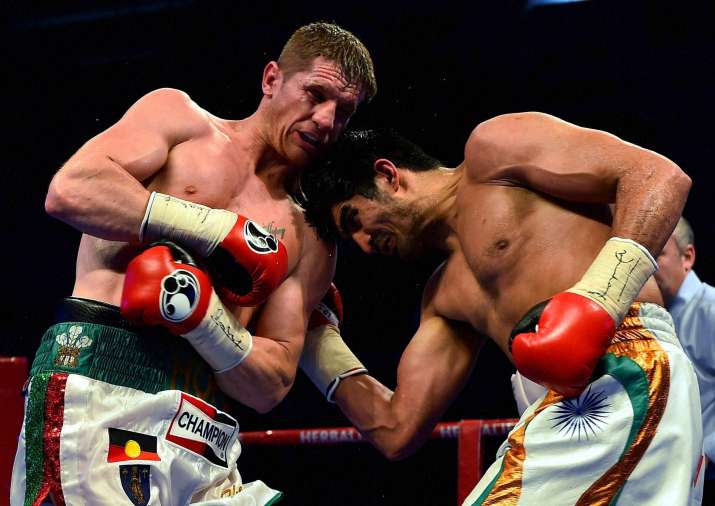 The moment the final bell was sounded, Vijender's British trainer Lee Beard lifted him up to celebrate even before the decision had been announced, sending the crowd into a frenzy.
"This comes after a lot of hard work put in by me, my trainer, my team. I thank my coach, my promoter and my team who have done a fantastic job.
"I also thank all the fans, the celebrities and sportspersons who have come to watch my bout today. The countdown has just begun," Vijender said.
Prime Minister Narendra Modi extends his wishes to the champion
Vijender's historic win has filled in every Indian's heart with pride including that of the Prime Minister Narendra Modi.
As soon as Vijender lifted the title, PM Modi took to Twitter to wish the WBO Asia Pacific winner.
Congratulations @boxervijender for a hard fought and well deserved win. It was yet another display of immense skill, strength & stamina.

— Narendra Modi (@narendramodi) July 16, 2016
(With PTI inputs)