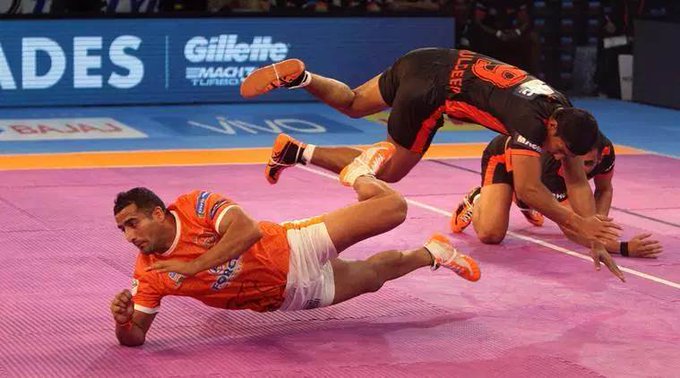 Highlights, Pro Kabaddi League 2019: Telugu Titans will take on U Mumba in the opening game of Pro Kabaddi League 2019. Defending champions Bengaluru Bulls will also be in action on Saturday when they take on three-time champions Patna Pirates. The organisers unveiled the trophy on Friday in the presence of all 12 captains. U Mumba captain Fazel Atrachali said he was banking on youngsters in the side for a good show, while Rohit Kumar, the captain of Bengaluru Bulls, has said that he expects the league to be extremely competitive this time. You can check the live scores and updates of the Telugu Titans vs U Mumba, and Bengaluru Bulls vs Patna Pirates here. (When and Where to Watch: Telugu Titans vs U Mumba)
Highlights, Bengaluru Bulls 34-32 Patna Pirates
21.45 IST: AND THAT'S FULL TIME! The defending champions Bengaluru Bulls have made a comeback from 13-17 behind in the first half! Pardeep Narwal may have made a mistake in the final raid as he only went for a point, where Pirates needed at least 3 to equalize. He may have scored 10 points tonight, but he won't be a happy customer.
21.44 IST: Two consecutive points for Bulls! Pirates 33-31 Bulls
21.43 IST: Reviews lost for Pirates, and it seems to be a controversial decision as Sumit Singh is awarded a point for a successful raid. Pirates 33-29 Bulls
21.37 IST: Unsuccessful raid from Pardeep Narwal. This match seems to be slipping away from the Pirates. Pirates 27-32 Bulls
21.34 IST: TIMEOUT! Bulls have taken the timeout here. Pirates 26-30 Bulls
21.31 IST: Bulls have taken the lead! Pardeep Narwal is tackled by Mahender Singh, and almost immediately, Pawan Sehrawat makes a successful raid. Pirates 25-27 Bulls
21.29: TIMEOUT! Six and a half minutes to go, and the scores are level. We're in for an exciting finish here.
21.27 IST: Bulls have levelled! That's a spectacular comeback. Brilliant raid from Pawan Sehrawat. Pirates 24-24 Bulls
21.25 IST: Do or die raid, AND TACKLED! Mohammad Esmaeil Maghsoudlou has finally been stopped. Two very crucial points for the Bulls. Pirates 24-22 Bulls
21.21 IST: Amit Sheoran has made a super-tackle on Pardeep Narwal in a do-or-die raid! Bulls have now pulled the gap to 3. Pirates 23-20 Bulls
21.19 IST: UNSUCCESSFUL RAID! It's a super tackle on Jang Kun Lee. Pirates 21-15 Bulls
21.15 IST: Second half begins.
21.11 IST: HALFTIME! Pardeep Narwal has arrived late, but he's putting up a show now. Pirates 17-13 Bulls
21.09 IST: Now, didn't we tell you! Never underestimate the Pirates! Banty takes three points in the all-out raid, and Narwal and Neeraj Kumar earn another two points for the side. Pirates 16-11 Bulls
21.06 IST: Maghsoudlou! He's everywhere. Takes down Pawan Sehrawat this time and earns the equalizing point for the Pirates. Pirates 10-10 Bulls
21.05 IST: Ashish Sangwan makes an empty raid. Good tactic, this. Bulls are not taking any risk here. Pirates 9-10 Bulls
21.02 IST: SUPER TACKLE! Narwal is now tackled, and Ashish Sangwan, who was brutally shunned by Maghsoudlou a few minutes ago, makes a herculean effort to tackle the champion raider! Pirates 9-10 Bulls
20.59 IST: Pardeep Narwal makes a successful Do or Die raid! Pirates have now equalled Bulls, and the early momentum for Bengaluru seems to be going away. Pirates 6-6 Bulls
20.56 IST: Mohammad Esmaeil Maghsoudlou from Iran, who makes his debut in the Pro Kabaddi League tonight, is playing like a league veteran. A brilliant raid, and takes out Ashish Sangwan. Pirates 4-6 Bulls
20.51 IST: Super tackle from Mohammad Esmaeil Maghsoudlou on Pawan Sehrawat. Pirates 3-5 Bulls
20.49 IST: What a start for Bengaluru Bulls! They're absolutely decimating Patna Pirates at the moment. But don't count Pirates out just yet. Pardeep Narwal and Jang Kun Lee star for Patna.
20.42 IST: After an electrifying start to the Pro Kabaddi League, we head on to the second game of the night between Bengaluru and Patna.
Highlights, Telugu Titans 25-31 U Mumba
20.38 IST: AND THAT'S IT! U Mumba have begun their campaign with a win! It was a defensive masterclass from U Mumba tonight. The scoreline may hint that it was a close game, but the action would signify otherwise. Fazal Atrachali was particularly wonderful for the side, and so was Abhishek Singh. Titans will be disappointed, and especially Siddarth Desai, who carried significant expectations tonight. Titans 25-31 Mumba
20.35 IST: Remember, If Titans lose by 7 or fewer points, they take a point from the game, and the Titans' coach has instructed as much to his players. 
20.34 IST: Another point for Titans! Siddarth Desai has successfully raided, taking out Surender Singh. Titans 23-30 Mumba
20.33 IST: Unnecessary risk from U Mumba's raider Surender Singh, who could've easily completed an empty raid. Instead, he ends up conceding 2 points. Is a comeback on? 2 minutes to go. Titans 22-30 Mumba
20.30 IST: Abhishek Singh from U Mumba has scored 10 points! And U Mumba have increased their lead by 11. Titans 19-30 Mumba
20.25 IST: Fazal Atrachali gets another point for U Mumba! The home fans look dejected, and rightly so. Telugu Titans have had a disappointing night. Titans 19-27 Mumba
20.24 IST: Athul MS tackled, and U Mumba pick another point. It looks like U Mumba are going away with the game. Only over 5 minutes to go. Titans 19-26 Mumba
20.22 IST: TIMEOUT!
20.19 IST: Siddarth Desai has finally got his first point for Telugu Titans, in his 8th raid! Titans 17-25 Mumba
20.15 IST: Telugu Titans tackle Atul on the Do or Die raid. Better from C Arun this time. Titans 14-24 Mumba
20.13 IST: There have been a series of reviews from both the sides over the raids and the number of players on the mat. U Mumba made a raid, courtesy their captain Fazel Atrachali, but C Arun thought he tackled him fairly. The point goes to U Mumba, though. Titans 13-24 Mumba
20.02 IST: The players are back for the second half.
19.54 IST: End of the first half. Titans 10-17 Mumba
19.49 IST: HOWLER! Siddarth Desai doesn't realize that it was a do-or-die raid and doesn't make an attempt. He concedes a bonus point to U Mumba. Titans 8-16 Mumba
19.47 IST: Unsuccessful raid from Rohit Baliyan this time and Telugu Titans aim to make a comeback into the game. Titans 7-13 Mumba
19.44 IST: TWO POINTS FOR U MUMBA! Successful raid from Rohit Baliyan. Takes out Vishal Bhardwaj, Abozar Mighani. Titans 4-8 Mumba
19.39 IST: It's currently 4-3, with U Mumba leading.
19.35 IST: Rajnish begins the scoring, and wins a bonus point for Telugu Titans. Titans 1-0 Mumba
Playing Sevens:
Telugu Titans: Abozar Mighani, Siddharth Desai, Aakash Arsul, C. Arun, Farhad Milaghardan, Rajnish, Vishal Bhardwaj
U Mumba: Fazel Atrachali, Rohit Baliyan, Surender Singh, Harendra Kumar, Athul MS, Abhishek Singh, Sandeep Narwal
19.28 IST: And with a huge roar from the crowd, enter the home team, Telugu Titans.
19.26 IST: The U Mumba team are out on the mat!
It's going to be a full house in Hyderabad!
As #VIVOProKabaddiBegins, the fans are out in numbers in Hyderabad, ready to cheer on @Telugu_Titans!

Are you ready? Remember, #IsseToughKuchNahi!

Watch #VIVOProKabaddi Season 7 kick off LIVE tonight at 7 PM, only on Star Sports and Hotstar! pic.twitter.com/yIQFDp4QVE

— ProKabaddi (@ProKabaddi) July 20, 2019
🕒🕓🕔🕕🕖🕗🕘🕙

It's the #WorldsToughestDay and it's getting tougher to count the minutes down!#VIVOProKabaddi Season 7 goes LIVE in an hour - are you ready?

Watch #HYDvMUM, 7 PM onwards, on Star Sports and Hotstar. #IsseToughKuchNahi

— ProKabaddi (@ProKabaddi) July 20, 2019
17.51 IST: The stage is set for the opener of Pro Kabaddi League 2019!
Mat kasam, #IsseToughKuchNahi! 🙌

The mat has been laid out for the Panga to begin in #VIVOProKabaddi Season 7! Watch #HYDvMUM take centre stage, 7 PM onwards, LIVE on Star Sports and Hotstar. #WorldsToughestDay pic.twitter.com/QqpJDA5RwI

— ProKabaddi (@ProKabaddi) July 20, 2019
Brief Preview: The second costliest league in country after the Indian Premier League -- the Pro Kabaddi League (PKL) -- is all set to kick-off its seventh season on Saturday. On the eve of the opening match, all the twelve captains of the PKL came together to express their plans and strategies for the seventh season.  In an event where defending champions Bengaluru Bulls' captain Rohit Kumar put the trophy back in contest for the new season, the 12 captains seemed confident of their strategies and plans, but at the same time expressed that they can't take any of the teams lightly.