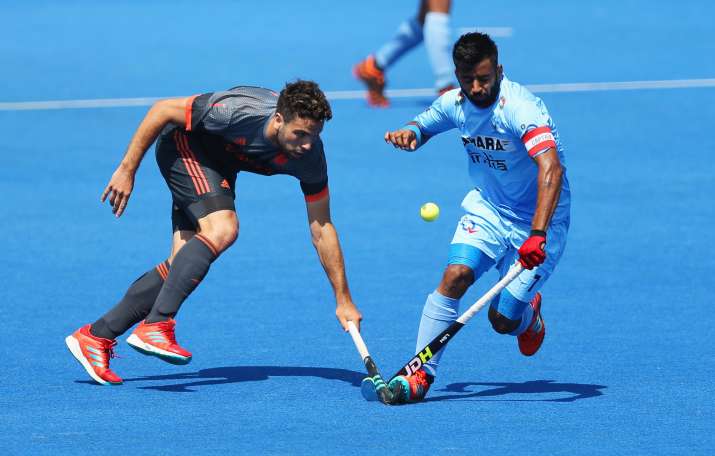 Brimming with confidence after a successful European hockey tour, India's youth brigade said the experience of playing under pressure at the highest level will help them in the long run. Forwards Gurjant Singh, Armaan Qureshi, midfielder Nilkanta Sharma, full-back Tirkey, Varun Kumar and goalkeeper Suraj Kerkera made their debut on this tour. 
Five out of this six players were part of last year's junior World Cup winning team and the debutants conceded that the level of pressure at the senior level is very different but they wanted to make a mark on this tour. 
"We played together at junior level so our coordination was excellent. One has to be mentally and technically strong to perform at this level and victory in three games has given us that boost," Armaan told PTI Bhasha. 
Varun, who has been playing the sport for the last 12 years, said: "No one had imagined that we will beat The Netherlands. It was like a dream for us and we can never forget that moment. It was like a tonic for us which will have a long-lasting effect." 
India had begun the tour with defeats in their first two matches to Olympic silver-medallists Belgium but they finished off with three successive victories, which included twin wins over The Netherlands. 
Goalkeeper Suraj, who idolises Real Madrid star footballer Cristiano Ronaldo, said he was little tensed initially but slowly learnt to handle the pressure. 
"I was nervous in the first match but gradually learnt to handle pressure. This tour will play a major role in shaping our careers," said the Mumbai lad. 
While India fielded a young squad, all their opponents fielded their best sides as European championship is set to start from tomorrow. 
Defender Tirkey feels the fact that everybody is competing for a place in the team augurs well for Indian Hockey with Commonwealth Games, Asian Games and Senior Hockey World Cup coming up next year. 
"It's good to have healthy competition. We have experienced the difference between playing at the junior and senior level and now we will try to minimise the mistakes and become more mature," he said. 
Manipur boy Nilkanta said winning Junior World Cup did wonder to their confidence and credit goes to Hardendra Singh. 
"Harendra sir taught us to stick to the basics and we did that. He also deserves credit for our performance," he said.