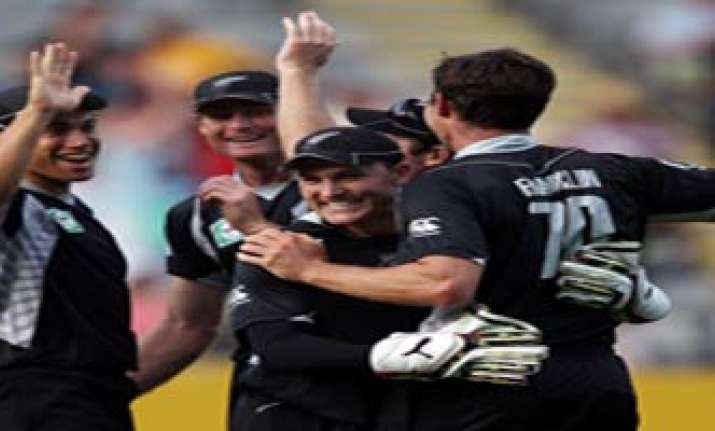 Chennai, Feb 15 :  New Zealand sought to put behind their dismal record of losing 14 of their last 17 ODIs coming into the World Cup, saying that they are still a strong side who can win the coveted trophy.
Key players Brandon McCullum,
Ross Taylor
, Scott Styris and
Martin Guptill
admitted their side's dismal performance --bilateral ODI series whitewashes in Bangladesh (0-4) and India (0-5) and 2-3 loss to Pakistan at home -- but said they are ready for the World Cup challenge.
They said New Zealand have done better under new coach John Wright who took over the reigns nearly two months ago and his experience in the subcontinental conditions will come handy for them.
"It doesn't get any bigger than this, a World Cup in the sub-continent. The atmosphere will be electrifying. It's my favourite place to tour and I have performed well in these conditions. We have been struggling of late but have beaten all the teams before. And we believe we are up to the challenge of doing it again," all-rounder Scott Styris said at an open media session here.
"Wright's experience and expertise in India will be valuable for us," he said."John talks a lot about India, and has a lot of friends,especially the groundsmen. He might tell some of them to prepare pitches that might suit us," Styris said in a lighter vein.
Top-order batsman Ross Taylor said the team had learnt a lot from their twin tours to Bangladesh and India recently and his side has the wherewithal to lay hands on the World Cup trophy.
"We had some tough six months. But we have learnt a lot from it, and will try as hard as we can to win the World Cup.When you reach the quarterfinals, it's just three matches away from winning the World Cup. Personally, the World Cup is big for me. In 2007, my World Cup was cut short by an injury,"Taylor said ahead of their warm-up game against India here on Wednesday.
Explosive batsman Brendon McCullum said his side's first target is to reach the quarterfinals and from there on anything can happen."We are very optimistic about our performance In the sub-continent this time. We are very realistic in our approach to qualify for the quarterfinal and then look at winning the next three games. We have the talent to do that," he said.
New Zealand were hit by twin controversies just before the World Cup -- Jesse Ryder lashing out at a team-mate on twitter and
Tim Southee
being accused of lewd behaviour on flight for the mega event -- but the players said they were not distracted by them.
"Both the issues were blown out of proportion. Obviously,there will be distractions, but we have to focus on the job of getting runs and wickets and winning matches for the team,"Taylor said.
Styris felt after Wright's taking over about two months ago, the batsmen have improved their performance while Taylor said the coach had imposed a lot of faith on the players and hopefully they could live up to it.
"He is always relaxed and focused. I think the batsmen have benefited a lot from him. He has given them clarity and focus. We have a few talented strikers of the ball and John has taught them how to build an innings and score hundreds.
And if you look at the impact he had, Ryder and Guptil scored hundreds against Pakistan and Ireland," Styris said.McCullum said the batting order has been revamped after Wright's taking over and it has worked well since then.
"We have had two very good hundreds in last two games --Martin in the warm-up game and Ryder in the last game against Pakistan. This is the sort of confidence we are going to have.
We know this tournament is going to be determined by who gets most runs -- the top five making most runs and allow bowlers to bowl with runs behind," he said.
"John has been of great help in our preparations. He has built on the confidence of every player. We started believing in our continuously winning games. We got a different record in sub-continent in the last six months. Once the World Cup starts, that's the moment we have got to concentrate on.
It's a pretty exciting opportunity for the players," said McCullum.Asked about the warm-up match against India on Wednesday,McCullum said, "Both teams will see this as an opportunity to hone their skills heading into the World Cup. From our point of view, we have got a couple of things we will continue to try out. It's not too much of real competitive match ... more of honing the skills for both teams for the big stage."
Styris said his side should not flustered when facing the Indians in their own backyard."I accept that they have one of the best top-six line-ups in the world. They are aggressive, but you shouldn't be flustered when they go after you.
You should keep putting them under pressure and once you manage to do this they can crumble, as there is so much of pressure on them to win the World Cup. You need to be patient as well."
Taylor said spinners will play a big role in the World Cup and it's good to have someone as experienced as captain Daniel Vettori.
"We need to try and unsettle them. It's not just I'm the only good player of spin in the team. There are others who are equally good at it," Taylor he said.
Agreeing to Taylor's views on spinners playing a major role in the World Cup, Styris said, "If the wicket is going to turn as much as it did in Bangalore (India-Australia game),the World Cup is going to be interesting. In the subcontinent the spinners would always have a major role to play."
Martin Guptill, who starred with a superb 130 off 134 balls in the warm-up tie against Ireland, said he was happy it gave him a bit of head start.
"Pretty happy with good start since my century against Pakistan. Gives me a bit of head start than those guys who have not batted quite so long in these conditions. Good start for me I hope like to carry on," he said. PTI