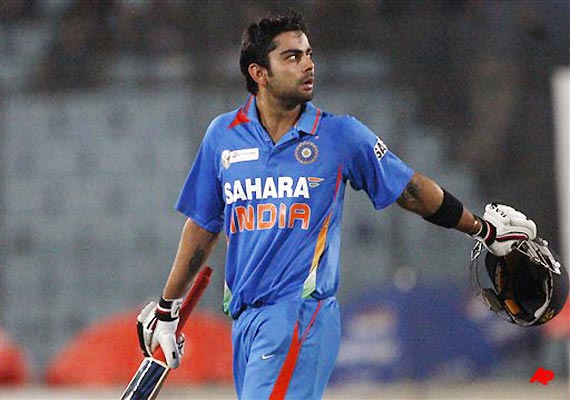 Mirpur (Bangladesh), Mar 19: Star Indian batsman Virat Kohli says, he watched the bowling action of Pakistani spinner Saeed Ajmal and this helped him to neutralise Pakistani bowling.
 
"I saw a lot of videos before the match. He has plenty of variations.
 
"I wanted to be ready for the doosra, the straighter one, and all those variations. He is a world-class bowler."
 
Kohli scored 36 off 29 balls against star off-spinner Saeed Ajmal -- the No 1 ranked bowler in both Test and ODI rankings.
 
"I have played against him before. Rohit (Sharma) and I had discussed the importance of facing him before the match. I am glad that our plans worked out," he said.

When asked if he was targetting Sachin Tendulkar's record of hundred international tons, a bemused Kohli said: "That would be mission impossible. I am only on 11 right now (12 tons including Tests). I am pretty sure that I will never be able to break his record."
 
"I thought about reaching the double hundred once during the knock. But those thoughts vanished quickly. I knew I had to stay out there for the team to win. I have started valuing my wicket a lot more. There was a time when I used to throw it away in the 30s and 40s. I am absolutely loving the responsibility of batting at No 3," says Kohli .