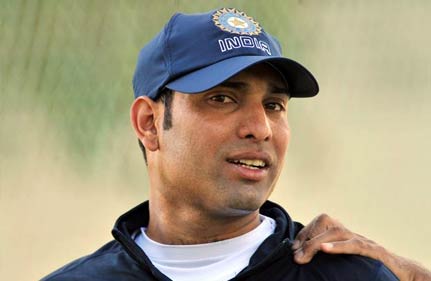 Hyderabad, Nov 15: VVS Laxman feels the presence of a famed batting line-up and the pitch at the Rajiv Gandhi International Stadium should work to India's advantage even if New Zealand manage to set the hosts a competitive fourth-innings target on the fifth and final day of the second Test here.
"The target is to keep the lead under 225. Even if the required rate is five, there should not be a problem as we have got a very strong batting line-up and the nature of the wicket will help us," Laxman said after New Zealand finished the day at 237 for four to acquire a lead of 115 runs.
Asked about the team's plans for tomorrow, Laxman said, "We will look to get two early wickets and then get into the tail."
On the nature of the wicket, he said, "The wicket is not doing enough for bowlers. There is bounce but no turn and that's why I think our bowlers have done a very good job today."
"Indian wickets normally take turn on the fourth and fifth day and that's why I am a bit surprised. But it is better than Ahmedabad (where there was no bounce and turn)," he added.
That India have the upper hand going into the final day is due to Harbhajan Singh's exploits with bat in the hosts' first innings and the stylish Hyderabadi knows it well too.
"He was outstanding. He has worked very hard on his batting. He saved us in Ahmedabad and gave us the edge here," Laxman said.
Dwelling on contributions from India's lower-order batsmen in recent years, Laxman said that coach Gary Kirsten played a huge part towards that.
"Our lower order takes great pride in batting well and Gary has instilled the importance of that in the team," he said.
Reminded that Sachin Tendulkar today completed 21 years in international cricket Laxman said, "A star was born on this day. Sachin's contribution is unbelievable and he is a very humble guy. He still practises like a kid, as if he is playing in his first Test."
Coming into the series as rank outsiders after a 0-4 drubbing in an ODI series against Bangladesh, New Zealand have exceeded expectations with their spirited display here, but Laxman felt the Kiwis have always been a tough team to beat.
"New Zealand have always been tough and there's nothing new about that. In 2003 also, they fought very well. They are good players of spin bowling," Laxman said.
"I am quite happy with the way I batted. But a hundred would have been better in front of the home crowd and my coaches," Laxman said.
Asked about the Umpire Decision Review System (UDRS) Laxman said it was for the BCCI to decide whether to implement the system or not. PTI