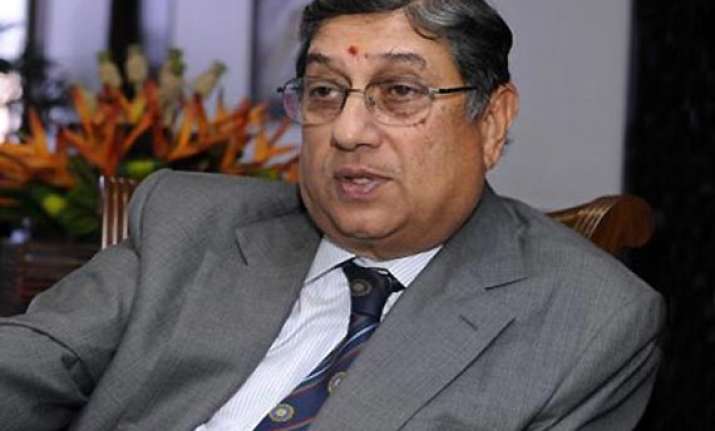 Chennai, Jun 23: Notwithstanding all controversies surrounding him in the BCCI, N Srinivasan was unanimously elected the president of the Tamil Nadu Cricket Association (TNCA) at its 83rd Annual General Meeting here today.
Srinivasan's close aide Kashi Viswanathan  was elected Secretary of the association for the seventh year without break.
Srinivasan, who has stepped aside from discharging his functions as the president of the BCCI in the wake of the arrest of his son-in-law  and CSK Team Principal Gurunath Meiyappan who has been alleged of being involved in betting on IPL matches and has subsequently been suspended.
The area of interest will now be whether Srinivasan will be attending any of the sub-committee meeting during the ICC Annual Conference. There hasn't been any concrete information in this regard.
TNCA has been Srinivasan's stronghold from where he was first pitchforked into the mainstream functioning of the BCCI.
All the office bearers and members of the Executive Committee have been unanimously elected for the year 2013-14, according to a press release issued by the TNCA.
Apart from Srinivasan and Viswanathan, other persons who are elected for various other posts: Vice Presidents (City): Kalpathi S Aghoram, U Prabhakar Rao, S Raghavan, P S Raman; Vice Presidents (Districts): R Kanakarajan, V Ramesh; Jt Secretary: R I Palani; Assistant Secretary: R S Ramasaamy.
Treasurer: V P Narasimhan; Executive Committee (City): K Sriram, K A Shankar, G Dangi, P Anand, C G Anandaram, K Murali, Adam Sait, K Mohan, Keshav Sriraman; Executive Committee (Districts): T K Ramakrishnan, S Surendran, S K Palaniappan, N Prakash, S Sivakumar; Auditors: P B Vijayaraghavan & Company.
The President has invited S Ganesan and G Srinivasan as "Special Invitees" to serve on the Executive Committee of the TNCA for the year 2013-2014.