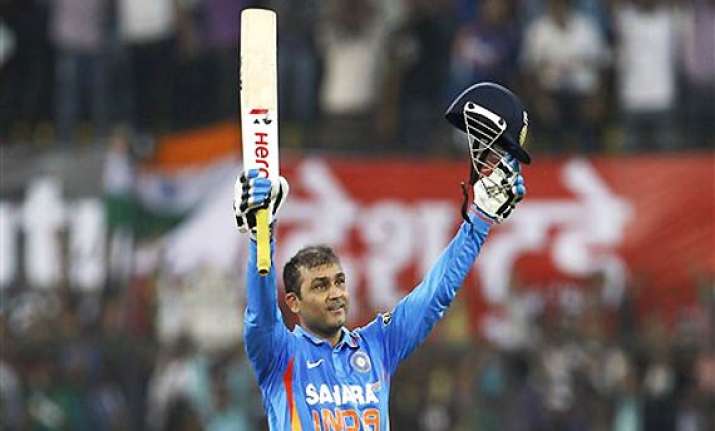 Indore, Dec 8: The dashing Virender Sehwag today scripted the remarkable feat of scoring the highest-ever ODI score of 219, thus achieving the unique distinction of being India's highest individual scorer in both Tests and one-day internationals.
The flamboyant Indian opener become only the second cricketer in the world to score a double century in one-day internationals after Sachin Tendulkar who had scored an unbeaten 200 against South Africa in Gwalior in 2010.
The 33-year-old Sehwag's pyrotechnics was on full display at the jam-packed Holkar cricket Stadium here as the opener racked up the score with the help of 25 fours and seven sixes in 149 balls to help India pile up a record 418 for five against West Indies in the fourth cricket ODI here.
Tendulkar had achieved the feat in Gwalior against South Africa on February 24 last year and within two years, Sehwag eclipsed the Mumbai maestro in achieveing the highest score in one-day international when he cut Andre Russell across the point boundary in the 43rd over.
His 219 also took him past the 8000-run mark in one-day international before being dismissed by Kieron Pollard in the 46.3 over at a team score of 376-4. Looking for a six, Sehwag mis-hit shot landed at the hands of A Martin at long-off.
En route to his double ton, Sehwag forged a massive 176-run stand with Gautam Gambhir in 22.5 overs, before stitching 140 runs with Suresh Raina in 105 balls to set India on course for a mammoth total.
Sehwag, who made his ODI debut against Pakistan in 1999 at Mohali, was at his dominating best right from the start of his innings as he cut, drove, pulled with utmost ease and murdered the bowlers at will and in no time brought up his 15th one-day hundred. In Tests, he has scored 22 centuries.
Sehwag's repertoire of strokes were on full display as he went about his business on a placid wicket, using minimal footwork with maximum intent.
Sehwag, who has been battling injuries for quite sometime, has not been at his best of late and was visibly off-colour during the last three ODIs in the series but the India opener made the most of the opportunity today.
Prior to this match, he had played 239 ODIs so far in his career, scoring 7,806 runs at an average of 34.84 with 14 centuries and 37 fifties. His previous highest score was 175 against Bangladesh in the first match of 2011 World up held at Mirpur in Bangladesh.
Sehwag has an enviable record in Tests with 7,980 runs under his belt in 92 matches at an average 52.15. He also has the distinction of scoring two triple tons since joining the Indian Test cricket team in 2001 against South Africa.
The Nawab of Najafgarh scored 309 against Pakistan in March, 2004 in Multan, before scoring 319 against South Africa at the MA Chidambaram Stadium in Chennai four years later.
In December 2009, Sehwag came tantalisingly close to scoring another triple ton, when he scored 293 against Sri Lanka at the Brabourne Stadium in Mumbai.
He has scored centuries against all the Test-cricket playing nations except Bangladesh and Zimbabwe, and is sixth on the list of leading Test century makers for India. He also holds the Indian record for highest number of Test double tons which stands at four till date.
Sehwag also has 39 Test wickets and 92 ODI scalps to his name.
Highest Individual ODI Scores
| | | | | | | |
| --- | --- | --- | --- | --- | --- | --- |
| Player | Runs | SR | Team | Opposition | Ground | Match Date |
| V Sehwag | 219 | 146.97 | India | v West Indies | Indore | 8 Dec 2011 |
| SR Tendulkar | 200* | 136.05 | India | v South Africa | Gwalior | 24 Feb 2010 |
| CK Coventry | 194* | 124.35 | Zimbabwe | v Bangladesh | Bulawayo | 16 Aug 2009 |
| Saeed Anwar | 194 | 132.87 | Pakistan | v India | Chennai | 21 May 1997 |
| IVA Richards | 189* | 111.17 | West Indies | v England | Manchester | 31 May 1984 |
| ST Jayasuriya | 189 | 117.39 | Sri Lanka | v India | Sharjah | 29 Oct 2000 |
| G Kirsten | 188* | 118.23 | South Africa | v U.A.E. | Rawalpindi | 16 Feb 1996 |
| SR Tendulkar | 186* | 124.00 | India | v New Zealand | Hyderabad (Deccan) | 8 Nov 1999 |
| SR Watson | 185* | 192.70 | Australia | v Bangladesh | Dhaka | 11 Apr 2011 |
| MS Dhoni | 183* | 126.20 | India | v Sri Lanka | Jaipur | 31 Oct 2005 |
| SC Ganguly | 183 | 115.82 | India | v Sri Lanka | Taunton | 26 May 1999 |