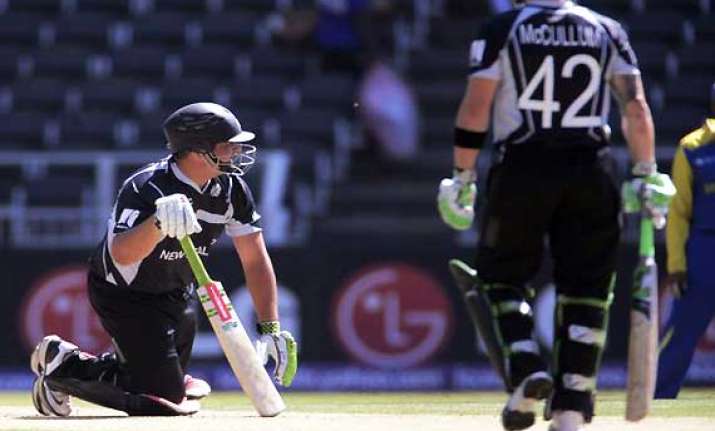 Wellington, June 2: New Zealand vice-captain Brendon McCullum has said that troubled batsman Jesse Ryder will need to "re-earn" the respect of the team whenever he makes a comeback to the international fold.
Ryder chose not to seek a contract for the 2012-2013 season with New Zealand Cricket this week to concentrate on personal, health and fitness goals.
"Who knows what the game's got installed for Jesse in the next 6-12 months...he's got to do what makes him happy, get himself back to where he needs to be. His talent his unquestionable but I guess his respect within the team needs to be continued to be re-earned," McCullum was quoted as saying by 'Radiosport'
"You want to know every time you go into battle the guy standing next to you is equally committed as you are and I guess that's been questioned on a couple of occasions with Jess and we now know there have been a few issues that he's had to deal with and I'm talking out of school here because I've told him honestly what I think as well and I'm sure he won't mind me commenting on it.
"Jess knows he's got to earn some of that respect back from some of the guys and I think that's quite right just like anyone has to gain respect when they come into the team," McCullum added.
The top-order batsmen has not played international cricket since the one-day series against South Africa. He was suspended for one match during that series for drinking alcohol while injured.
McCullum said Ryder just needs to do what makes him happy and New Zealand Cricket will surely benefit if the opener makes a return.
"He's got a tremendous amount of talent and everyone wants him back on the park. He's just got a couple of blemishes he's got to iron out. I'm sure if he can do that then New Zealand Cricket and Jesse are both going to benefit from it.
"We all know what the pot of the gold is at the end of the rainbow which is his talent and his performances in key situations. We hope that overrides anything else and we've just got to wait and see and time will tell I guess. Six months in this game is a long time so we'll see how it unfolds and we wish him all the best," he said.
Ryder recently played for Pune Warriors in the Indian Premier League, where he scored 256 runs in 11 innings.