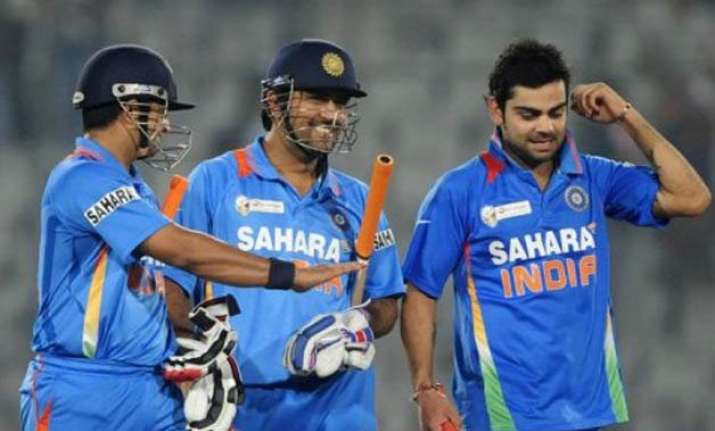 New Delhi: A move that could make the atmosphere in the Indian dressing room quite uncomfortable, ODI and T-20 captain MS Dhoni today said that Virat Kohli may have to move to number four and Suresh Raina could come down to bat at number 3.
The reason Dhoni sighted is that "Raina is not a finisher."
"Raina is not a finisher. We play more T20s and have more statistics from IPL than T20 Internationals. He is somebody who has batted at No 3 in most of the matches. We promoted him in 2009 and he did well. So we have to place them strategically, so that it helps the team," said Dhoni during the pre-match conference.
As number three position is for Virat Kohli, he will obviously have to move down the batting order. Dhoni stated the obvious and said, "If he (Raina) bats at no. 3, Virat will have to bat down the order."
Dhoni's decision may not go down well with Virat and it can affect the mood in the dressing room.
India TV cricket expert Yashpal Sharma criticised Dhoni's decision and said, "I think Suresh Raina is still a finisher. I do not agree with Dhoni. I think Virat should play at no. 3. It could also affect the atmosphere inside the dressing room."
Former Indian cricketer Yashpal Sharma questioned if team India manager Ravi Shastri agreed to this strategy.
Another former cricketer Chetan Sharma also disagreed with Dhoni. "This is not an IPL match where Chennai Super Kings is playing and Raina bats at no. 3. We are talking about our national team. Virat opens for Royal Challengers Bangalore in IPL that does not mean he should do it in international matches too. When we talk about batting, its starts with Kohli," Chetan Sharma said on India TV.
Dhoni also took a jibe at Kohli's brand of aggression and said "exchanging words or physical contact" was not his idea of aggression and it was imperative for his team to play within the rules.
Dhoni said that he is not averse to playing aggressive cricket but believed in staying within the rules.
"Aggression does not mean exchanging words or physical contact. Rahul Dravid had said a good forward defence to a very quick fast bowler is an aggressive play, so that is something very important. Our guys are also learning how to channelise aggression," Dhoni said in what appeared to be a subtle message for Kohli and Ishant.
On the question of an all rounder in the team, Dhoni said that the search is still on for a potent cricketer, who can fit into the role of a seam bowling all-rounder that will help getting the team combination right.
Dhoni spoke in the context of team's bowling combination which hinges on whether they have a quality seamer all-rounder.
"We have four spinners (Ravi Ashwin, Harbhajan Singh, Amit Mishra and Axar Patel) and three proper seamers (Mohit Sharma, Bhuvneshwar Kumar and Sreenath Aravind) and a seamer all-rounder (Stuart Binny)," Dhoni said.
(With agency inputs)