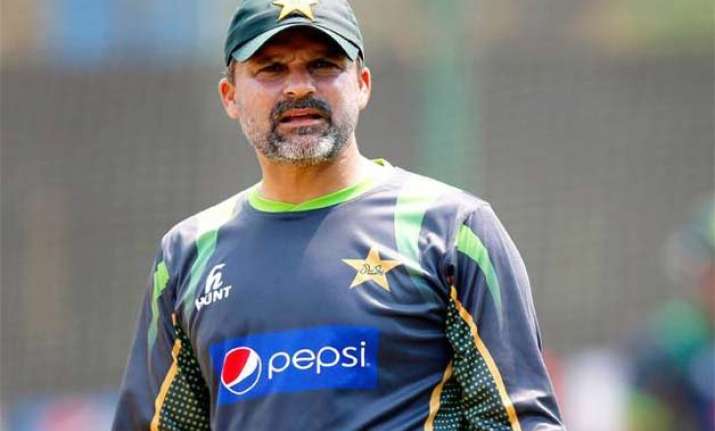 Karachi: Pakistan's chief selector, Moin Khan Friday said that they have preferred a young side for the World Cup since they want to play fearless cricket in the mega event in Australia and New Zealand.
Insisting that the final World Cup squad was picked with complete consensus among the selectors and with the captain and the head coach, Moin said the selectors wanted the team to play positive cricket.
"Cricket, specially limited overs cricket has undergone a lot of changes in the last decade and Pakistan will have to play sensible but fearless cricket to do well in the World Cup," the former Test captain told PTI.
"When we played in the World Cup in Australia and New Zealand in 1992 a total of 250 or more was considered to be a winning score but now the approach has changed a lot and teams aren't secure even after scoring 300," Moin noted.
"It will be no different even on the Australian and New Zealand pitches and we have picked young and exciting players like Umar Akmal, Sohaib Maqsood, Haris Sohail, Sarfaraz Ahmed, Sohail Khan or Yasir Shah keeping in mind the conditions there and to blend well with the seniors like Hafeez, Younis and Misbah."
The wicketkeeper-batsman recalled that in 1992, it was Imran Khan's emphasis on attack that created self-belief in the players and they went on to win the World Cup.
"You win some and lose some matches. But we just want to see our team giving 100 percent and fight hard," he said.
Moin said it was hard to name any favourites due to the closing of the gap between teams in ODIs but said if Pakistan played like a collective unit it could surprise any side.
"The captain and coach now have to bring out the best in the players and there is lot of exciting talent and potential in this squad," Moin said.
Moin also expressed confidence that captain Misbah-ul-Haq would be 100 percent fit before the start of the World Cup.
"As a captain, Misbah needs to be given full support and we are doing that and we are hopeful he will be ready for the tournament," he added.
The former Test captain said that he had always tried to stay away from controversies and changing or retaining the selectors was prerogative of the cricket board.
"I and other selectors have tried to do our job honestly and we are hoping the team does well in the World Cup."
He also made it clear that the players who were in contention but not selected for the World Cup should not lose heart and keep on doing their best.
"Our cricket does not end with the World Cup. My message to them is there is lot of cricket after the mega event and be ready for that.